The Day The Dynasty Died: When Jack Adams Blew Up The NHL's Best Team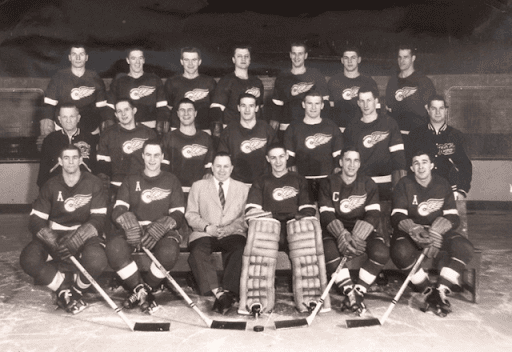 It was 66 years ago this week that Detroit Red Wings general manager Jack Adams shook the hockey world from its axis. On June 3, 1955, less than two months removed from Detroit's second straight Stanley Cup title and fourth since 1950, Adams engineered a blockbuster deal that left hockey fans reeling.
Adams shipped NHL All-Star goalie and reigning Vezina Trophy holder Terry Sawchuk to the Boston Bruins along with forwards Vic Stasiuk, Marcel Bonin and Lorne Davis to the Boston Bruins in exchange for forwards Real Chevrefils, Ed Sandford, Norm Corcoran, goalie Gilles Boisvert and defenseman Warren Godfrey.
Just five days earlier, Adams was dealing forwards Glen Skov, Tony Leswick and Johnny Wilson and defenseman Ben Woit to the Chicago Blackhawks for forwards Jerry Toppazzini, John McCormack, Dave Creighton and Bucky Hollingworth.
"They just devastated that team with trades," Wings legend Gordie Howe recalled in a 1995 interview.
Shockwaves Reverberating Through NHL
The developments were stunning to hockey fans and players involved in the deal alike. Boisvert was Montreal property. In the spring of 1955, he was on loan to Detroit's Edmonton farm club to serve as standby goalie during the playoffs.
Etched in History, 1954-55: @DetroitRedWings successfully defend their 1954 Stanley Cup title, full value for their win despite Canadiens playing without suspended Rocket Richard. Our series celebration of Cup's retiring top band honours Motor City champs https://t.co/xDsMgqyLVR pic.twitter.com/09Rm6HzxCJ

— Dave Stubbs 🇨🇦 (@Dave_Stubbs) September 22, 2018
"As I was practising with the team, the trainer approached me and said that I would be playing for Edmonton the next year," Boisvert recalled. Instead, he was claimed by Boston from the QSHL's Montreal Royals during the Inter-League Draft.
"I said to my wife, Boston is a long way from Edmonton," Boisvert said. "Then the trade happened."
The devastation was evident in training camp in the fall of 1955. Forwards Howe, Ted Lindsay, Earl Reibel, Alex Delvecchio and Bill Dineen and defensemen Red Kelly, Bob Goldham, Marcel Pronovost and Larry Hillman were the only players remaining from the Stanley Cup-winning team.
A Five-Year Plan
Adams was a believer that championship-caliber clubs were owners of a five-year shelf life. Detroit went to the Cup final series in 1933-34 and won Stanley Cups in 1935-36 and 1936-37. Adams gave loyalty to that squad. It ended up costing him with the team sinking to the bottom of the NHL standings in 1937-38.
This blueprint was working for him when Adams broke up up the club's 1949-50 Cup winner with another blockbuster move. Detroit's new mix wound of winning three more Cups over the next five years.
This time, though, the swaps didn't meet expectations. The Wings fell into a downward spiral, resulting in the Dead Wings Era. Detroit wouldn't be winning another Cup for 42 years.
#GordieHowe 1954-55 #Stanley Cup Champs gordie on far right pic.twitter.com/YuVZv6Jush

— Bobloblaw (@Weiserdeluxx) June 11, 2016
"They gambled on some young defensemen who didn't develop," Howe said. "They got mad at Red Kelly and traded him (to Toronto). Glenn Hall was another great one they let go. And Boston's whole Uke Line (Bucyk, Stasiuk, Bronco Horvath), they all used to be with Detroit.
"People can talk all they want about the bad coaches and (Ned) Harkness, but they just got rid of so much great talent. They made bad trades, the people didn't come up through the system to replace them and they made more bad trades trying to fill the holes."
Loyalty Helped Dig Current Hole
There was no questioning the loyalty of Wings GM Ken Holland. Just as there's no questions that it lent a helping hand to Detroit's current slide to the bottom of the NHL. Holland kept players around beyond their best before date. He engineered moves bringing players back for second and even third tours of duty with the team.
Current GM Steve Yzerman bought out the contract of veteran forward Justin Abdelkader last year. That move was a quick way of showing loyalty isn't part of his rebuilding plan.
Wings fan can only hope that it won't be taking Yzerman 42 years to bring the club back to Stanley Cup glory.