Yzerman batted .545 in the draft over a six-year period in Tampa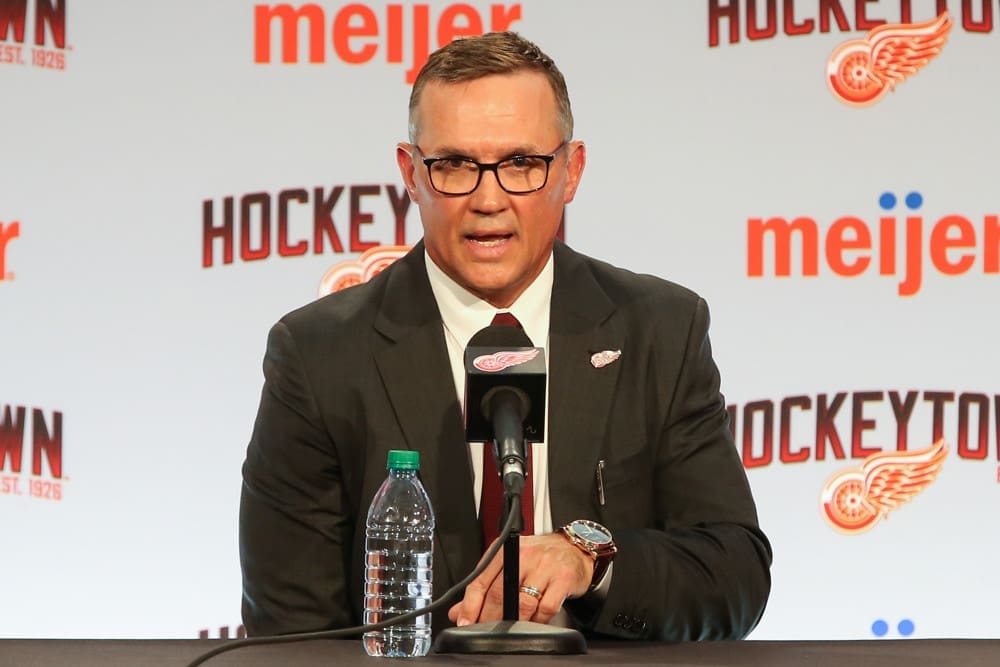 Detroit Red Wings general manager Steve Yzerman explained recently that his amateur scouts have more to do with the NHL draft than he does.
"I'll take the credit when guys turn out really well and I'll pass the blame to the scouting staff when the guys don't pan out," Yzerman joked.
There is truth to what he says about the scouts being more involved. GMs don't scrutinize every pick. But Yzerman hand-picked his staff and Kris Draper was his choice for director of amateur scouting. And by now, every scout understands what Yzerman wants in a prospect.
Also, GMs are always involved with first round picks. The decision to draft Moritz Seider was certainly an Yzerman call, as was the selection of Lucas Raymond. Based on Yzerman's history of thoroughness, it's likely Yzerman is involved for two rounds before turning over the reins to scouts.
Fans believe Yzerman drafts better
Most Detroit fans believe the Yzerman regime drafts better than the Ken Holland regime did in recent years. It is impossible to know for sure because no player from Yzerman's two Red Wings' draft classes has reached the NHL. However, there is more excitement over Seider and Raymond than Filip Zadina and Michael Rasmussen.
If we want to compare Yzerman and Holland in terms of their team's drafting prowess, we can compare Yzerman's Tampa Bay record versus Holland's draft record in Detroit in the same period. We will look only at 2010 to 2015 because draft picks from 2016 and later are still developing.
It's not a perfect apples to apples comparison because Yzerman and Holland had a different number of picks in different rounds. But we can see some trends.
From 2010 through 2015, the Lightning had 44 draft picks and 12 (27.2%) of those players totaled 200 or more games in the NHL. In the same time period, the Red Wings had 43 picks and nine (20.9%) of them played 200 or more NHL games.
Yzerman drafted Kucherov in second round
If we lower the standard to playing just one or more NHL games, the Lightning, under Yzerman, hit on 24 of 44 (54.5%) from 2010 to 2015. The Red Wings, meanwhile, had 18 of 43 (41.8%) draft picks in that time frame play at least one game.
In that period, the Lightning had six first-round picks and four (Brett Connolly, Vladislav Namestnikov, Andrei Vasilevskiy, Jonathan Drouin, Anthony DeAngeleo) have played 200 or more NHL games. The miss was Slater Koekkoek, who is 33 games short of playing 200.
Numbers don't always tell the entire draft story. For example, Yzerman's Lightning passed on Seth Jones to take Drouin in 2013. In 2011, he drafted six players and all played in the NHL. His picks included Nikita Kucherov, a second round pick, and Ondrej Palat, a seventh rounder.
The Red Wings, meanwhile, had four first round picks from 2010-15 and hit on three (75%). Riley Sheahan, Dylan Larkin and Anthony Mantha have all played 200 or more games while Evgeny Svechnikov has not. The five picks after Svechnikov went at No. 19 in 2015: Joel Eriksson Ek (Minnesota Wild), Colin White (Ottawa Senators), Ilya Samsonov (Washington Capitals), Brock Boeser (Vancouver Canucks) and Travis Konecny (Philadelphia Flyers).