Red Wings Prospect Berggren Thinks Small Ice Suits His Game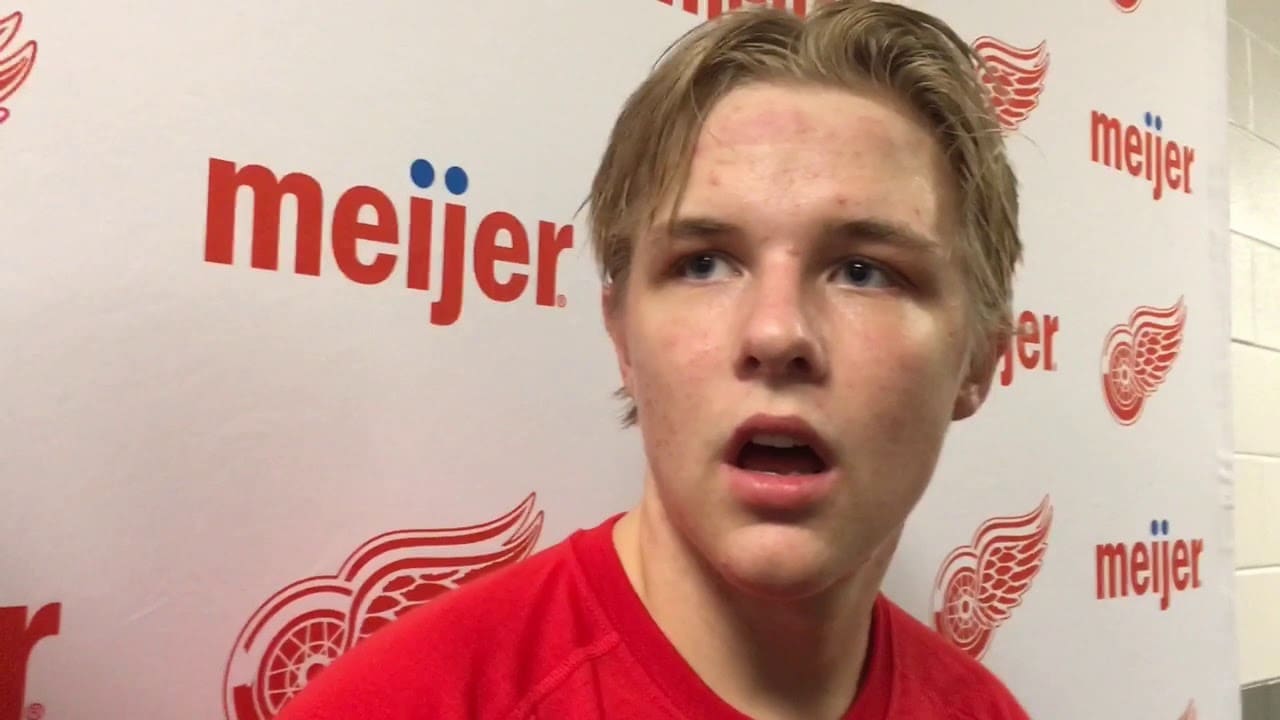 For almost all European players, their first experience on the smaller, North American ice is an eye-opening moment. That's how it was for Jonatan Berggren – only in a good way.
The Detroit Red Wings prospect from Sweden believes that he was meant to play in the smaller confines of a 200×85-foot NHL size rink, as opposed to the 200×100 foot ice surface that is standard in European leagues.
"You have much less space and time but I like it, too," Berggren, 21, explained from the Red Wings NHL rookie tournament in Traverse City, Michigan. "You need to be 100 percent ready all the time when you've got the puck."
Jonatan Berggren forces a turnover and sets up Joe Veleno for a goal, Berggren's 2nd assist of the game. #LGRW pic.twitter.com/aa6Kg5CdOC

— IcehockeyGifs (@IcehockeyG) September 17, 2021
That's okay with him, though.
"I like to make hard plays and give my teammates good spots to score," Berggren said. "I like when it's pretty tight and hard out there on the ice. It's getting me going.
"I like when it's a small ice."
Prefers North American Ice
Playing more of a North American style of game was something that Berggren and Red Wings director of player development Shawn Horcoff often discussed when they spoke last season. Horcoff was aware of the plan to bring Breggren to North America for this season. He did his utmost to help make Berggren as NHL-ready as possible.
"Horcoff and me talk much to bring the puck to the net and I think I did it more than I had in past seasons," Berggren said. "Maybe that was a point that made me do more points."
The 5-foot-11, 183-pound Berggen, comfortable playing either wing, enjoyed a breakthrough campaign with Skelleftea of the SHL. He produced 12-33-45 totals in 45 games.
"I had a good start with a few goals and points early in the season," Berggren said. "I think it was all about the confidence."
Playing With Men
Being that it was his third season in the SHL, Sweden's highest level of hockey, against men and pros, Berggren believes that it gives him a leg up on other prospects looking to take the next step straight out of junior or college.
"I think it's been big for me to play three years against real men," Berggren said. "I know how much stronger they are and how strong I need to be and how tough I need to be for me to play my game against men.
"I have the confidence that I can play my game at this level. Right now I'm just living my dream here in Detroit. It's pretty cool that I have got here."
Jonatan Berggren sets up Lucas Raymond for a goal at Traverse City Prospect Tournament. How swede it is.. #LGRW pic.twitter.com/VjK15ltp56

— IcehockeyGifs (@IcehockeyG) September 16, 2021
At rookie camp, Berggren, a 2018 second-round draft pick, is skating on a line with with two first rounders – Joe Veleno (2018) and Lucas Raymond (2020). All three played last season in the SHL and are also close off the ice.
They're even teaching Veleno a few choice phrases in Swedish. Should the need arise to trash-talk a Swedish opponent, Veleno can do so in that player's native tongue.
"Joe can speak a little Swedish," Berggren said. "We talk some Swedish to him and learn him some good Swedish words. He helps me with the English and drives me and Lucas much. He has a car here, so he's our Uber driver."
Bigger Games Ahead
Berggren recognizes that for him, rookie camp is merely the appetizer. If he wants to dine on an NHL per diem, he'll need to shine when main camp opens later this month.
"That's the big test for me," Berggren said. "That's like my Olympic Games when the main camp starts. I will just give 100 percent and do my best to take a spot."
He wants to be a Wing sooner rather than later but realizes how much of a challenge is ahead of him to make Detroit's roster this fall.
"Of course I would be disappointed," Berggren said of the thought of not making the NHL roster out of camp. "If you don't be disappointed, it's like you don't care.
"I would do all I can for a spot in Detroit but if they want me to play some games in Grand Rapids, I would take it and just do the best I can every day to take a spot in Red Wings."