Tyler Bertuzzi Isn't Vaccinated, Can't Play Red Wings' games in Canada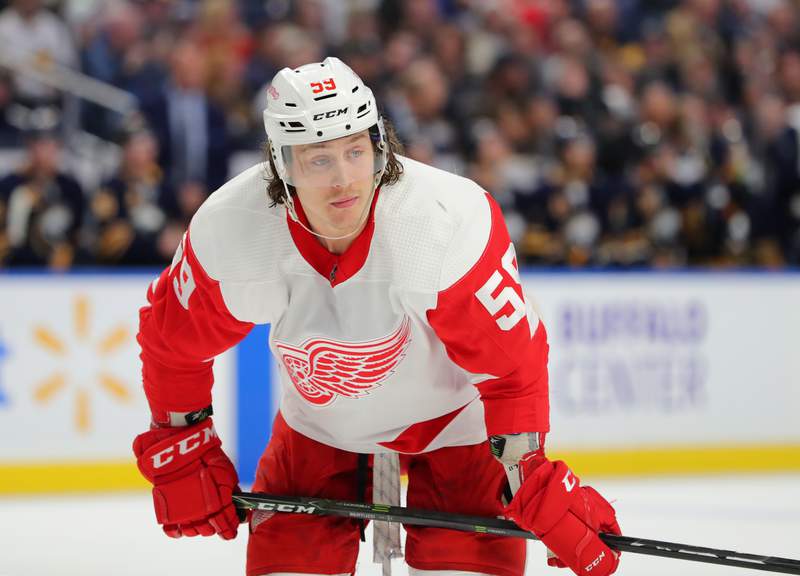 Detroit Red Wings winger Tyler Bertuzzi has chosen not be vaccinated, meaning he will not, at least for now, be able to travel with the team to games in Canada.
He is the only Red Wings' player who isn't vaccinated. Following the NHL protocol,  Bertuzzi will be able to attend training camp. About 98 percent of NHL players are vaccinated.
"As of now, and for the foreseeable future, you can't enter Canada unless you are vaccinated,  so that obviously will be an issue when we go play Canadian teams," Detroit general manager Steve Yzerman said.
The Red Wings play nine games total in Canada this season, starting in Montreal on Oct. 23, then Toronto on Oct. 30 and Montreal again on Nov. 2.  This will cause logistical complications as well: the Red Wings play in Chicago the day after their first game in Montreal.  He will have to get to Chicago on his own.
"It's his decision," Yzerman said,  "and it's the world we live in today. I'm not in a position to force anyone."
Bertuzzi Coming off Back Surgery
Bertuzzi signed a two-contract this summer for $4.75 million per season. He played only nine games last season because of a back injury that required surgery.
Yzerman said he wasn't disappointed with Bertuzzi's decision. "I personally am vaccinated," Yzerman said. "My family is vaccinated. I will leave it at that."
"I respect the fact that he has a choice and has made that choice," Yzerman said, "and we are going to work within the league's protocols
He will be required to distance himself from players under certain circumstances, like in a gym, for example. On the road, he can't use the hotel gym, bar or restaurant. But he can practice and scrimmage with his team.
The Columbus Blue Jackets announced that Zac Rinaldo, who signed a two-way contract this summer, will not be allowed in training camp. He will start with the Blue Jackets' minor-league affiliate.