Allen: The Steve Yzerman Red Wings Era Starts NOW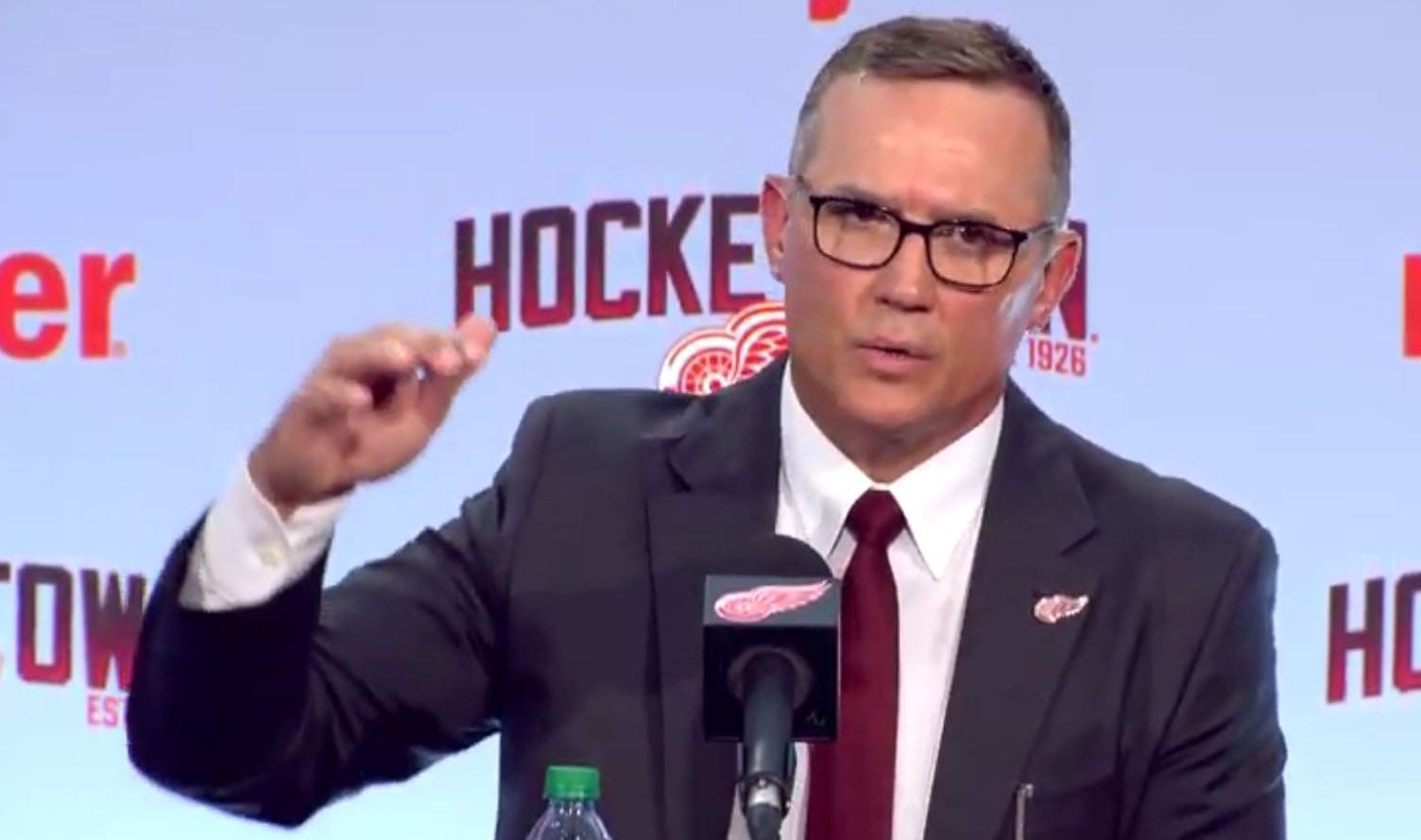 Steve Yzerman was named the Detroit Red Wings general manager on April 19, 2019. But the Yzerman managerial era didn't start until last Thursday when defenseman Moritz Seider and forward Lucas Raymond made their NHL debut.
Those were the two players Yzerman chose in the first round of the first two drafts he commanded as Detroit's GM. Yzerman has joked in the past that his scouting department does the work and then he gets credit when they succeed and he can blame the scouts if it doesn't work out.
But anyone who knows Yzerman knows those first-round picks were his decisions. You can tell that by the people chosen. It looks like Yzerman hit a home run with both selections. But it will be a while before that is truly determined. It's not even a given yet that Raymond will stay with the team this season, although it looks better every time Raymond makes a play or takes a shot.
The Red Wings situation is similar to what a college football coach goes through when he takes over a struggling team.  It's said that they shouldn't be judged until their recruits start to become starters.
This is the first season the Red Wings are getting the youngsters that Yzerman drafted.
It will still be a couple or three seasons before Yzerman has put together a group the way he wants it. But you can see it starting the take shape.
Defense Improving
The defense is now deeper, the offense is more dangerous and the goaltending has more potential than it has in a while.
Last season, the Red Wings scored one goal or no goals in 22 of their 56 games. That means the opponent only needed to score two goals to beat them in 39.2% of their games.
The Red Wings scored two or fewer goals 36 times last season, meaning they only managed to score three or more goal 20 times in 56 games. That's 35.8% of the time.
In this season's small sample size, the Red Wings have scored 13 goals in three games. That's 4.33 goals per game. They are 3-for-3 when it comes to scoring three or more goals. In those three games, Detroit defensemen have registered 12 assists. This defensive group is more engaged with the offensive attack than last season's group.
This is not a team that will qualify for the playoffs, but it will be more entertaining than last season's team.
Yzerman's decision to add defenseman Nick Leddy is already paying off. He's the right partner for Seider. His puck moving has helped Detroit's transition game and his experience has helped stabilize the back end. Gus Lindstrom looks like he can be a safe, steady defender with a good first-pass.
Steve Yzerman's Work Paying Off?
One of Yzerman's best moves was trading for Robby Fabbri.  The Red Wings like his energy, scoring touch and the ability to make plays in traffic. He's only 25, and could fit into the rebuild. The only catch is he will be an unrestricted free agent this summer. He could be an attractive free agent. It's possible a contender could see him as a last piece.
The best guess is Fabbri appreciates the respect he gets from the Red Wings' organization and will want to stay.
Based on his offseason moves, Yzerman clearly wanted this team to be more competitive this season. For example, he bolstered the defensive depth (Nick Leddy, Jordan Oesterle and Marc Staal), the goaltending (Alex Nedeljkovic), the checking (Mitchell Stephens  and Carter Rowney) and the offense (Pius Suter).
It looks like he has accomplished that, although that is far from certain. What we've seen thus far is a team that has some spunk, improved offensive depth and a defensive group that seems to get more done.
The X-factors will again be the special teams. If they want to be more competitive, the Red Wings have to defend much better on the penalty kill and they have find the net more on the power play.
Seider could be key for both sides of that equation. He can be a heavy presence on the penalty kill and he shows excellent instincts on the power play.  Raymond's knack for finding the seams in the defense is also impressive.
Joe Veleno Is NHL Caliber
Joe Veleno is ready to play in the NHL, or incredibly close to being ready. The Red Wings just didn't want him playing fourth line minutes. Yzerman would prefer Veleno play top line minutes in Grand Rapids. But Veleno will be up and playing regularly as soon as there is an injury.
With the building blocks of the Yzerman era starting to arrive, it becomes even more important for Filip Zadina and Michael Rasmussen to become more consistent. Both Zadina and Rasmussen are more involved, but it remains to be seen if their production will start to rise.
As Yzerman era moves forward, we could see Simon Ervindsson start next season in Grand Rapid and be ready for a shot at the NHL in the middle of next season. He has seven points in 12 games for Frolunda this season.
Cossa Waiting in the Wings
We will see Sebastian Cossa in Grand Rapids next season. The estimated time of arrival in Detroit is to be determined. Goalies used to arrive at 24 or 25 in the NHL, but we are now elite young goalies coming early. Spencer Knight is only 20 and he was in net Wednesday night for the Panthers' win against the Tampa Bay Lightning.
It's hard to know exactly how many veterans will still be around on the Red Wings when it's ready to contend. Yzerman probably doesn't know that for sure. It will be depend on how many younger players prove themselves, how well the veterans fit with the younger players and most importantly, what they have to offer.
Right now we could guess that, counting Joe Veleno, there could be as few as eight or nine players on this season's team that will be with the team when it's ready to contend.
All we know for sure is that Yzerman Era has officially begun.