Red Wings' Seider Is Only Logical Calder Choice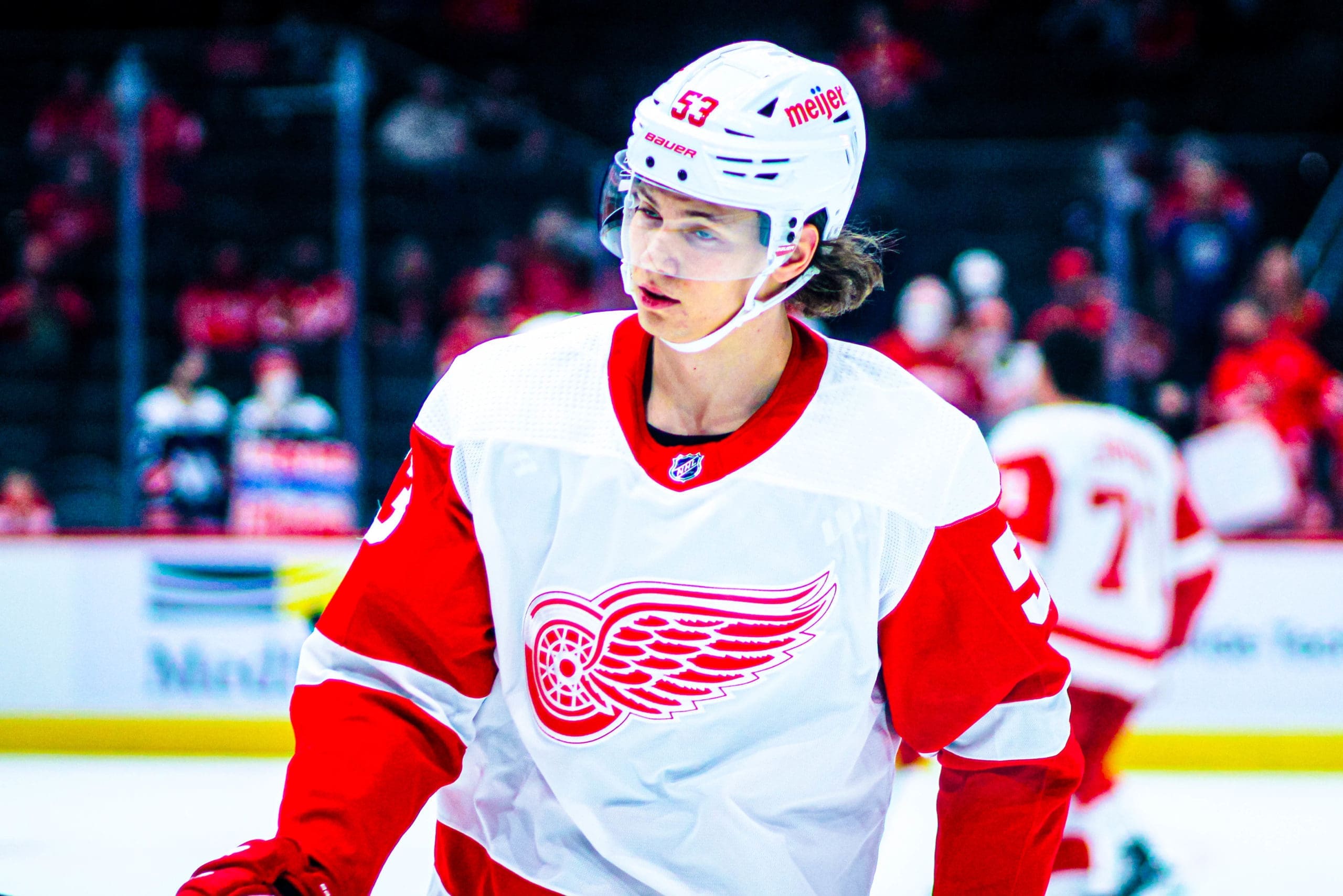 Memo to anyone who will be casting a vote for the Calder Trophy – if you're not putting Detroit Red Wings defenseman Moritz Seider in the first slot on your ballot, you're doing it wrong.
Prior to Saturday's Red Wings-Toronto Maple Leafs games, the crew at Hockey Night In Canada made a case for each of the Calder contenders. Jennifer Botterill spoke on behalf of Toronto's Michael Bunting. Elliotte Friedman made the case of Anaheim's Trevor Zegras. Ron MacLean lobbied for Detroit's Lucas Raymond.
Then it was Kevin Bieksa's turn and the former NHL defenseman blew everyone out of the water as he espoused all the qualities that Seider brings to the ice. Bieksa stated flatly that it's an open-and-shut case for Seider when it comes to the Calder.
He's not wrong.
When it comes to the Calder race, there's a lot of Mo-mentum in Seider's corner.
Betting sites offering odds on the Calder Trophy recently installed Seider as the favorite to win for the first time this season. It's more than coincidence that Detroit recently made a swing through the East Coast, with games in Philly and New York, along with that HNIC appearance and suddenly, the hockey world is abuzz with the sensation that is Seider.
Goaltending is the most important position on the ice. Defense, though, is the most difficult position to play. Standard hockey logic states that the average defenseman requires 200 games to adjust comfortably to playing in the NHL.
Seider required all of about 200 minutes to locate his comfort zone.
Seider Doing It All For Red Wings
He can play any style of game that's required and in any scenario?
First-pairing shutdown defender?
Check.
Power-play quarterback?
Check.
Physical presence?
Check.
Puck transporter?
Check.
Penalty killer extrodainaire?
Check.
Moritz Seider: One-Man Penalty Kill 💪 pic.twitter.com/8LxT4kR2pL

— NHL (@NHL) February 10, 2022
"He can basically do it all – the big hits, the physical plays , the patience with the puck, the skating, making plays," Raymond said.
Generally, NHL teams pair a rookie on the blueline with a savvy veteran to protect them from the errant ways of youth. In the case of Seider, the Wings are struggling to find a veteran capable of keeping up with him.
"As we got into this season, I felt that he could be a guy who was a difference maker, not just a good, young player," Red Wings coach Jeff Blashill said. "That's a huge difference.
"We didn't want to give him too much, too soon, but he's grabbed more and he's grabbed more and he's become a guy who's out there playing agains the other team's best."
Seider Learning As He Goes
Clearly, Seider is blessed with a hockey IQ that is off the charts. He thinks the game well and when he does make a mistake, learns from it and doesn't repeat the error.
"The highlights are the highlights but he's done it consistently and he's done a great job," Red Wings captain Dylan Larkin said.
Consider Seider's pass off the pads of Colorado goalie Pavel Francouz to teammate Filip Zadina for a goal in a recent game.
"That was a great play," Zadina said.
Absolute brilliance here by Moritz Seider. Pulls off the POP (Pass Off Pads) to perfection. What a play, what a player! #hockeyIQ pic.twitter.com/ZLyiemWSza

— @RobSchremp (@RobSchremp) February 25, 2022
More recently, Seider is bringing an intimidating physical presence to the ice. That's all part and parcel of his rapid evolution as a player.
"Early on, it seemed like his body leverage wasn't as good as he anticipated it to be," Blashill said. "Now it seems like he's leveraging his body way better, so he's showing that physical element."
A Dominant Presence
Seider leads all rookies in time on ice (22:56), blocked shots (102), power-play points (16) and assists (34). In fact, he leads the Red Wings in both of those latter categories. He's poised to join Reed Larson (1977-78), Tom Webster (1970-71) and Earl Reibel (1953-54) as the only rookies to pace the Wings in dishing out helpers.
"It helps with his size the way he's able to skate and move," Detroit defenseman Troy Stecher said. "I think for the most part bigger guys don't really have his mobility. Right there alone, you see the potential he has.
"To see him throughout the course of the year and the confidence he has and continue to build on his game and some of the things he's done on the ice, you know that's coming from confidence.
"I know everybody in the room is super-happy for him. At the same time, we all want to keep pushing to get better because ultimately if he's better our team is better."
Raymond gained a healthy appreciation for all that Serider can do playing against him last season in the Swedish League.
"He's just a force out there," Raymond said.
If you ask Raymond who's winning the Calder, he'll tell you it's Seider. Case closed.
"He has my vote for sure," Raymond said.