Seider Charging Up Red Wings Rookie Defensemen Scoring List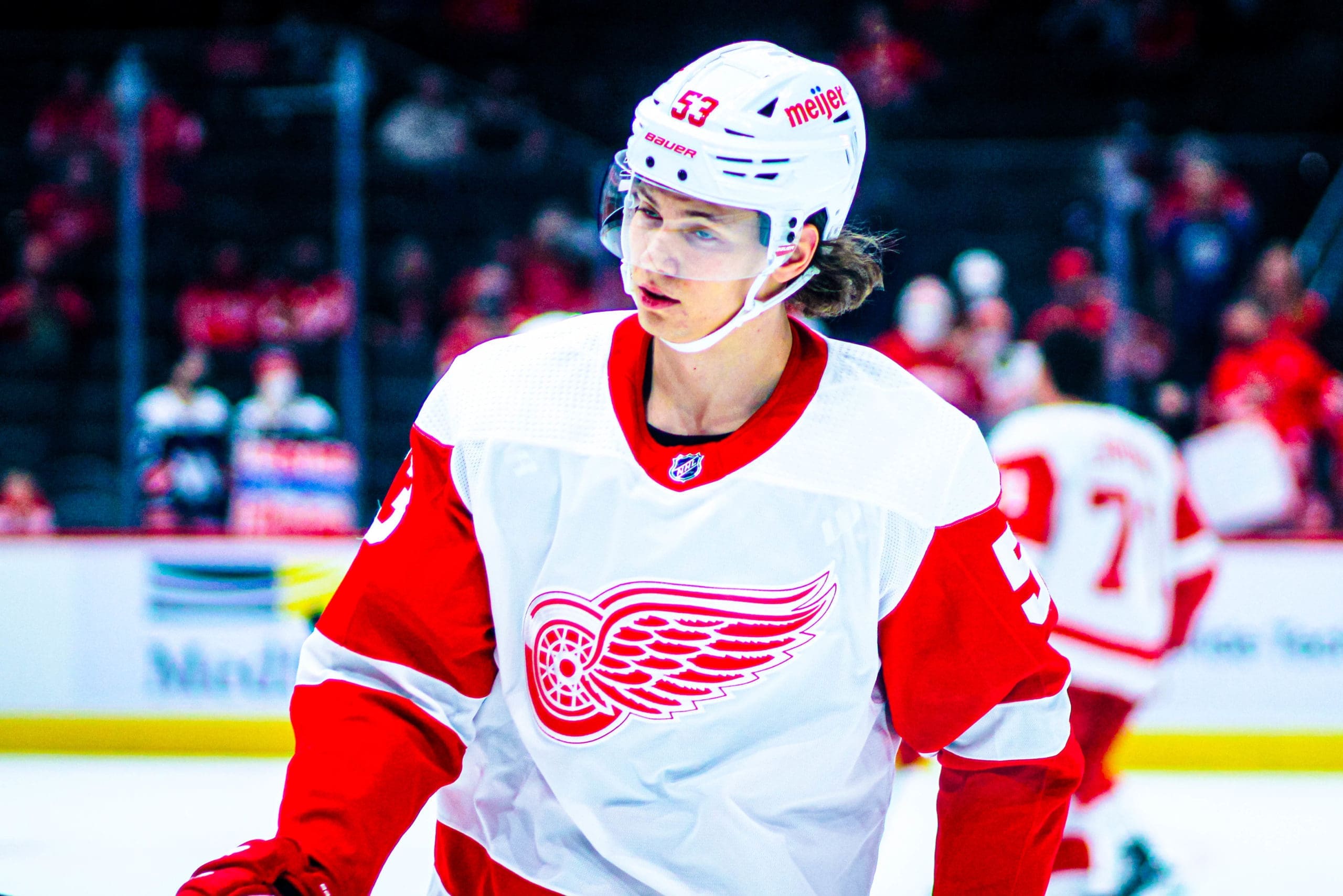 Detroit Red Wings coach Jeff Blashill isn't a man easily given to hyperbole. However, when the conversation turns to the accomplishments of rookie defenseman Moritz Seider, even he struggles to contain his enthusiasm.
"I like to temper everything, because I think it's really important to understand that every player needs to grow and certainly young players continue to grow," Blashill said. "But if we're being honest, his impact's been huge. He's had a huge impact on us having success.
"That's just the reality of it and I'm not going to pretend like it's not the case."
Seider leads all NHL rookie defensemen with 27 assists and 32 points. He and Bowen Byram of the Colorado Avalanche share the goal-scoring lead among rookie rearguards with five each.
Nick Lidström says one piece of advice he gave Moritz Seider is "take the shots. You don't get many opportunities to shoot as a d-man, take the chances."

Looks like Mo Seider took the advice to heart #LGRW pic.twitter.com/mSFTWIMeYr

— IcehockeyGifs (@IcehockeyG) February 12, 2022
Playing 22:49, Seider skates more ice time per night than any other rookie. He also is toppng all NHL rookies in power-play points (14) and game-winning goals (three).
And Blashill figures he's only going to get better.
"I actually think that he has gotten better," Blashill said. "It's still a balance of knowing how much he can bite off and whatnot. But listen, we're a better hockey team since he's into our lineup. There's zero doubt about that.
SIGNUP BONUS
UP TO $250


BONUS MONEY
BET NOW
"I think as the season's wore on, he's had a bigger and bigger impact, because of opportunity. He's done a real good job for us."
Seider Moving Up Red Wings List
Already, Seider is sitting sixth on the all-time scoring list for Red Wings rookie defensemen. Before long, he'll be third.
Let's look at the company he's keeping:
Nicklas Lidstrom 60 points (1991-92)
The Hall of Famer and seven-time Norris Trophy winner not only shares top spot on this list, his 49 assists are tied with center Marcel Dionne (1971-72) for the most assists by a Detroit. Lidstrom, by the way, is touting Seider as his Calder Trophy favorite.
Reed Larson 60 points (1977-78)
Larson's power shot terrorized goaltenders. His 19 goals in 1977-78 set a Detroit rookie defenseman mark that still stands. Five times during his Red Wings career he ascended to the 20-goal plateau.
Reed Larson looks like the kinda guy who at one time had the most feared slap shot in hockey – and he did. #LGRW #RedWings pic.twitter.com/RwU8MKwKGB

— The Hockey Samurai 侍 (@hockey_samurai) July 30, 2021
Jeff Sharples 35 points (1986-87)
Despite being limited to 56 games, Sharples finished second among Detroit defensemen in scoring as a rookie. Like Seider, he was 20 years old during his first NHL campaign.
Vladimir Konstantinov 34 points (1991-92)
Were it not for the tragic limousine crash in 1997, the 1-2 punch that Lidstrom and Konstantinov would've kept giving Detroit would've been spectacular. Konstantinov was an NHL Second Team All-Star selection in 1995-96.
Rick Lapointe 33 points (1975-76)
Like Seider, Lapointe was a Red Wings first-round draft pick. He was selected fifth overall in 1975. Lapointe's 10 goals as a rookie were the most by a Detroit defenseman since Gary Bergman scored 13 goals in 1967-68.