Red Wings Wrap: Jakub Vrana Strong Start Lets Fans Wonder "What If…"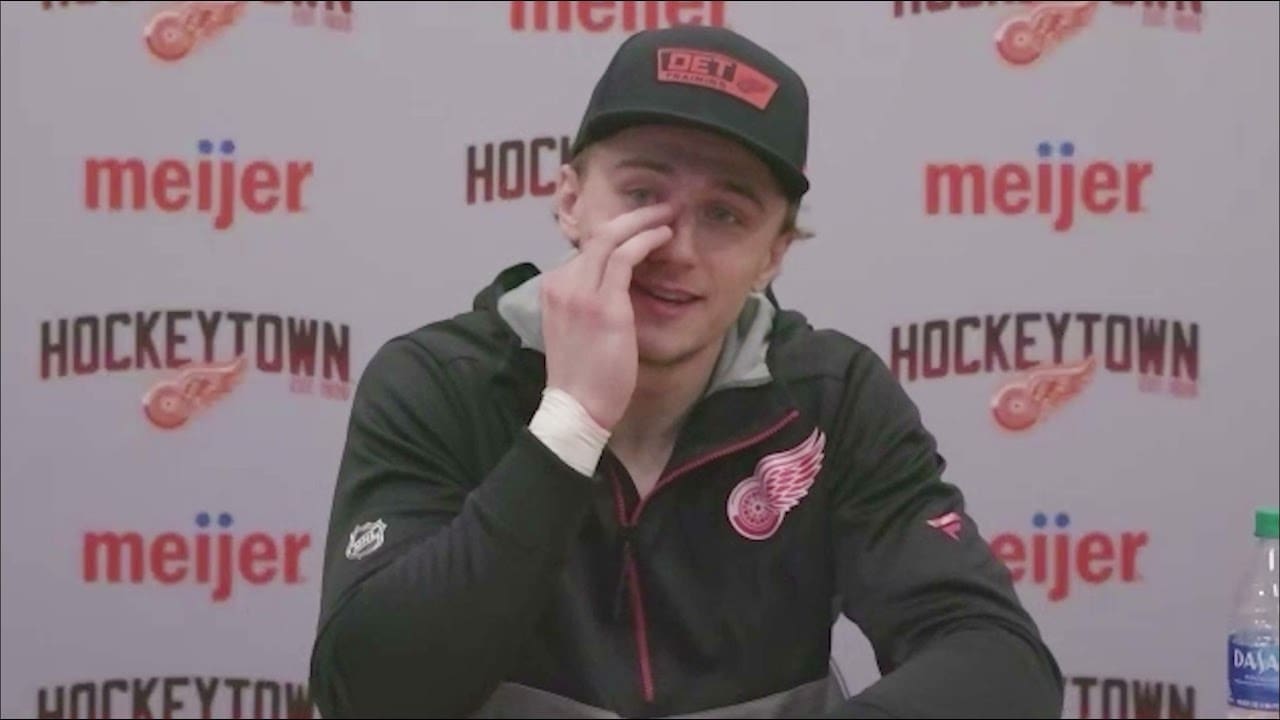 When Jakub Vrana was injured in his first shift at training camp, the Detroit Red Wings felt the pain. Losing Vrana for the first five months of the season to shoulder surgery undermined the Red Wings' season before it started.
If you watched Vrana score three goals in his first two games, then you can understand why the Red Wings projected him to be the team's leading scorer this season. Counting last season's production, Vrana now has 11 games in 13 games since coming from the Washington Capitals in the Anthony Mantha trade. That's a new Red Wings' record for fewest number of games to reach 10 goals. He took down a previous mark held jointly by Steve Yzerman and Bill Lochead (15).
"Yea, I've been feeling pretty good. It's not all about me," Vrana said. "We didn't really get the result the first game we wanted. I'm really happy we came back yesterday and battled way more than the first game. Individual-like, I feel good out there. I've been four months out. I've been training hard and I've been really excited to come back and play."
His repaired shoulder has stood up thus far to heavy hitting.
Shoulder Holding Up
"After practice I've been battling with (Givani Smith),"  Vrana said. "He's a big boy. So I tested (the shoulder). It's been holding. I'd have to say it's been pretty good."
Jakub Vrana owns a unique perspective about getting hit. "I feel when I get hit it's my fault," Vrana said. "I gotta be aware of that. That's hockey, that's how it is."
All of this makes fans wonder what this season would have been like if Vrana could have been healthy enough to score 25 to 30 goals. It's impossible to know. Maybe Lucas Raymond wouldn't have developed like he has. But Detroit fans do know that looking toward next season the Red Wings, with a healthy Jakub Vrana, should be more dangerous offensively than they were this season.
In Case You Missed it
Detroit goalie Alex Nedeljkovic mishandled the puck and scored on himself.
Robby Fabbri is gone for the season and Joe Veleno, Michael Rasmussen and Filip Zadina need to step up.
Five Takeaways from the Detroit Red Wings' 6-5 shootout loss to the Minnesota Wild. Was that a good point earned, or a bad one?
Hot/Not
Who's hot: Lucas Raymond has five goals, one assist and a few stitches in his last six games. He has seven goals and three assists in his past 11 games.
Who's not: Vladislav Namestnikov registered one goal and one assist in his past 11 games.
Fact check: Rookie Lucas Raymond owns three multi-goal games. His 18 goals and 45 points place him second in the rookie scoring race. Toronto's Michael Bunting has 47 points.  Raymond is the fourth
Red Wings rookie in the past 30 years to record 18 or more goals, joining Dylan Larkin (23 in 2015-16), Henrik Zetterberg (22 in 2002-03) and Dallas Drake (18 in 1992-93).
Trade talk
Boston: Bruins wing Jake DeBrusk is projected to be one of the NHLers who is dealt before the March 21 trade deadline. Boston Hockey Now writes about whether DeBrusk could repair his relationship with coach Bruce Cassidy.
The #CBJ won't be labeled as buyers at the NHL's trade deadline, but Jake DeBrusk is available — and Columbus would be wise to reach out. https://t.co/gvXj3fhsiu

— 1st Ohio Battery (@1stOhioBattery) March 9, 2022
Around the NHL
Florida: Sam Reinhart nets a hat trick in another Florida Panthers' win.
Philadelphia: The Philadelphia Flyers are trying to jump into the college hockey free agency market.
Pittsburgh: Hockey Now lays out what Penguins general manager Ron Hextall will be looking for at the trade deadline.
Vegas: Jack Eichel rips into the Buffalo Sabres.