Five Takeaways: Wild Comeback Doesn't Stop Another Red Wings Loss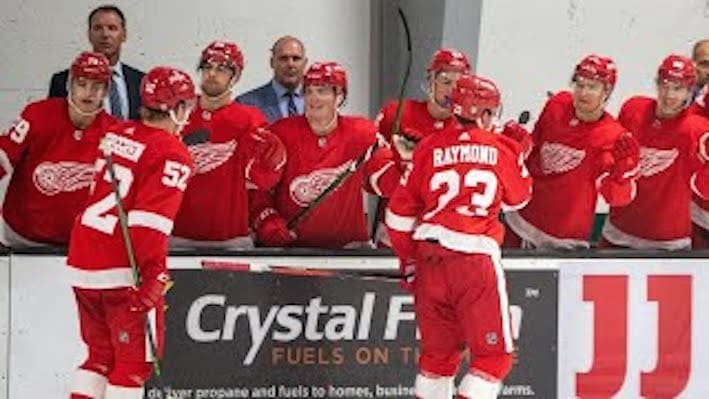 The Detroit Red Wings were down 4-1 to the Edmonton Oilers and tied the game. They trailed 5-4 and again found a way to tie it again.
But their resiliency went for naught Tuesday when Warren Foegele scored with 5:25 left in regulation and Evander Kane added an empty netter to provide the Oilers a 7-5 win against Detroit. It was the Red Wings' sixth consecutive loss. It's been more than a month since the Red Wings won a game in regulation.
"I thought we certainly could have won the hockey game — so that's tough," Detroit coach Jeff Blashill said. "We are not trying to have moral victories here. But I try to judge the process and from the process standpoint I thought we did lots of good stuff."
Another Poor Start
The Red Wings have lost eight out of nine and a theme of the slump has been allowing opponents to take charge early. The Oilers did that by claiming a 3-0 lead in the opening 4:35 of the game. They scored twice in the first 3:11, including Connor McDavid's 33rd goal of the season.
"They just swarmed us," captain Dylan Larkin said. "We were caught in our own zone for the first three minutes of the game. You can't start hockey games like that."
Larkin said the Red Wings have to concentrate of keeping the puck out of Detroit's zone. Playing it the puck deep into the opposition zone until the Red Wings find their rhythm.
"We have to have a better start," Larkin said. "Those have been crushing us the past couple of weeks."
Veteran Assistance
Marc Staal had the first two-goal game of his career. He was just honored over the weekend for playing his 1,000th NHL game. His two goals, one coming in the first period and another in the third period, gave the team a boost. Television analyst Mickey Redmond joked that Staal looked like Bobby Orr as he pushed up ice in the third period trying to create more offense.
Sam Gagner also notched a goal and an assist.
"Huge impact tonight," Blashill said. "I thought they did a real good job. Both guys were on it and I think both guys are real proud people that want to continue to play the right way and they've done that and are good leaders."
Taro Card
Taro Hirose has played well in Grand Rapids this season. But he's considered a bit slow for the NHL game. But social media always has fans lobbying for Hirose to get another NHL shot. He's a former Michigan State player.
With Tyler Bertuzzi unable to play in Canada, Hirose is getting that shot and delivered two assists to help the Red Wings make this a competitive game. One of his assists was a direct feed to Filip Zadina for a goal.
"He's smart, he knows how to play," Blashill said. "He doesn't have the physical attributes in terms of size and speed, but he's smart and knows how to play and is responsible. I thought he came in and gave us some new juice."
Throttling Up
The Red Wings have shown at various times that they can score goals. They averaged 3.5 goals per game for one extended period. Several players had strong offensive games against the Oilers. Rookie Lucas Raymond netted his 19th goal of the season. Fellow rookie Moritz Seider had an assist.
"When we got going, we were a dangerous team and had them on the ropes," Larkin said.
D Zone Coverage
As impressive as the Red Wings' push-back was against the Oilers, the Red Wings' chief problem is that they are giving up too many goals. Their defensive zone coverage is lacking. The Red Wings still lead the NHL in giving up high danger scoring chances.
In the last nine games, the Red Wings have given up 53 goals. That's a 5.88 goals-against average. Detroit has given up six or more goals five times in these nine games.