Red Wings Wrap: Would Yzerman Really Trade Bertuzzi?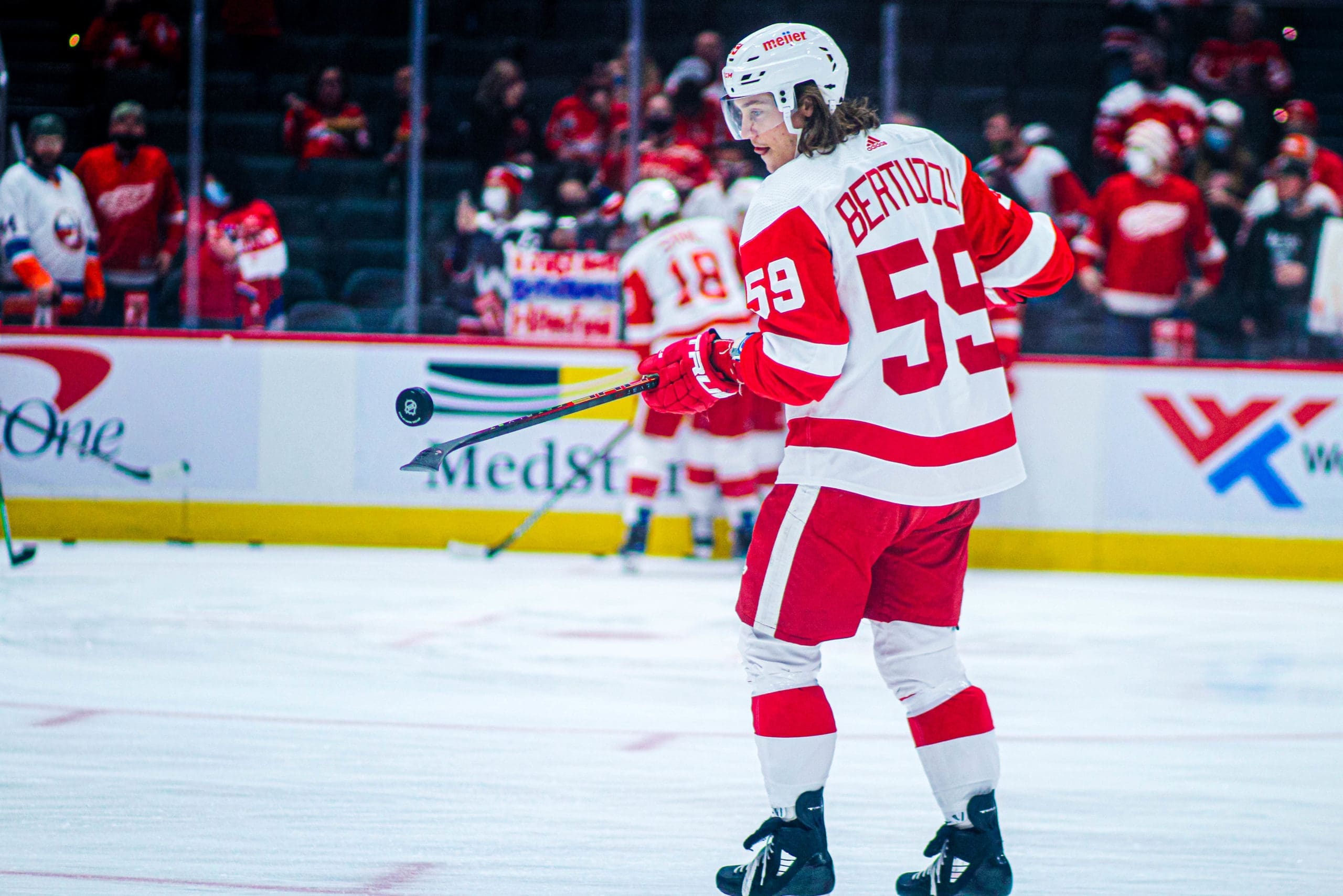 The Detroit Red Wings are finding out that they're not much of a team without Tyler Bertuzzi and Robby Fabbri. Two games into their respective absences, the Wings are 0-2 and have been outscored 10-5.
Bertuzzi (24) and Fabbri (17) have combined for 41 goals this season. Fabbri is missing because of a torn ACL. Bertuzzi is missing because of his selfish decision to not get vaccinated for COVID-19. He's one of only two NHLers to make that choice and it means he's unable to play Detroit's games in Canada.
If you don't think that Bertuzzi's choice rubs Red Wings GM Steve Yzerman the wrong way, then you really don't know what makes Yzerman tick.
As a player, Yzerman was about the collective. His only pursuit was winning and if he didn't think you could help him win, it didn't matter if you were his best friend. You were gone.
Yzerman's lone endgame is winning the Stanley Cup.
"It's the only thing that really matters," he once told me.
Is Yzerman really shopping Bertuzzi? Well, he's certainly going to be listening to offers.
Frank Seravalli of DailyFaceoff.com wrote that Yzerman is "open for business" and willing to discuss trade proposals for just about any of his players beyond rookie sensations Moritz Seider and Lucas Raymond.
Seravalli – "Yzerman has let teams know that he is 'Open for Business.' The sense is just about everyone from the Red Wings roster is available aside from Moritz Seider and Lucas Raymond.

That would include Tyler Bertuzzi, whose name first surfaced in rumors last summer." #LGRW

— NHL News (@PuckReportNHL) March 15, 2022
The last few weeks have made it abundantly clear that this Detroit team is still far away from being able to play with the NHL's big boys.
Bertuzzi's next point will give him a career-high 49, so Yzerman isn't about to give him away. However, if he could come up with a package similar to what he got last year for Anthony Mantha, it wouldn't be shocking if Stevie Y is pulling the trigger on a Bertuzzi trade.
Red Wings Staal Nets Pair
Who's Hot: Tuesday, in his 1,001st NHL game, Red Wings defenseman Marc Staal enjoyed the first two-goal game of his career.
Who's Not: Detroit's defensive play. The Wings have allowed three or more goals in each of the past nine games.
Rare Occurence For AHL Griffins
On March 10, the Pittsburgh Penguins reassigned forward Jan Drozg from Willkes-Barre/Scranton to the Grand Rapids Griffins. It's rare that an NHL franchise would assign a player to another team's farm club.
In fact, it's the first time it's happening in Grand Rapids since 2009. Back then, the New York Rangers moved forward Patrick Rismiller from Hartford to GR.
NHL Trade Talk
Boston: Coach Bruce Cassidy says it's business as usual while the Boston Bruins continue shopping for help prior to the March 21 trade deadline.
Pittsburgh: The Pittsburgh Penguins are reportedly pushing hard to acquire Montreal Canadiens defenseman Ben Chiarot.
Calgary: Then again, maybe it's the Calgary Flames who are going to be getting Chiarot from the Habs.
Philadelphia: Forward Sean Couturier said the rest of the team would be happy for Claude Giroux if the Philadelphia Flyers captain is dealt to a contender.
Islanders: The Toronto Maple Leafs are being linked to New York Islanders goaltender Semyon Varlamov in trade speculation.
San Jose: What's the trade market for San Jose Sharks center Tomas Hertl?
Around The League
Washington: Surpassing Jaromir Jagr (767), Washington Capitals captain Alex Ovechkin became the highest European-born goal scorer in NHL history.
Colorado: Back in the day, Dave Manson and Paul MacDermid dropped the mitts in an NHL game and duked it out. Today, their sons Josh Manson and Kurtis MacDermid are fighting together to help the Colorado Avalanche try to win the Stanley Cup.