Detroit Red Wings' Darren McCarty Larger than Life On & Off the Ice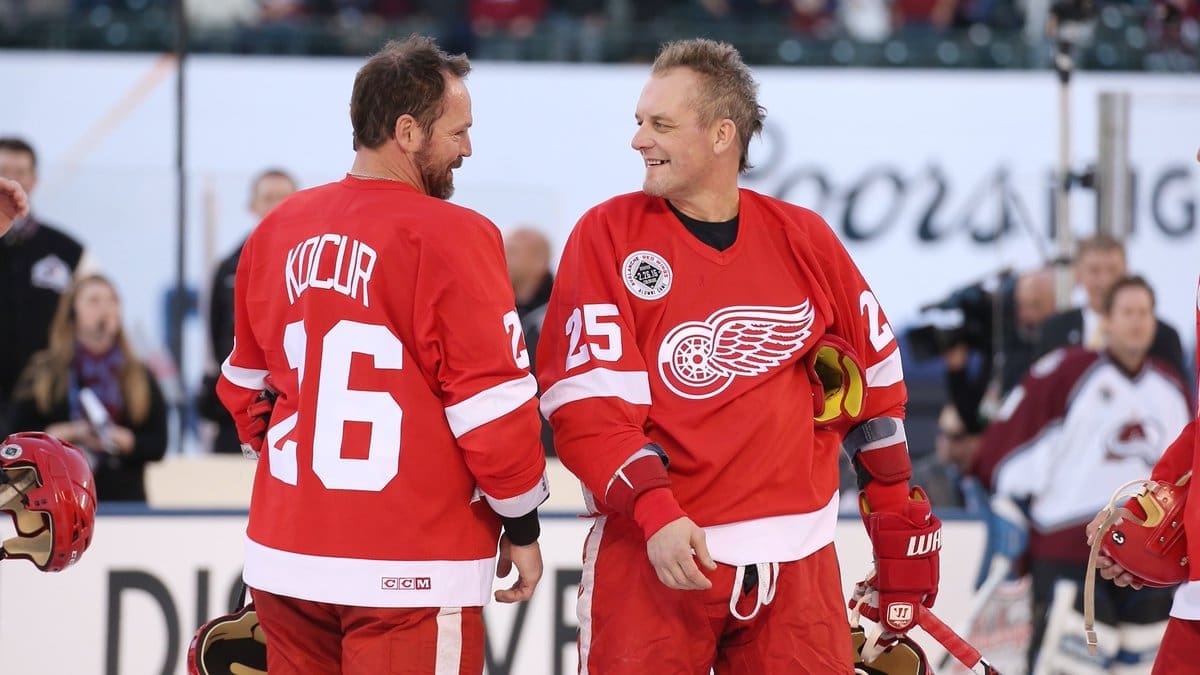 25 years ago, the Detroit Red Wings came together in the infamous March 26 fight night that foreshadowed future success. As the game approached, no one knew what to expect.  Emotions still ran high, and all anyone in Detroit really wanted was vengeance for what had occurred during game six of the 1996 Western Conference Final.
And oh boy, did it ever happen.
My perspective was a bit unique from my colleagues as I had just turned 16. It would be the memory of a lifetime as a young fan.
It's also when Darren McCarty became legendary in Detroit.
Red Wings and McCarty Got Even
On the 25th anniversary of the game, I'm transported back to my teenage years as a rabid fan watching every game I could with my brother. Since we were in Illinois, we didn't get local coverage. It was Gary Thorne on ESPN 2. And it was glorious.
As Igor Larionov and Peter Forsberg tussled, there was a roar. As the camera panned out to center ice, there was Darren McCarty pummeling Claude Lemieux. But it was the next moment that caught our attention.
As Patrick Roy came racing out of his net, Brendan Shanahan's flying leap into the reviled Avs goalie caused our house to erupt with excitement. But in the unlikeliest of moments, it wasn't my brother or me making the most noise.
It was our mother. The same woman who always told us to turn the other cheek, and that violence wasn't the answer, was letting loose with profanities. It was enough to draw our attention from the brawl and know that our thirst for vengeance was shared with the unlikeliest of people.
The Red Wings would go onto win the game, on an overtime goal by McCarty.
In the pre-DVR days, we were lucky to have an uncle mail us a VHS tape of the re-run of the game. Over the years, we'd wear that tape out. That same uncle would gift me a McCarty shirt, which I wore until it literally unraveled into threads of red over a decade later.
But it was my other uncle who experienced one of the best McCarty moments of all.
Off the ice, McCarty Brought a Surge of Hope
A couple years after the fight, my Uncle Walt shared a story about McCarty. He's always been a huge Red Wings fan, and a father figure to me. At the time, his mother had been diagnosed with cancer. She was at Henry Ford in Detroit undergoing surgery as her battle began and my uncle was on his way to her room.
Walking down the hall with his sister, he recognized a familiar face. It took a minute for it to register–one of those moments where the face doesn't fit the location. But it was the hulking stature and wide grin that gave it away. My uncle realized it was Darren McCarty, who winked and nodded his head as he passed by.
Decked out in a Wings jacket and hat, my uncle didn't want to draw attention. But they locked eyes, he returned the nod and smile.
Prior to the moment, his mind was racing with anxiety over the seriousness of the moment. The news was already grim. The simple acknowledgment and smile from McCarty did wonders in the brief exchange.
"It may not seem like much, but it meant a lot to me,"  my uncle Walt recalled. "It helped take my mind off of everything going on and was refreshing."
He still recalls it–over twenty years later–as if it happened yesterday.
25 years later, Mac is still a legend to so many–for what he's done on and off the ice. Whether it's protecting a teammate, scoring a game winner in the Final, or providing hope for a stranger, his continued popularity shows how beloved he still is in Detroit.