Red Wings Role Call: Filip Zadina's Detroit Future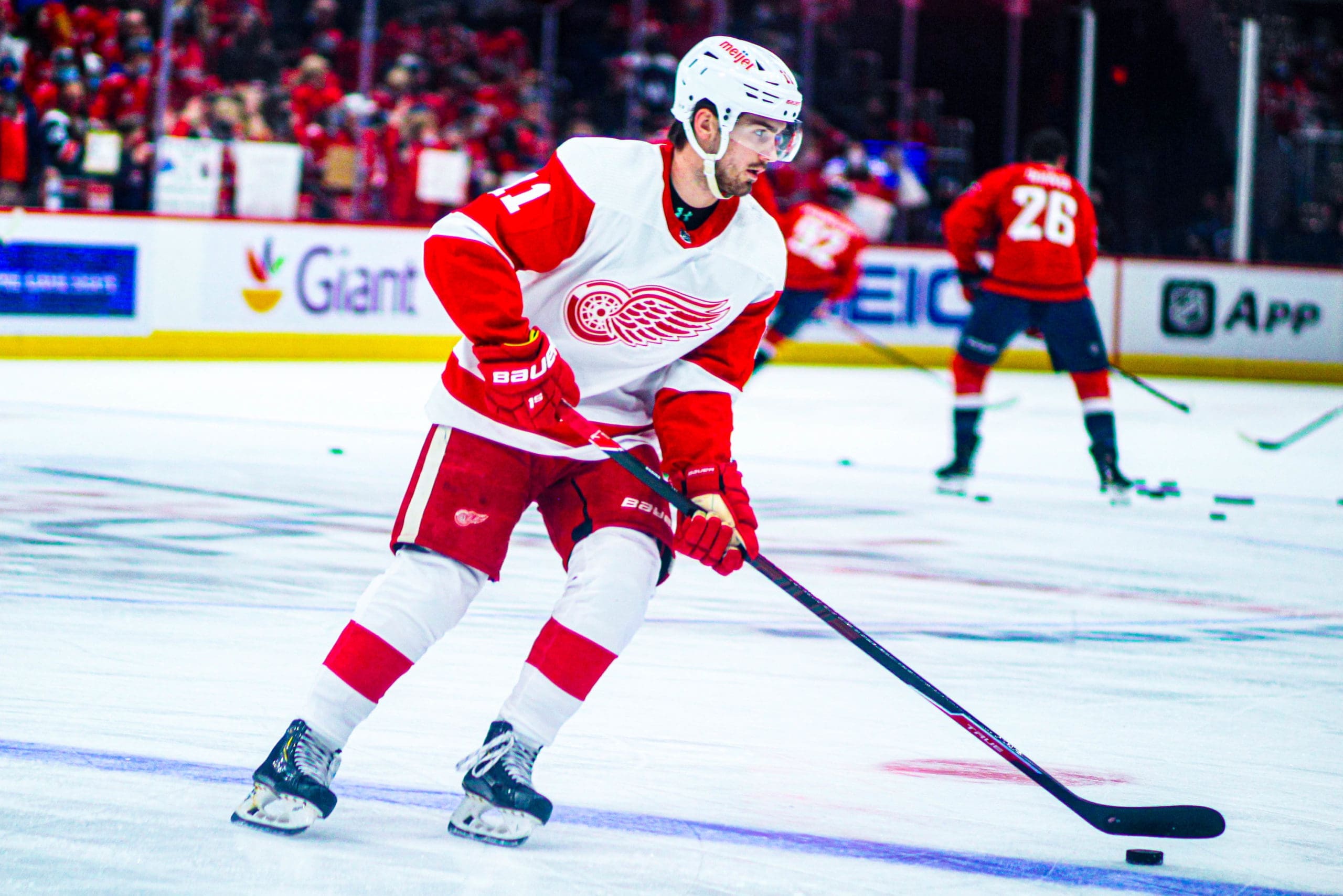 Red Wings Role Call is assessing every player who held a significant place in the fortunes of the 2021-22 Detroit Red Wings season. We'll be looking at the highs and lows they experienced during the just-completed campaign, as well as what the future holds for them in Detroit. Today, we feature right wing Filip Zadina
Filip Zadina
Position: Right Wing
2021-22 totals (GP-G-A-P): 74-10-14-24
Contract Status:  A restricted free agent this summer
Season Synopsis
Fillip Zadina hasn't put himself in a good bargaining position for this summer's contract talks with the Detroit Red Wings. The hope, maybe even the expectation, was that Zadina would have a breakthrough season in 2021-22. That didn't happened. He scored 10 goals, playing much of the season on the second line with Pius Suter and Robby Fabbri.
At one point, former Detroit coach Jeff Blashill, tried to get Zadina to concentrate on his overall game with the hope that it would help his confidence. Blashill said he felt Zadina was putting too much pressure on himself to score.
"My focus on him, although I do want him to score and he wants to score, " the Detroit Red Wings ex-coach said, "is he can't put all (of) his self worth into scoring."
Filip Zadina gets his first goal in 18 games. #LGRW pic.twitter.com/UxiXrT8cZc

— Tom Mitsos (@tom_mitsos) January 29, 2022
2021-22 Red Wings Highlights
In December, Zadina had 14 shots on goal in back-to-games against Colorado and the New York Islanders. Also, he registered three goals and three assists over a 10-game period from Feb. 12 to March 15.
2021-22 Red Wings Lowlights
Zadina had an 18-game goalless slump in December and January. Former coach Jeff Blashill made him a healthy scratch for a game against the San Jose Sharks. Also, Zadina had a appendectomy and missed the last few games of the season. Because Zadina was drafted sixth overall in 2018, the social media crowd was far more critical of Zadina this season.
Ken Holland drafted Zadina instead of Bouchard lol

— CreedGamerShow (@CreedGamerShow3) May 27, 2022
What Does His Detroit Future Hold?
The Detroit Red Wings are probably not actively trying to trade Filip Zadina. Likely, they are trying to re-sign him to a modest short-term deal. But it's fair to say the Red Wings are disappointed at his slow development. They appreciate that he works at his game and wants to be a strong player. But the results aren't there.
If you look at the 2018 NHL draft, several players drafted after Zadina at No. 6, are having significant impact. Former University of Michigan player Quinn Hughes, chosen at No. 7, is a star. Other players drafted later like Evan Bouchard, Joel Farabee, K'Andre Miller and Noah Dobson are also are farther along in their careers.
SIGNUP BONUS
UP TO $250


BONUS MONEY
BET NOW
If Yzerman makes a multiple-player trade, it seems plausible that Zadina could be involved in the trade. He remains a player who interests other teams. He is still only 22. if the Red Wings tie him to a two- or three-year deal, it would make him easier to trade if they choose to do that. Teams are looking for cost certainty.
Blashill always cautioned against giving up on Zadina too .
"I think (Zadina) measures himself as a goal scorer," Blashill said.  "That's when frustration sets in, when really he should be measuring himself on the process of playing."
Blashill said many of his conversations with Zadina were about ways he can keep "building into winning hockey."
"I think he is trying," Blashill said. "… I think he's got the capability to be much more than a goal scorer. He can be a give and go type guy."