Red Wings Coaching Search Update: Version 5.0
The latest look at who's been hired, which openings still exist, and a few new names to look at.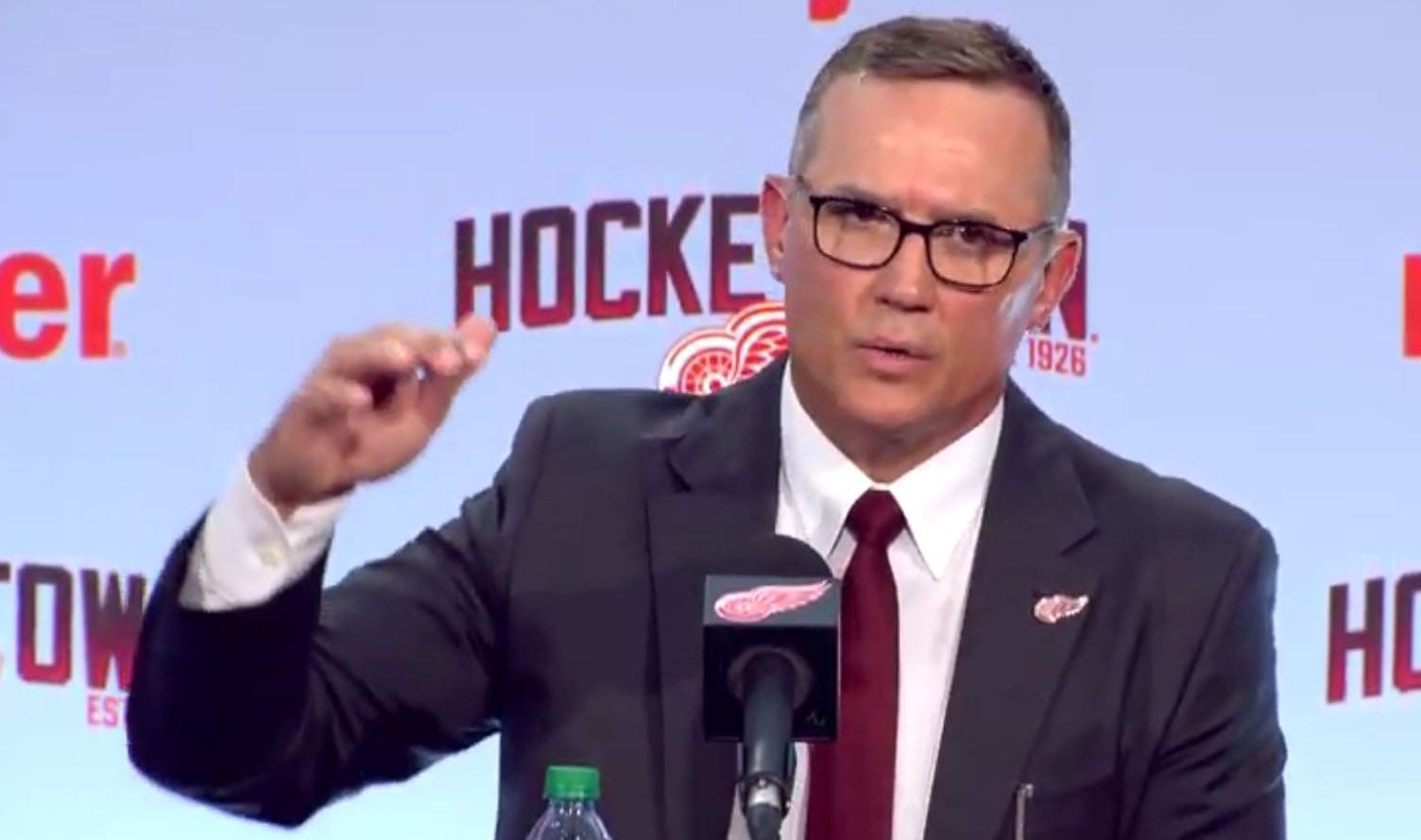 The Detroit Red Wings still wait as now five hires have been made with Luke Richardson be named the Chicago Blackhawks newest bench boss.
Barry Trotz is apparently out after declining an offer from Winnipeg in favor of taking his time.
Now Ryan Warsofsky is available after the Chicago Wolves concluded their season with a Calder Cup championship.
A few names that have been added include Sergei Fedorov. He has been a hopeful for many in the fanbase. After the video congratulating Moritz Seider on his Calder Trophy win, it felt like maybe an appearance in the candidates category was due. Though it does seem unlikely.
Here's the latest with confirmed hires, positions open, and then a list of available coaches.
You may be able to find good odds on several candidates from Michigan sports books.
Updated June 27 at 1:50 pm EST
Confirmed Hires
Bruce Cassidy:   Vegas Golden Knights
John Tortorella:  Philadelphia Flyers
Peter DeBoer: Dallas Stars
Paul Maurice: Florida Panthers
Luke Richardson: Chicago Blackhawks
Positions Still Open
Detroit Red Wings
Boston Bruins
Winnipeg Jets
Available Coaches
Jeff Halpern
Let the games begin.
With the Lightning now the runner-up, Halpern is purportedly on the "inside track" for the Red Wings' head coach position. DHN's Kevin Allen wrote that while unable to confirm Andy Strickland's tweet (below), he has broken major news before.
Still multiple Head Coaching jobs open…#NHLBruins Jim Montgomery, David Quinn, Jay Leach all have or will be interviewing in Boston…#LGRW One of two assts with #Gobolts, hearing Jeff Halpern has inside track…#WPG Jim Montgomery and #CBJ asst Pascal Vincent remain candidates

— Andy Strickland (@andystrickland) June 24, 2022
But Halpern having the apparent edge over Lalonde certainly surprises a bit since Lalonde was considered the front runner for some time.
Either Tampa Bay assistant wouldn't be surprising as both have ties to Yzerman's previous organization. Halpern started cutting his teeth shortly after his playing days ended as an assistant with the Syracuse Crunch, the Bolts' AHL affiliate.
In Tampa Bay, he's worked his way up and could seemingly be ready to take over as a head coach. Halpern's advantage is being in charge of both the forwards and the power play. With experience working at the AHL and NHL level, Halpern certainly fits the bill for developing young and coming talent. Not to mention he could help fix a Detroit power play that has struggled mightily for years.
Derek Lalonde
Let the games begin–part 2.
Lalonde was already popping up in previous iterations of the DHN updates but now Friedman is adding another name:
Descriptions are calling Lalonde the "yin" to Jon Cooper's "yang" and he seems the likelier of the two to be ascending from an assistant coach to the bench boss. Responsible for the penalty kill and being the eye in the sky, Lalonde would presumably shore up the side of the puck Yzerman was most concerned about: defense.
Ryan Warsofsky
Young and successful, the 34-year-old bench boss for the Chicago Wolves just secured a Calder Cup Championship after a 4-0 victory over Springfield. Let the guessing games begin as to whether Warsofsky gets the call to the NHL.
Might Yzerman seek permission? Both Winnipeg and Boston have openings and might be interested as well, though they're in different spots than Detroit. The Jets have some uncertainty with several key players having contracts up soon. Boston seems to be figuring out their next move in terms of rebuilding or continuing on.
The Red Wings have some building blocks in Seider and Lucas Raymond, not to mention a pipeline oozing with talent. A Warsofsky hiring is another that would go over well with Detroit fans.
It just remains to be seen if Yzerman will not only pick up the phone, but if Carolina would be willing to let him go.
Rick Bowness
While on the Tampa kick, one other name to potentially watch is one time Tampa assistant and former Dallas head coach Rick Bowness. Yzerman spoke of his comfort working with those he knows, and Bowness's time in Tampa certainly intersects with Yzerman's years with the Bolts. Working for trusted friend Jim Nill in Dallas, and guiding the Stars to the Stanley Cup Final in 2020 also helps.
Though there hasn't been any linking to Bowness, he might be an under-the-radar look should Yzerman not tap someone else.
Sergei Fedorov
Here's the thing. So long as his sweater isn't in the rafters, it sure as heck seems like being the next head coach of the Red Wings would be a massive long shot. Fedorov certainly has made a name for himself already winning the KHL's coach of the year while also leading CSKA Moscow to a Gagarin Cup–all in his first season as the bench boss.
But the disappointing reality for many Red Wings fans about Fedorov is as DHN's Bob Duff wrote, the Ilitches don't forget. There's the contract holdout of 1997-98, and then Fedorov leaving for Anaheim during the 2003 offseason. Regardless of where fans stand, Duff surmises that if the sweater isn't in the rafters, he won't be on the bench for Detroit.
For Red Wings fans holding onto hope, there's Fedorov's appearance in the tribute video for Seider winning the Calder. Whether or not it means anything is a matter of debate. But wisdom seems to state that Fedorov would have already earned an interview by now if he were indeed being considered.
Andrew Brunette
Recently passed over by the Panthers for Paul Maurice, the interim coach could end up somewhere else. A Jack Adams award finalist and also a 51-8-0-6 record is a great way to begin an NHL career. The 4-6 mark in the playoffs, which also included a sweep at the hands of arch-rival Tampa Bay ended the Panthers' hopes of a Cup run.
Though available, Detroit seems an unlikely destination.
Travis Green
Green interviewed with the Panthers for their potentially open position should they not promote interim coach Andrew Brunette. Green was fired by Vancouver this past December after being the bench boss since 2017. Of his four seasons in Vancouver, the Canucks finished above .500 once, bowing out in the second round of the 2020 playoffs to Vegas.
Rick Tocchet
Another name on the radar is Rick Tocchet, who could certainly be looked at by Detroit. Tocchet has been linked to jobs in the past, with multiple interviews last offseason. He was recently interviewed by Florida.
David Quinn
It's been reported that the former New York Rangers bench boss has interviewed with the Red Wings. Quinn has a history of coaching and developing younger talent, working as the head coach for the Lake Erie Monsters (2009-11) and also Boston University. His tenure in New York ended last season after the Rangers missed the playoffs. Quinn also interviewed with the Flyers.
Kirk Muller and Mike Vellucci
The Calgary Flames assistant coach has purportedly generated interest from the Flyers and Jets. Muller had a go around as the Carolina Hurricanes head coach nearly a decade ago.
Pittsburgh Penguins assistant coach Mike Vellucci also interviewed with Philadelphia according to Elliotte Freidman. Vellucci has been an assistant with the Pens for two full seasons now. The Red Wings have not been linked to either coach as of yet.
SIGNUP BONUS
UP TO $250


BONUS MONEY
BET NOW
Jim Montgomery
The former Dallas bench boss had reportedly interested by the Flyers according to Friedman.
There's been nothing linking him with the Detroit Red Wings. Montgomery is currently an assistant coach in St. Louis.
Brad Shaw
Former Detroit Viper Shaw was another coach on the Blackhawks' list. They asked Vancouver for permission to interview him, as Shaw is currently an assistant head coach with the Canucks and has coached as an assistant for several NHL clubs in the past.
Marc Savard
Savard is currently the bench boss for the OHL's Windsor Spitfires and got them to the OHL Final in just his first season. Savard was an assistant coach with the St. Louis Blues during the 2019-20 campaign. Stepping away in September 2020, Savard then was hired by Windsor in August 2021. Update: Savard recently tweeted this out following a Windsor victory:
/*****
Really proud of my @SpitsHockey club. ''If you believe, you can achieve"Long ways to go yet but the support from you the fans has been amazing and has given the boys so much energy !!! #GoSpits #LoudandProud #Whateveittakes @BostonBruins 👀

— Marc Savard (@MSavvy91) June 7, 2022
Barry Trotz – No Longer Seeking Coaching Opportunity
The latest from Darren Dreger indicates that Trotz has pulled his name from consideration, wanting to spend time with his family. According to Dreger, he informed Winnipeg of this decision, throwing a damper on the Jets' courtship of the highly successful coach.
Trotz has been linked with a number of teams and was also interviewed by the Red Wings. Winnipeg seems a likely destination as Trotz is a Manitoba native. Friedman jokes that if he were the Jets, he would "kidnap" him. It just goes to show how respected he is in the game. Trotz interviewed in Florida as well.