Centers The Center of Attention for Red Wings at NHL Entry Draft
Addressing an organizational need, the Detroit Red Wings ended up selecting five centers during the 2022 NHL entry draft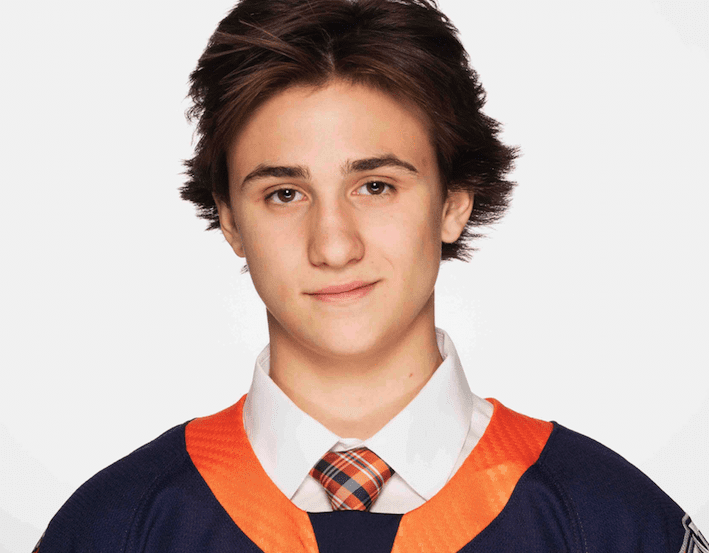 Making nine selections during the 2022 NHL entry draft, the Detroit Red Wings frequently centered their attention on the middle of the ice. Centers were the position of choice for four of those nine picks.
While admitting it was an organizational need, Red Wings GM Steve Yzerman was quick to point out that it wasn't necessarily centers that the team was specifically targeting.
Welcome to Hockeytown, boys! 🙌#DRWDraft pic.twitter.com/6Rz4oXGGJE

— Detroit Red Wings (@DetroitRedWings) July 8, 2022
"Obviously, we need some help at center, at least in the prospect pool," Yzerman acknowledged. "As it got into the later rounds, the players that we had in the later rounds were centers.
"I'm guessing some of these kids have played wing, too. It wasn't all that important. It's just kind of the way the list worked out for us."
Red Wings Center On Kasper
Starting out by selecting Marco Kasper of Rogle with the eighth overall pick, the Red Wings were beginning their pursuit of centers. Three more would be selections on the second day of the two-day draft.
In total, the Red Wings made eight selections on Day 2. Left wingers Dylan James (40th overall) and Dmitri Buchelnikov (52nd overall) were second-round choices.
Here are capsule looks at the remainder of Detroit's Day 2 picks.
105th Overall: Anton Johansson, D (Leksand J20)
Johansson is big (6-foot-4, 179 pounds) and has NHL bloodlines. His cousin is Seattle Kraken forward Alexander Wennberg.
"We really like the path that he's on," Red Wings director of scouting Kris Draper said. "I saw him play in the SHL. He played a lot in the J-20 and we like the size, the right shot, puck-moving defenseman.
113th Overall: Amadeus Lombardi, C (Flint Firebirds OHL)
When you share names with a famous composer (Wolfgang Amadeus Mozart) and a legendary football coach (Vince Lombardi) is it wrong that there will be expectations of greatness?
With the 113th pick, the @DetroitRedWings select Amadeus Lombardi

A playmaking C who can drive play with good hands and creativity. Duel threat

Best assets: very good skating, very good playmaking, very good hockey IQ

Potential: 3C#2022NHLDraft #OHL pic.twitter.com/px1qW9VDmI

— Dylan Krill (@dylan_krill) July 8, 2022
"I almost went off script and did the Rock Me Amadeus when I was going to introduce him but I backed out of that," Draper said. "He's a very competitive centerman, a guy we were able to see a lot being up in Flint. He's a skater, he's a worker and he's very competitive
129th Overall: Maxmillian Kilpinen, LW (Orebo J20)
Seeing his first action in the Swedish U20 league, the 6-foot-1 Maxmillian Kilpinen accounted for 14 goals and 25 points in 27 games.
"He was hurt the first half of the season, which talking to (European scouting director) Hakan (Andersson) and (European scout) TC (Carlsson), we think might have hurt some of his opportunities to play at the World Championship with Sweden," Draper said. "But the position, the skating and the hockey sense were the things that attracted us to him."
137th Overall: Tnias Mathurin, D (North Bay Batallion OHL)
Tnias Mathurin projects as a shutdown defender. He's steady and reliable but won't contribute much offensively.
"He's a good-sized defender, he's got a good stick, and he's pretty mobile defender," Draper said. "We like his size. He moves well for a big man and is a pretty athletic defenseman."
201st Overall: Owen Mehlenbacher, C (Muskegon Lumberjacks USHL)
Mehlenbacher collected 17 goals and 41 points for Muskegon in 2021-22. He's heading to play college hockey at Wisconsin in the fall.
Owen Mehlenbacher is a player I really like in this range. Skating improved a lot over the USHL season. Plays a power game. Great at net front and tough to separate from the puck. Could be a great support player at the next level. #NHLDraft

— Brock Otten (@BrockOtten) July 8, 2022
"Another centerman, a big kid, strong kid, plays a heavy game below the top of the circles," Draper said. "Owen's first half of the season, if you were to ask him, probably a little disappointing. Didn't get off to the start he wanted to, but the USHL is a hard league
"Then I think the second half of the season he kind of got a little more comfortable, got into more of a defined role and played well."
212th Overall: Brennan Ali, C (Avon Old Farms)
Seven players drafted from Avon Old Farms made it to the NHL. It's a list that includes Brian Leetch, Jonathan Quick, Nick Bonino and Cam Atkinson. His physical tools are sound. However, Red Line Report rated Ali as having the second-worst hands in the draft.
BetMGM Sportsbook
States: All States Where Legal
GET THE APP
SIGNUP BONUS
UP TO $1,000!


Up To $1000 Paid Back in Bonus Bets
BET NOW
"We did not know Brennan was here and all the sudden over my shoulder you kind of hear some excitement, which is pretty special," Draper said. "I know his mom and dad are here. It's just an incredible moment for the family. Everyone knows how much mom, dad and brothers and sisters sacrifice for their brothers and sons.
"It's a very special moment. When he came around the table you could see the joy he had. So it was a very special for him."