Anatomy of The Yzerplan: Analyzing Red Wings 1st & 2nd Round Drafts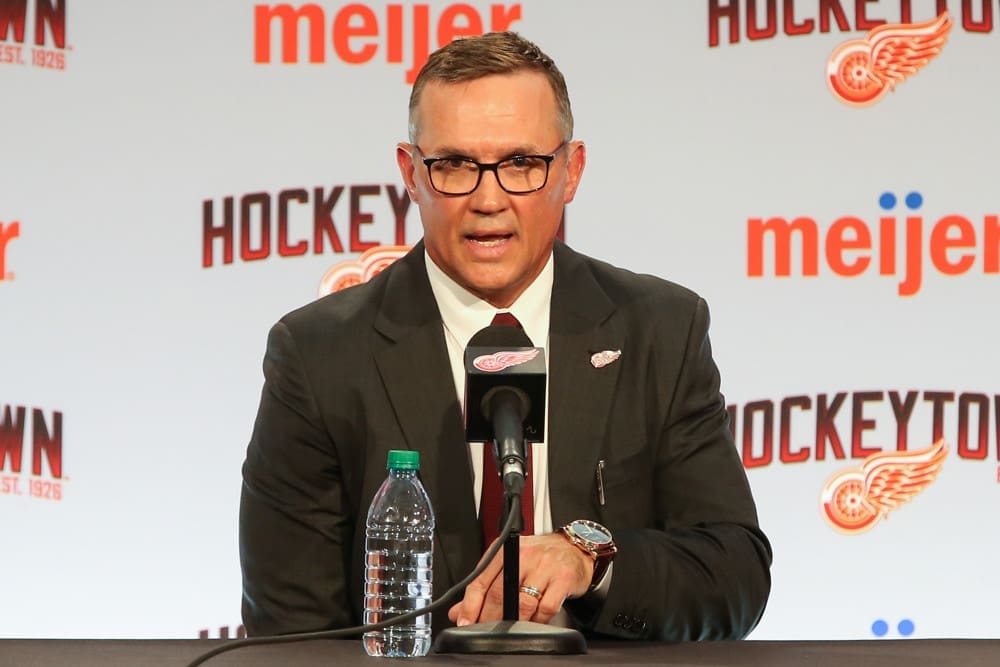 After completing the fourth draft in general Steve Yzerman's tenure with the Detroit Red Wings, the rebuild is now seeing the fruits of those labors. Moritz Seider, and Lucas Raymond have been huge building blocks while Simon Edvinsson, Elmer Soderblom and Albert Johansson are in North America readying for a chance in Detroit.
Strategies have been studied and at times, disagreed with. Yet Yzerman not only goes on his path, but likely doesn't give a damn what others are thinking.
It's well known the Red Wings general manager has taken a lion share of talent outside of North America, especially in the first round.
In this series, Detroit Hockey Now will look at a number of different angles. Specifically:
A breakdown by round as to who Detroit has taken and from where.
How has Yzerman chosen in the lottery against his peers?
Prior to Yzerman, how did the Red Wings draft. Specifically, during the 2013 -2018 window where it was evident they needed to "hit" more.
Finally, how does it stack against his work in Tampa from 2010-2018?
In Part One, we'll look specifically at the first and second rounds.
Red Wings First Round Choices Heavy in International Talent
Any Red Wings fan can recite from memory the five players Yzerman and the front office have taken in the first round. Of the five selections the organization has made, four of those five selections were from leagues overseas. The other well-known fact is that the Swedish Hockey League, particularly Frölunda HC and Rögle BK, have become a feeder system for Detroit.
A few tidbits:
Had Yzerman gone with Jesper Wallstedt at #15 in 2021 instead of Sebastian Cossa, it would have been a perfect five of five for international first round selections. With Minnesota making Wallstedt the seleciton at #21, and there's sure to be considerable debate as both goalies develop and arrive at the NHL level.
Seider's selection is now one of lore, but Detroit's pipeline had been absolutely devoid of a top two defenseman for over a decade. He took care of that issue with Seider and then doubled down with Edvinsson just two seasons later. Should the Swede step in like Seider, he could potentially be a pairing partner or anchor another pairing himself.
Kasper's selection came in a different cycle of the rebuild, where Detroit could take a far more established player without the ceiling of say an Edvinsson, Seider, or Raymond. All three were seen as being "home-run swings" in terms of potential. Kasper wasn't a "safe" pick per say, but one where scouts and pundits had a more firm grasp of exactly what Detroit was getting.
Already discussed by many, it's evident that Yzerman is looking for first round prospects to have "man's league" opportunities as soon as possible.  The numbers certainly bear that out.
Red Wings Selections In the Second Round
Prospects in the first and second round of the draft according to Dobber Prospects have a 37.3% and 17.2% chance respectively of making it to the NHL. The drop off is steep from the first to second round, but it goes without saying that when 54.5% of NHL bound prospects are in the top two rounds, choosing well is crucial.
In the first round, 80% of Yzerman's selections came from an international league. In the second round, five of the nine picks came from international rinks. Until the Hanas pick in 2020, Yzerman had almost exclusively gone international, with seven of the eight picks (87.5%) in the first and second round being from either the Finnish or Swedish leagues.
Positionally, it's pretty split between wings and defensemen with the lone center being Niederbach in 2020. To no one's surprise, the bulk of Detroit's picks in the first two rounds came from the Swedish League, both professionally and in J20.
Final Thoughts
In the second part, we'll look at the final five rounds and check the breakdown as Detroit picks in later rounds. As the Red Wings try to move beyond a rebuild, it's clear that in both rounds, Yzerman is going heavy with overseas talent.
SIGNUP BONUS
UP TO $250


BONUS MONEY
BET NOW
Will it hold up in later rounds and how it will look against his peers, especially in the lottery rounds? We'll be looking into this investigation further in the next two pieces of the series.