Autograph of Red Wings Raymond a Signing of the Times
A Lucas Raymond autograph that's looking more like a bird in flight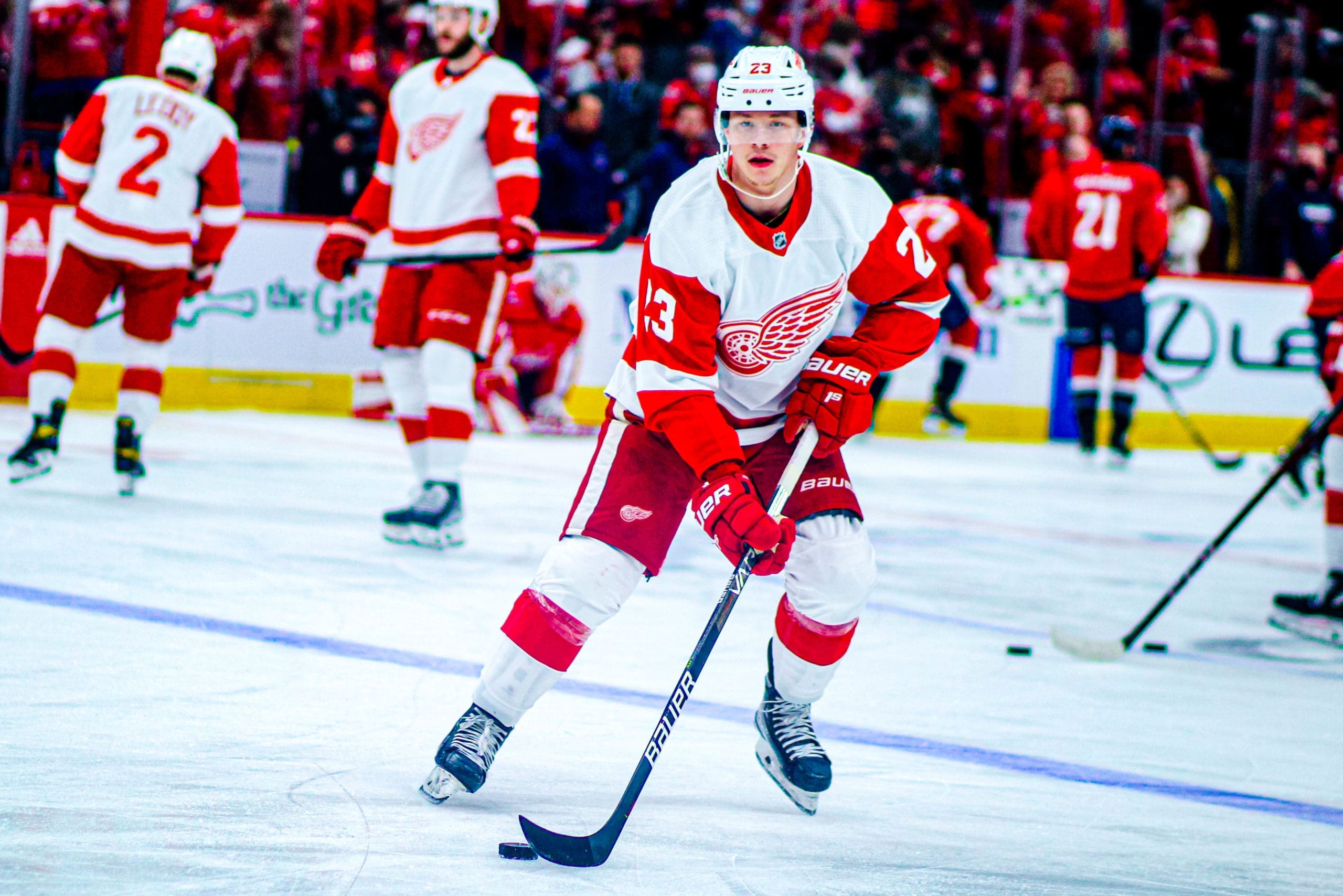 It's a bird, it's a plane, it's . . . the autograph of Detroit Red Wings 2021-22 rookie sensation Lucas Raymond?
That it is. And it's causing quite a commotion in the collecting industry.
Excited Red Wings fans, as well as general collectors in the hobby, are quickly transitioning from gleeful delight to utter disbelief when they are lucky enough to pull a Raymond Upper Deck Black Diamond diamond futures rookie card of the Red Wings 2021-22 sensation.
Raymond's signature on the card resembles what an overhead view of a stickman bird in flight. Evidently, it's supposed to be his initiials – and L and an R.
Cannot get over how bad Lucas Raymond's signature is pic.twitter.com/DUUNM7WA72

— Gropman_Cards (@Gropman_Cards) August 13, 2022
Either way, it's got to be disappointing to a collector finding this card inside a pack. However, experts in the industry are suggesting that Raymond's feeble effort at a signature is simply a signing of the times.
Players are putting less and less effort into signing memorabilia. And even those who do in most cases are scrawling something that would be entirely illegible were it not for them scribbling their uniform number under the scrawl.
Raymond Signature A Signing Of The Times
"It's a combination of factors," suggests Steve Charendoff. He's a 31-year veteran of the trading card industry and the owner and CEO of the Rittenhouse Archives Trading card company.
"First, younger people haven't been educated in writing. They've done everything on computer. I look at a (Hall of Fame baseball player) Mike Schmidt signature and he has a beautiful signature.
"I imagine (Raymond), like a lot of other players of his generation, whether they are in baseball or hockey or other sports, when you grow up, aren't learning some degree of handwriting or penmanship that carries through. I see it with my own kids."
Charendoff also thinks those on his side of the equation also need to shoulder part of the responsibility for the decline in the quality of celebrity and athlete autographs.
Lucas Raymond autograph is so awful.

— Otto Beaulieu (@BeaulieuOtto) August 12, 2022
"I am going to lay some of the blame for this on the (companies) that are paying for the signatures," Charendoff explained. "What we emphasize (at Rittenhouse) is that the signer needs to think about, or be made to think about, that this is a signature that is going out to one of their fans. Do they want that fan to be happy with that signature or not?
"You hear athletes, especially star athletes, sometimes talk about how every game could be the first game, or last game, or the only game that a fan may see him play in person. They want to perform at their highest level so that fan is satisfied. They want to put forth their best effort.
"It should be the same kind of philosophy when it comes to signing for their fans. If they have that in mind, I think it translates into a nicer quality signature."
Athletes Rushing Through Mass Signings
Charendoff believes that young athletes such as Lucas Raymond need to stop and think about what they are doing before taking that pen in hand.
"Sometimes athletes, especially if they have never before signed things before in quantity, they think, "How can I do this in the most expedient way possible?'" Charendoff said. "They come up with abbreviations of their signatures. They just use initials. They aren't thinking about it in terms of "What will this mean to the person who gets my signature?'
LUCAS RAYMOND SIGNED DETROIT RED WINGS HOCKEY PUCK W/ CASE JSA COA https://t.co/Baw8qG2w1q eBay pic.twitter.com/zjHraTiQ45

— Autographed Items Original Sport (@items_sport) April 27, 2022
"That's why I say some of the blame has to go to the (company) paying the athlete for that signature. You need to make them aware of what is at stake here. You are not just signing your name 1,000 times for the heck of it. You are signing for someone who is going to cherish that item. If the promoter fails to convey that message, you get what you get."
Explosion In Memorabilia Indistry Also A Factor
Players of an earlier era put tremendous effort into delivering a quailty signature. The autographs of such superstars as Jean Beliveau and Red Wings legend Gordie Howe are things of beauty.
Ken Whitmell, who served as autograph point man as Marketing Director for In the Game, recalled doing a signing with Rocket Richard.
"He was 70 years old and had a bad wrist and during the whole signing he would continue to ask me, 'How does that one look?'" Whitmell recalled. "Then he would hold his wrist, and then swear, because his wrist hurt, and then he would keep going and say, "How do these look?"
The early 1990s saw an explosion in the collecting industry. That also played a role in the deterioration of player signatures.
Gordie Howe Autograph Hockey Puck Official NHL Red Wings…👉 https://t.co/sEValu6769 pic.twitter.com/ZbSgXh0RbL

— Seasons Gala (@SeasonsGala) July 3, 2022
"Not a lot of those cards necessarily were signed, but memorabilia in general became more popular," Whitmell said. "More photos started to get signed. Because trading cards started going up in value, the photos started to go up in value.
"All of a sudden, it became clearer to the players playing in the 1990s that what they were signing may have some value. A lot of them, and people who were handling their marketing and their agents, thought, 'Why don't we instruct our guys to sign a little bit quicker, because the quicker they sign, the more signatures they can do. And the more signatures they can do, the more money they can make.'
"I know for sure, over the last 15 or 20 years, guys have been instructed to shorten their signature just to make it easier."
Raymond Fans Simply Won't Care
Yes, the Raymond signature is abysmal, perhaps even embarassing. But Raymond's fans probably won't care a lick if they're fortunate enough to get their hands on one of his signed items.
"The signings I've done with newer players over the years, they have all been nice (guys)," Whitmell said. "But they don't usually ask, 'How is my signature?'
SIGNUP BONUS
UP TO $250


BONUS MONEY
BET NOW
"No one around them is saying to them, 'Hey, that signature doesn't look good. You should have another signature.'
"So why would a collector care whether the signature looks like (the player's) name or not? All they want is the card and a photo. Regardless of what it looks like, they know it's the (player's) autograph. It doesn't matter."