Red Wings Could Open Blues Alumni Chapter
Detroit has the Blues . . . five of them, in fact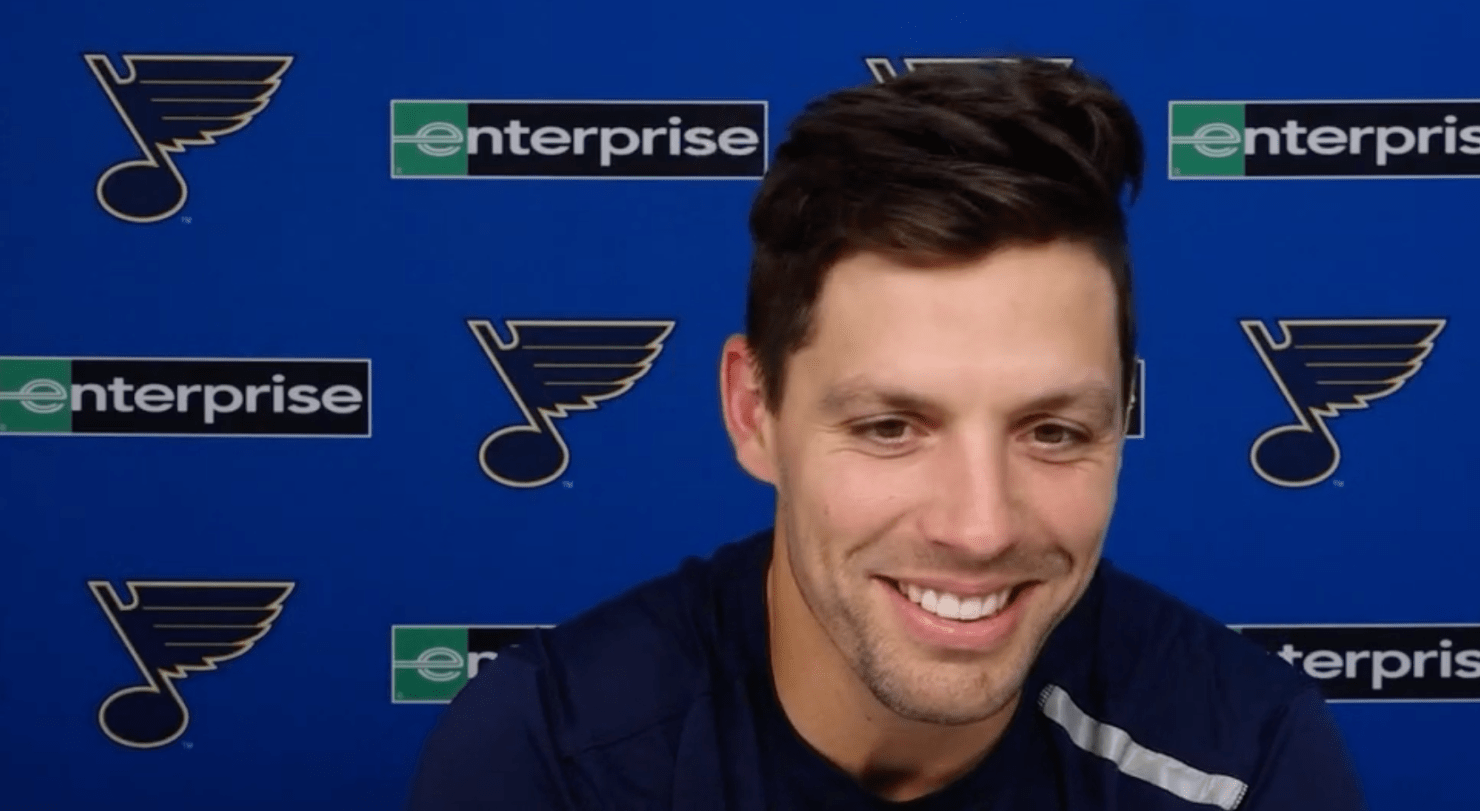 Detroit Red Wings fans have been singing the blues for years now. This season, though, the key to a revival in Hockeytown could prove to be an influx of ex-Blues.
Following an offseason overhaul of the roster, the Red Wings will be going five-deep in former St. Louis Blues this season.
Newly-acquired are left-winger David Perron and goaltender Ville Husso. Already on board were defenseman Jake Walman, center Oskar Sundqvist and Swiss Army Knife Robby Fabbri, capable of playing all three forward positions.
See you down the road @DP_57 It is always a pleasure hot-stoving, talking hockey or golf. Good luck with @DetroitRedWings and take good care of the fellas there. https://t.co/G7V2CaxsnH pic.twitter.com/quTq6dlPR7

— Darren R Pang (@Panger40) July 13, 2022
Interestingly, at one time all five were also teammates in St. Louis.
"It's funny," Perron said. "I played with Husso the goalie, Sundqvist, Fabbri, Walman."
Now they will all be playing together again, many of them filling vital roles for the Red Wings.
Perron, Husso Coming To Red Wings Off Career Years
Last season, Perron, 34, netted a career-high 27 goals. He joined the Red Wings as an unrestricted free agent. Signing with Detroit, Perron received a two-year, $9.5 million contract from the Red Wings. He'll be slotted in on the club's second line and also figures to help give Detroit's often dormant power play a boost. Perron led the Blues with 11 power-play goals last season.
"The moment you get a call from (Red Wings GM) Steve Yzerman, it gets your attention right away," Perron said. Obviously I had several options that I was bouncing around in my head with my agent, family and everyone. I think the Red Wings, they are ready to take the next step in the evolution of the team and I wanted to be part of that."
Now that is a National League Red Wings mask from Ville Husso pic.twitter.com/lTfdopuv7G

— Missin Curfew (@MissinCurfew) August 29, 2022
At the NHL entry draft, the Red Wings dealt a third-round pick to the Blues for the rights to Husso, 27. Then they signed the netminder to a three-year, $14,250,000 contract.
Last season, Husso set NHL career bests for games (40), minutes (2,341), wins (25), goals-against average (2.56), saves (1.136) and save percentage (.919). He was tied for sixth in the league in save percentage.
"I kind of knew that I would not stay with St. Louis, so then it kind of happened quick," Husso said. "I was ready for it and excited."
Husso and Alex Nedeljkovic will vie for the No. 1 goalie role in Detroit.
Walman, Fabbri Rebounding From Offseason Surgery
Fabbri will miss the start of the season after undergoing ACL surgery on his knee. Likewise, Walman, who recently agreed to terms on a one-year $1.05 million contract with the Red Wings, will also be starting the campaign on the injured list following shoulder surgery.
The Red Wings have re-signed D Jake Walman to a one-year, $1.05 million AAV contract. Thoughts?#LGRW pic.twitter.com/xBVq2wsxxd

— Barstool Detroit (@BSMotorCity) August 11, 2022
Once he recovers, Fabbri will likely be part of the mix for spots on Detroit's second forward unit. Walman, 26, faces a much tougher battle for ice time. Factor in 2021 first-round draft pick Simon Edvinsson and the Red Wings depth chart of NHL-capable defenseman reaches 10 players.
Sundqvist, 28, himself the victim of chronic knee issues, will slot in on Detroit's fourth line. He'll see work on the Red Wings penalty kill and occasional power-play time.
Red Wings Gaining Stanley Cup Pedigree With Ex-Blues
Perron, Sundqvist, and Fabbri were all members of the 2018-19 Stanley Cup-winning Blues. Sundqvist also won a Cup with the Pittsburgh Penguins in 2015-16. Perron was part of the 2017-18 run to the Stanley Cup final by the first-year expansion Vegas Golden Knights.
"I find it funny to hear the word 'rebuild,'" Perron said in reference to the Red Wings. "After the experience I lived through in Vegas, I'm not sure how long it takes to just turn a team around.
BetMGM Sportsbook
States: All States Where Legal
GET THE APP
SIGNUP BONUS
UP TO $1,000!


Up To $1000 Paid Back in Bonus Bets
BET NOW
"You need the guys to feel important in their role. Everyone pulling the rope together. I know it's a cliche. But I lived that first in Vegas when we made the Stanley Cup final. I learned big-time there.
"Some of those little experiences I can bring. The team is definitely ready to compete for the playoffs on a regular basis and who knows what could happen from there?"