Red Wings Sundqvist: Yzerman "Kind of Terrifying"
Steve Yzerman scares Oskar Sundqvist, Moritz Seider is an animal and Tyler Bertuzzi a hillbilly goofball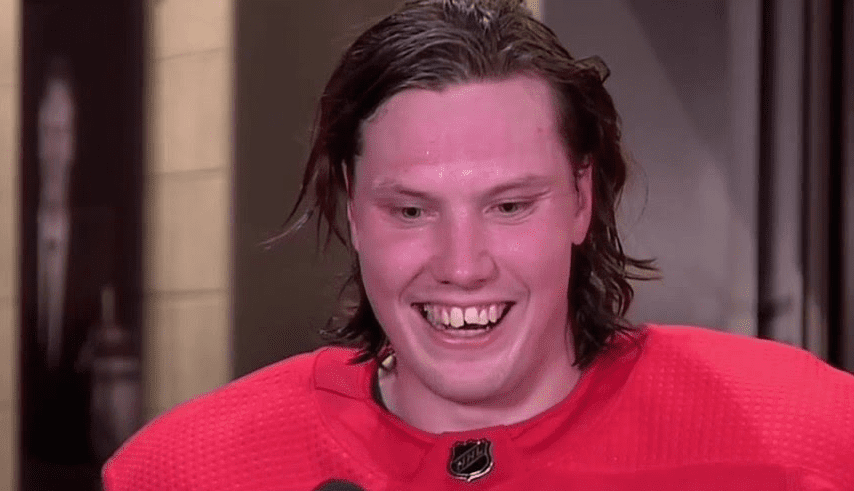 Oskar Sundqvist found making the adjustment to playing for the Detroit Red Wings to be a seamless transition. The veteran forward was acquired at last season's NHL trade deadline from the St. Louis Blues.
Adjusting to having Steve Yzerman as his GM, well, let's just say that's still a work in progress.
"He's kind of terrifying," Sundqvist said of the presence Yzerman carries throughout Little Caesars Arena.
Speaking to Andy Strickland and former NHL tough guy Cam Janssen on the Cam & Strick Podcast, Sundqvist was very open in discussing how he's adapting to life as a Red Wings player. Getting used to have a Detroit legend as his boss remains an ongoing process.
"I was still nervous talking to him at the end of the season (during exit interviews)," Sundqvist said. "I was super scared. It's kind of nerve wracking. People are scared when he walks in. But I think that's how a GM should be.
"He has very high expectations for everybody. You can sense that he's a successful GM. How he talks to you about his plans. He was very straight with me. He was very up front with me.
"You can see that he has goals in what he wants. He has a plan and he follows it and he doesn't give a shit what anyone else thinks about it."
Sundqvist A Big Seider Supporter
Sundqvist spoke fondly about a number of his Detroit teammates.
"(Captain Dylan) Larkin, I love him," Sundqvist said. "Then you've got (Tyler) Bertuzzi, who's a little hillbilly goofball, but he's awesome, too. He's a crazy boy."
Sundqvist saved special praise for defenseman Moritz Seider, the Calder Trophy winner as the NHL's top rookie.
"This guy's like an animal," Sundqvist said of Seider. "For being that young and playing the way he plays – I saw numerous times in my short time there, people trying to hit him when he's not even aware of the guy and it's like running into a brick wall. That surprised me the most. You can't knock him down.
Gets traded for Leddy at the deadline. Still comes to support the team in the postseason. Stanley Cup champion Oskar Sundqvist is one helluva guy. #STLBlues https://t.co/icPYE9yNXF

— Blues Views (@STLBluesViews) May 24, 2022
"Him and (Lucas) Raymond are kind of goofballs making fun of each other. You can see how much confidence they have."
As a team, the 2018-19 Stanley Cup winner with the Blues is of the belief that the Red Wings are trending in the right direction.
"There's so many young, talented players," Sundqvist said. "It's more just learning to play the right way and sustaining it through a full season."
Successful Knee Surgery
Following the conclusion of the 2021-22 NHL season, Sundqvist underwent knee surgery to clean up some residue from the ACL sugery he had a year earlier.
"The graft that they made from the patella tendon was too thick, so it would hit the bone and couldn't get straight," Sundqvist explained. "They kind of just scraped the bone and they found a cyst."
Eating Up The Motor City
It didn't take Detroit too long to win over Sundqvist. That old saying about the way to a man's heart is through his stomach? It appears to be true.
SIGNUP BONUS
UP TO $250


BONUS MONEY
BET NOW
"What really surprised me was the really, really good restaurants," Sundqvist said of Detroit. "Downtown, you've got four or five really awesome restaurants. Royal Oak, where I stayed, there's another seven awesome restaurants.
"So many restaurants are so good."