Hellberg to start for Red Wings in Buffalo; Nedeljkovic heading to GR?
Red Wings Hellberg is 4-1 as an NHL goalie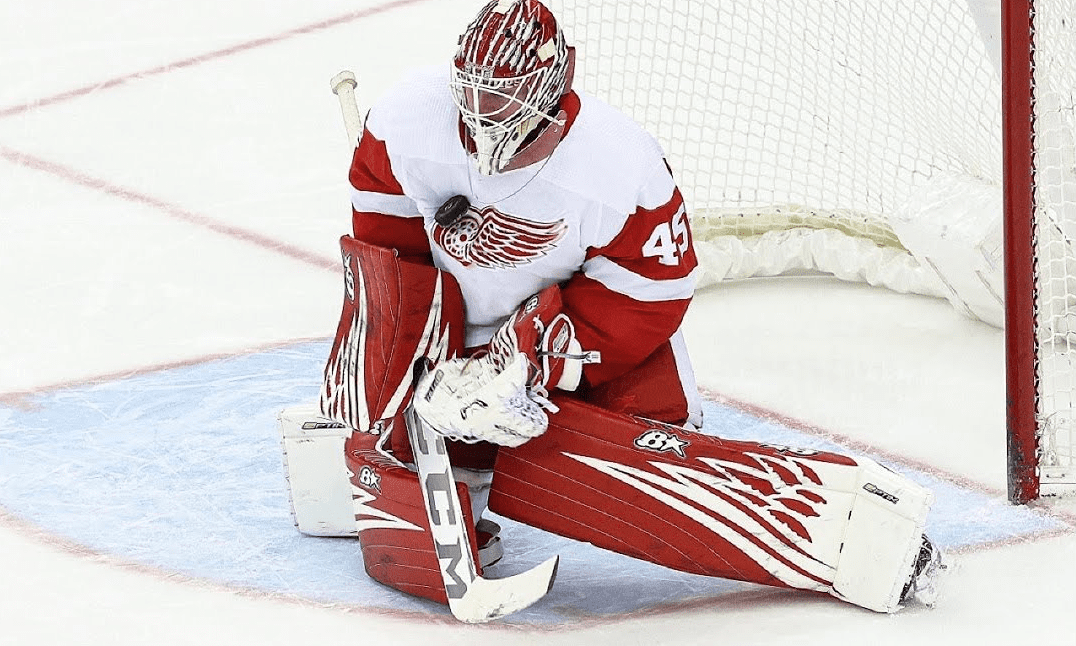 Might the existence of Magnus Hellberg as the NHL's vagabond puckstopper be coming to an end? Has the giant Swede found a home between the posts in his second stint with the Detroit Red Wings?
For the time being, the answer to both questions is a resounding yes. Wednesday, Hellberg came off the bench to start the second period in relief of Ville Husso. He was inheriting a 4-0 deficit on the road against the Pittsburgh Penguins.
Hellberg barely had enough time to scuff up the blue paint in his goal crease when he was staring down and then stoning Penguins captain Sidney Crosby on a breakaway. It was a sign of things to come.
You know what turned out to be a hell of a moment in Wednesday's game?

That breakaway save against Sidney Crosby by Magnus Hellberg 3:26 into the second period.

That's a 5-0 game if that goes in. That said, the Penguins certainly played poorly enough to give up a 10-goal lead. pic.twitter.com/KBJ7Ya9Qjq

— Seth Rorabaugh (@SethRorabaugh) December 29, 2022
Hellberg parried all 19 shots aimed in his direction. Meanwhile, Detroit was firing five pucks past Pittsburgh goalie Casey DeSmith and rallying for a 5-4 overtime victory.
"He was great for us," game-winnning goal scorer Jake Walman told Bally Sports Detroit of Hellberg's performance. "He showed his confidence.
"It isn't easy coming in cold like that. Great for him. He helped us get the win."
Hellberg To Start In Buffalo
Red Wings coach Derek Lalonde was already leaning toward going with Hellberg in the second game of back to backs on Thursday in Buffalo against the Sabres. Hellberg pitching a shutout in relief duty on Wednesday was sealing that deal.
"We planned on playing Hellberg tomorrow anyway, so we'll get him in," Lalonde was syaing after Wednesday's game."
He felt the goalie switch gave his club a boost.
"I just think it changes momentum a little bit," Lalonde said. "I think the guys get a new goalie in there who hasn't seen a lot of NHL time, so it was an opportunity for them to pick him up a little bit."
NO SWEAT FIRST BET
$1000 No Sweat Bet


UP TO $1000 Second Chance Bet
BET NOW
The Detroit coach liked what he was getting from the guys who's supposedly No. 3 on the Red Wings goalie depth chart.
"He was excellent," Lalonde said of Hellberg. "Obviously he makes the save on the breakaway on Crosby, Despite not giving up much that period, if it goes 5-0 then we probably don't have much of a chance.
"He was really good at 4-4. They had a little push and he made some big saves into overtime."
What's Next For Ned?
If Hellberg wants any tips on how fleeting success can be for an NHL netminder, he need only talk to Alex Nedeljkovic, the guy it appears he's usurping as Detroit's backup goalie.
During Wednesday's telecast, the Bally Sports Detroit crew was floating the idea of Nedeljkovic going to the AHL Grand Rapids Griffins on a conditioning stint in order to work out the kinks in his game. Nedeljkovic is 2-4-2 with a 4.09 GAA and .880 save percentage this season.
At Wings practice today there's been a pretty clear goalie hierarchy of Husso, Hellberg, Nedjelkovic in that order. Wings play back-to-back this week. Grand Rapids plays 7 games between Dec. 28 and Jan. 11, just feels like a conditioning stint for Nedjelkovic could be coming

— Sean Shapiro (@seanshapiro) December 27, 2022
Certainly, it's looking more and more as though the Red Wings are setting up a scenario for Nedeljkovic to be sent down for conditioning. He hasn't seen any game action since December 8. Nedeljkovic isn't playing Thursday and it's likely that Husso will get the New Year's Eve home-ice start against Ottawa.
It's not uncommon for NHL teams to send out seldom-used goalies for conditioning purposes. As long as Nedeljkovic is agreeable to the idea, he can go down to the AHL for a stint of no more than 14 consecutive days. He'd still be paid his NHL salary and would be afforded all the same perks as if he were still playing in the NHL.