Red Wings Search For Fourth Win in a Row, Can Cut Playoff Deficit to Four Points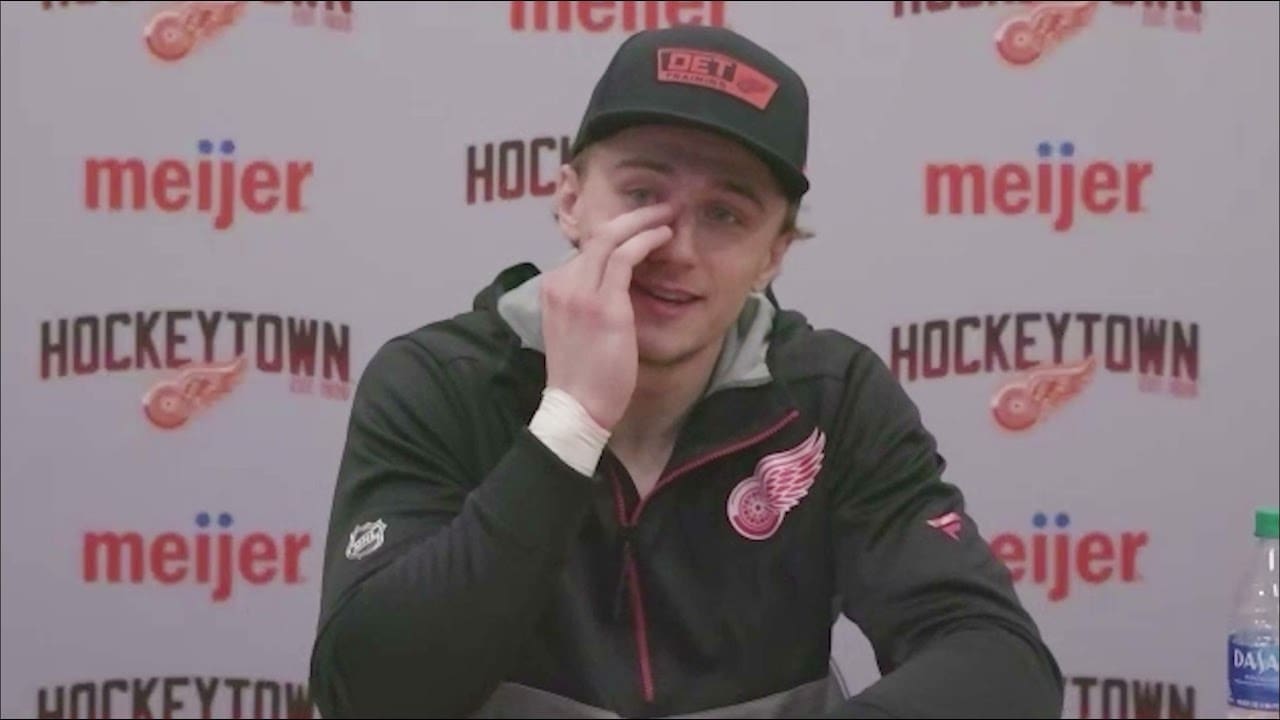 Detroit Red Wings captain Dylan Larkin has been talking about the need for his team to put together a win streak to provide a boost in the playoff race.
The Red Wings have a chance to do that tonight when they play Edmonton Oilers.
If Coach Derek Lalonde's squad wins this game, it would only be four points out of a playoff spot. Detroit would have 58 points and idle Washington, holding the last wildcard spot in the Eastern Conference, would be at 62.
Detroit has won three games in a row, and it can match its longest winning streak of the season by beating the Connor McDavid-led Oilers. The Red Wings won four consecutive games in November (against San Jose, Columbus, Nashville and Arizona). But beating the Oilers will be no small accomplishment: They are 9-1-2 in their last 12 games.
Last month, the Oilers had a six-game winning streak, during which they scored 31 goals. That's 5.1 goals per game.
Wings vs. Oilers! #LGRW

🏒: 9:30 P.M.
📺: @BallySportsDET (extra)
📻: @971theticketxyt
🤝: @chevrolet pic.twitter.com/ZFO3htCob2

— Detroit Red Wings (@DetroitRedWings) February 15, 2023
"We're a team we've talked about where we're flirting with .500 most of the year. We've been unable to put a big streak together," Lalonde said. "I understand that they way we are built, what we are. We've have to be good every night to win. The top teams in our league can have an off night and win. That's not us. This just gives us an opportunity to build off something."
The Oilers beat Detroit 5-2 last week, although the Red Wings played reasonably well against them.
Detroit will be without Lucas Raymond for the third consecutive game. The Red Wings announced Tuesday that Raymond is on the injured reserve retroactive to Feb. 10.
Can Vrana Provide Spark?
General manager Steve Yzerman recalled Jakub Vrana from the Grand Rapids Griffins. The Red Wings are obviously hoping Vrana can replace the offense they lose with Raymond out of the lineup. Raymond was on pace to better his rookie total of 23 goals before he was injured.
Vrana was on a six-game point-scoring streak when he was recalled from the Griffins. He went two months without playing hockey because he was in the NHL/Players Association Player Assistance Program. He started slowly with the Griffins, but then began to find his offensive touch. Vrana has always been a dynamic offensive player who lacks in the defensive side of the game.
The Red Wings put Vrana on waivers earlier this season, but all 31 other NHL teams passed on him. With the NHL trade deadline coming up, Yzerman has to make some decisions about who stays and who goes. Some of that planning also includes deciding who he can count on down the stretch. Can the Red Wings count on Vrana for offense? Vrana is back in the position of proving his value.
Another question going into tonight is Jake Walman's health status. He has been out with an upper body injury. The Red Wings were hoping he might play today.