Will Bertuzzi Be The Next Red Wings Player to Be Traded?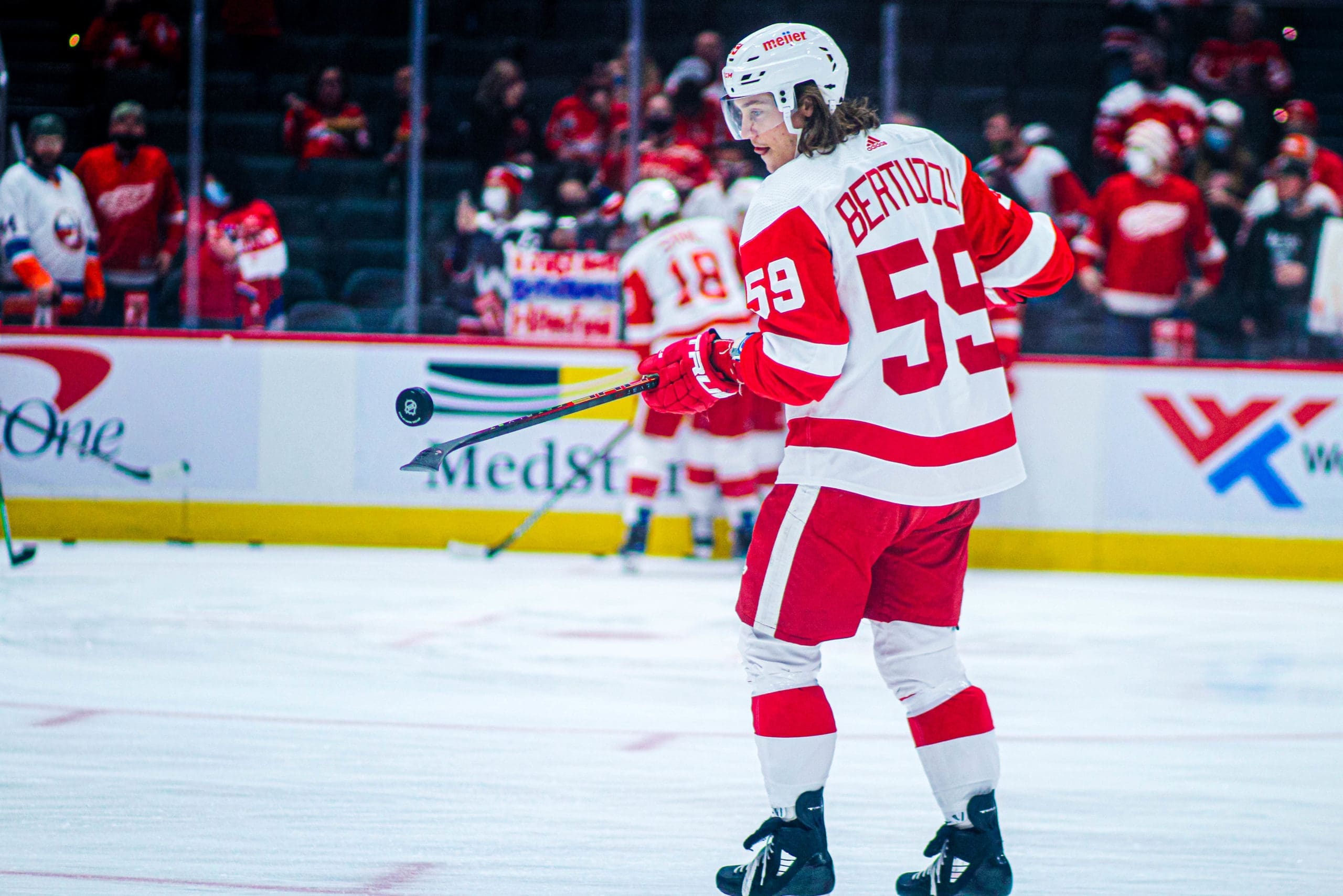 The white flag has officially been raised on the 2022-23 NHL season by the Detroit Red Wings. Amidst a three-game losing streak and being outscored 15-3 over that span was evidently enough to convince GM Steve Yzerman that the playoffs are not part of his team's immediate future.
On Wednesday, along with finally locking up captain Dylan Larkin to an eight-year, $69.6-million contract extension, Detroit also was sending veteran defenseman Filip Hronek to the left coast. Trading Hronek and a fourth-round draft pick to the Vancouver Canucks was landing Yzerman first and second-round picks in the 2023 NHL entry draft.
This week, Yzerman got two of his three significant UFAs to sign new deals. Defenseman Jake Walman agreed to a three-year pact on Tuesday. That leaves only winger Tyler Bertuzzi. There's a growing sense that Bertuzzi is going to be left out in the cold.
Are Red Wings Moving Bertuzzi?
In fact, speculation that Bertuzzi will no longer be a Red Wings player come Friday's 4 p.m. ET NHL trade deadline grows hotter with every passing hour.
FanDuel Sportsbook Promo #1
ALL STATES WHERE LEGAL
GET THE APP
SIGNUP BONUS
$1000 No Sweat Bet


$1000 No Sweat Bet
BET NOW
There was an intriguing development in Grand Rapids on Wednesday. Hulking rookie forward Elmer Soderblom was held out of the lineup by the AHL Griffins, top farm club of the Red Wings.
Is he to be part of an impending deal? Might he be sitting because Soderblom will be getting the call to Detroit once the Bertuzzi trade goes down? Or maybe he's just got the flu. At this time of year, all answers are greeted with raised eyebrows.
Where Might Bertuzzi Be Going?
While it's true that several deals have already gone down, the fact of the matter is that there still remain many potential landing spots for Bertuzzi. While injuries have hampered his 2022-23 campaign, he was still a 30-goal scorer last season. He plays with an edge. Bertuzzi could prove a valuable asset in any team's playoff run. Here's five teams that made sense as a destination for Bertuzzi.
Pittsburgh Penguins: Pittsburgh Hockey Now's Dan Kingerski has already written about the Penguins' interest in Bertuzzi. The recent departures of Kasperi Kapanen and Teddy Blueger, and pending demotions of Brock McGinn and Mark Friedman are clearing cap space for the arrival of a big-ticket addition. However, Pittsburgh's late-Wednesday move for Mikael Grandlund have have taken the Penguins out of the running for Bertuzzi.
Toronto Maple Leafs: Despite all the moves they've already engineered in the past week, hockey people are sensing that the Leafs aren't done dealing. Toronto GM Kyle Dubas has long coveted Bertuzzi, back to the days when he was GM of the OHL Sault Ste. Marie Greyhounds and Bertuzzi was with the Guelph Storm. Will he finally be getting his man?
Dallas Stars: Don't sleep on the Stars as a potential Bertuzzi trade partner. Dallas is in the market to get harder to play against. Someone who hunts pucks with the tenacity of Bertuzzi certainly fills that bill.
Do the pair of losses against Ottawa reopen the conversation about Tyler Bertuzzi at trade deadline now? I'd watch a team like Dallas who want to get harder to play against. We'll see…

— Jeff Marek (@JeffMarek) March 1, 2023
And Yzerman and Dallas GM Jim Nill are well-known to each other from their many days together in Detroit.
Holland Knows Bertuzzi Well
Edmonton Oilers: Speaking of familiar faces, it was during Ken Holland's tenure as Red Wings GM that the club was selecting Bertuzzi with the 58th pick of the 2013 NHL entry draft.
Holland says he's open to moving a first this year for a pure rental.

— Ryan Rishaug (@TSNRyanRishaug) February 28, 2023
Holland is already on the record suggesting that he'd be willing to part with a first-round pick to acquire a potential rental player such as Bertuzzi.
Carolina Hurricanes: Carolina hasn't been to get over that hump in the Stanley Cup playoffs despite icing one of the deepest rosters in the NHL. Could a little more sandpaper help to smooth their path toward Lord Stanley's mug? Probably a long shot that Bertuzzi becomes a Hurricane, but they currently on't have a player of his ilk.