Tomorrow's Red Wings: Wallinder Made Big Progress in 2022-23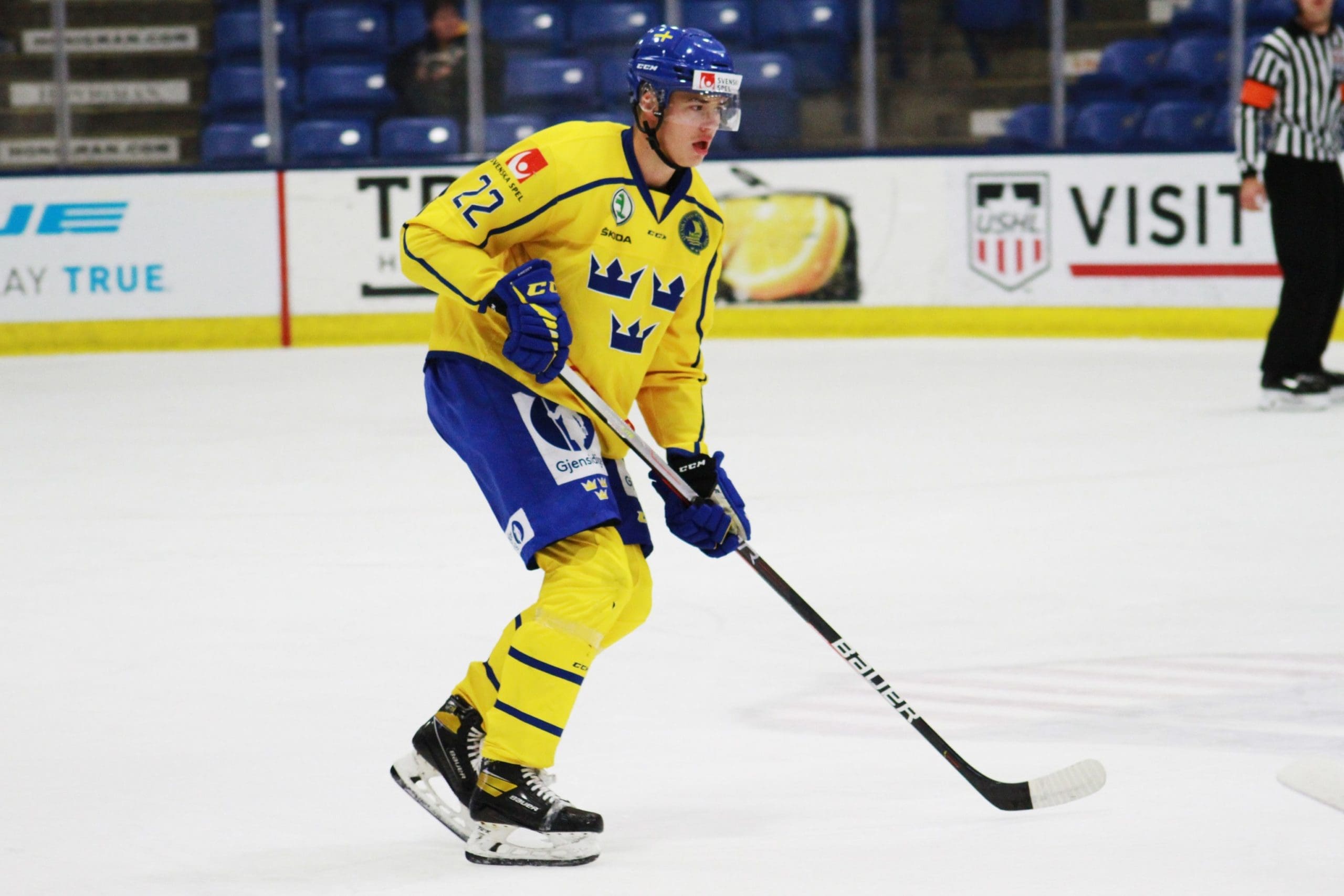 (Editor's Note: This is the second installment in Detroit Hockey Now updates of some of the Detroit Red Wings' top prospects)
The Swedish Hockey League is not a young man's league. Thirty-six of the SHL's top 50 scorers this season were 28 or older. Henrik Lundqvist's twin brother, Joel, is on that list and he turned 41 last month.
That's why it is a noteworthy accomplishment that Red Wings prospect defenseman William Wallinder (drafted 32nd overall in 2020) was the highest scoring SHL player under the age of 21. He doesn't turn 21 until July 28.
"William Wallinder had a real good year," Red Wings general manager Steve Yzerman said. "He's developed nicely over in Sweden."
The Red Wings viewed Wallinder as a raw talent when they drafted him. But they believed the 6-foot-3 defender could be molded into an impact performer. He was top pairing D man for Rogle BK this season, and sometimes logged more than 23 minutes per game.
First look at William Wallinder skating for the Grand Rapids Griffins #LGRW #GoGRG pic.twitter.com/TDwOToOYGV

— IcehockeyGifs (@IcehockeyG) April 2, 2023
He finished 63rd overall in the scoring race with seven goals and 19 assists for 26 points. This was Wallinder's second season with Rogle BK. Moritz Seider also played for Rogle BK and posted 28 points in his only season there.
The Red Wings signed Wallinder as soon as his Swedish team was eliminated from the SHL playoffs. They wanted him to play several games for the Griffins.  However, he was only able to play one game before becoming injured. The Griffins don't provide information about injuries.
"Expect him to be back over here next year but he's worked hard and come a long way," Yzerman said.
Wallinder is a big, puck-moving defenseman with an evolving defensive game.
"He's got a lot of work to do still, but he is a prospect," Yzerman said. "His skating has really improved, as has his puckhandling and his play. He was in a very good program in Rogle in Sweden. We've got Nik Kronwall and Nick Lidstrom close by watching him and working with him to the extent that they can. He's developed nicely. He's maturing as a young man as well, so we have optimism for him."
FanDuel Sportsbook Promo #1
ALL STATES WHERE LEGAL
GET THE APP
SIGNUP BONUS
$1000 No Sweat Bet


$1000 No Sweat Bet
BET NOW
Analysis: The Red Wings are excited about Wallinder's progress. However, he's not a finished product. He needs more polish to his game.  Based on what we are hearing, he's not yet ready for NHL defending. Simon Edvinsson and Albert Johansson are ahead of Wallinder, just based on their experience
Forecast: Unless Wallinder takes a giant step early in the season, he probably will spend the entire season in the AHL  But at some point, the Red Wings could have three Swedes (Edvinsson, Johansson and Wallinder) in their top six.
Red Wings Intrigued by Amadeus