Tomorrow's Red Wings: Marco Kasper's Future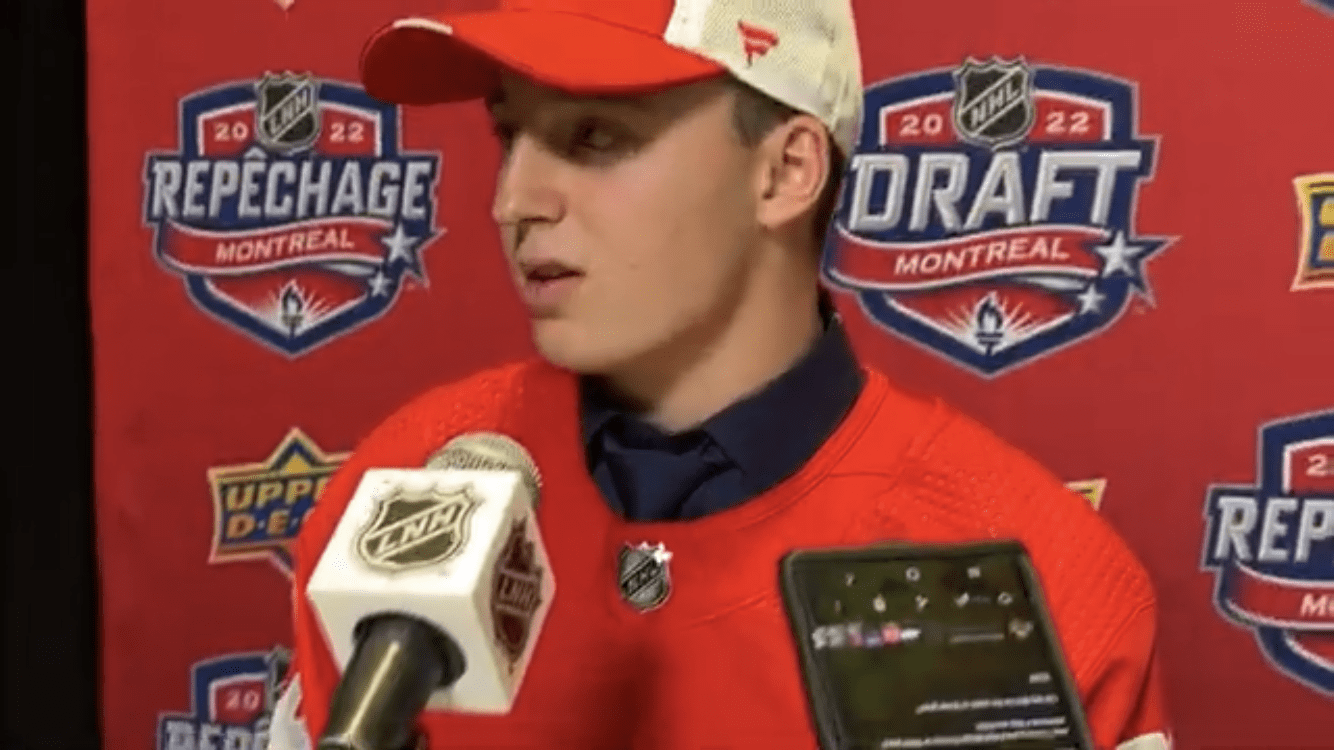 Detroit Hockey Now's Red Wings Review series is assessing every player who held a significant place in the fortunes of the 2022-23 Detroit Red Wings season. We'll be looking at the highs and lows they experienced during the recently-completed campaign, as well as what the future holds for them in Detroit. Today, we feature center Marco Kasper.
Marco Kasper
Position: Center
2022-23 totals (GP-G-A-PTs): 1-0-0-0
Contract Status: His three-season entry level contract starts in 2023-24 if he makes the team
Season Synopsis
By the time, Marco Kasper reached his 19th birthday, he had finished third in penalty minutes in the Swedish Hockey League with 72 minutes, registered three hits in his first NHL game and played most of that game with a broken kneecap.
No one doubts how mentally tough this Austrian center is.
One thought is Kasper might just will his way on the Red Wings' roster next season. The Red Wings were excited about how well he played for Rogle in the SHL and then his one-game tryout for Detroit. They appreciate the grit and fire he brings to his game. At 18, he didn't light up the SHL offensively. He posted eight goals and 23 points in 52 games. But he sees the ice impressively enough that Detroit officials believe the offense will be there at the NHL level.
Based on how he played this season, he could be playing among their top six forwards this season.
2022-23 Red Wings Highlights
The Detroit Red Wings promoted Kasper to the NHL on March 30. His played his first NHL game, April 2, in a 5-2 win against the Toronto Maple Leafs. He was six days short of his 19th birthday. He played 14:59 and recorded one shot on goal
"I thought Marco was great," Detroit coach Derek Lalonde said. "Simple game, safe game, good team game. Never got himself in trouble. Was around the net. I think the underlying numbers for him are going to be very good. I think for a first game, under these type of circumstances, he passed with flying colors."
Incredible scene as Kasper gets into it with Liljegren while Seider, Raymond, & Edvinsson join in the scrum. Edvinsson wants to go with Bunting who gets a misconduct.

The future of the Detroit Red Wings, folks. Love to see it. #LGRW pic.twitter.com/Mo1jUT5yur

— Ryan Hana (@RyanHanaWWP) April 3, 2023
2022-23 Red Wings Lowlight
Four days after his first NHL game, it was revealed Kasper broke his kneecap in his NHL debut. It happened early in the first period. Kasper didn't realize the severity of the injury and finished the game.
The Red Wings planned to give him more games, but the injury ruined those plans.
Because of his injury, Kasper was not able to compete for Austria at the World Championships. That is a lost opportunity to test himself  against NHL competition.
 What Does His Detroit Future Hold?
The best case scenario would be Kasper comes to training camp next fall, looks sharp, puts up points in preseason games and earns a spot on the roster as a No. 2 or No. 3 center.
That's not unthinkable. The healing time of his injury provides enough time to be ready for training camp.
At 19, Kasper is the same age Lucas Raymond was when he made the Detroit roster coming out of training camp. Kasper's 2022-23 season in the SHL was more productive than Raymond's final season. Raymond had six goals and 18 points.
FanDuel Sportsbook Promo #1
ALL STATES WHERE LEGAL
GET THE APP
SIGNUP BONUS
$1000 No Sweat Bet


$1000 No Sweat Bet
BET NOW
Matty Beniers was 19, a few months older than Kasper will be next fall, when he made the Seattle Kraken roster last fall as one of their top two centers. He finished with 57 points. They are different players, but the trait that binds them is their high hockey IQ.
But it would not be horrible news if Kasper doesn't make the team. He would be sent to Grand Rapids for more development time. If he plays impressively in Grand Rapids, the Red Wings won't hesitate to promote him. Steve Yzerman won't rush him, but it feels like they want to give him early NHL experience. That's why they brought him up last season