Gotta See It: Red Wings Veleno Could Be Facing Sanctions After Stomping on Niederreiter
Playing for Canada, Veleno stomped on leg of Swiss player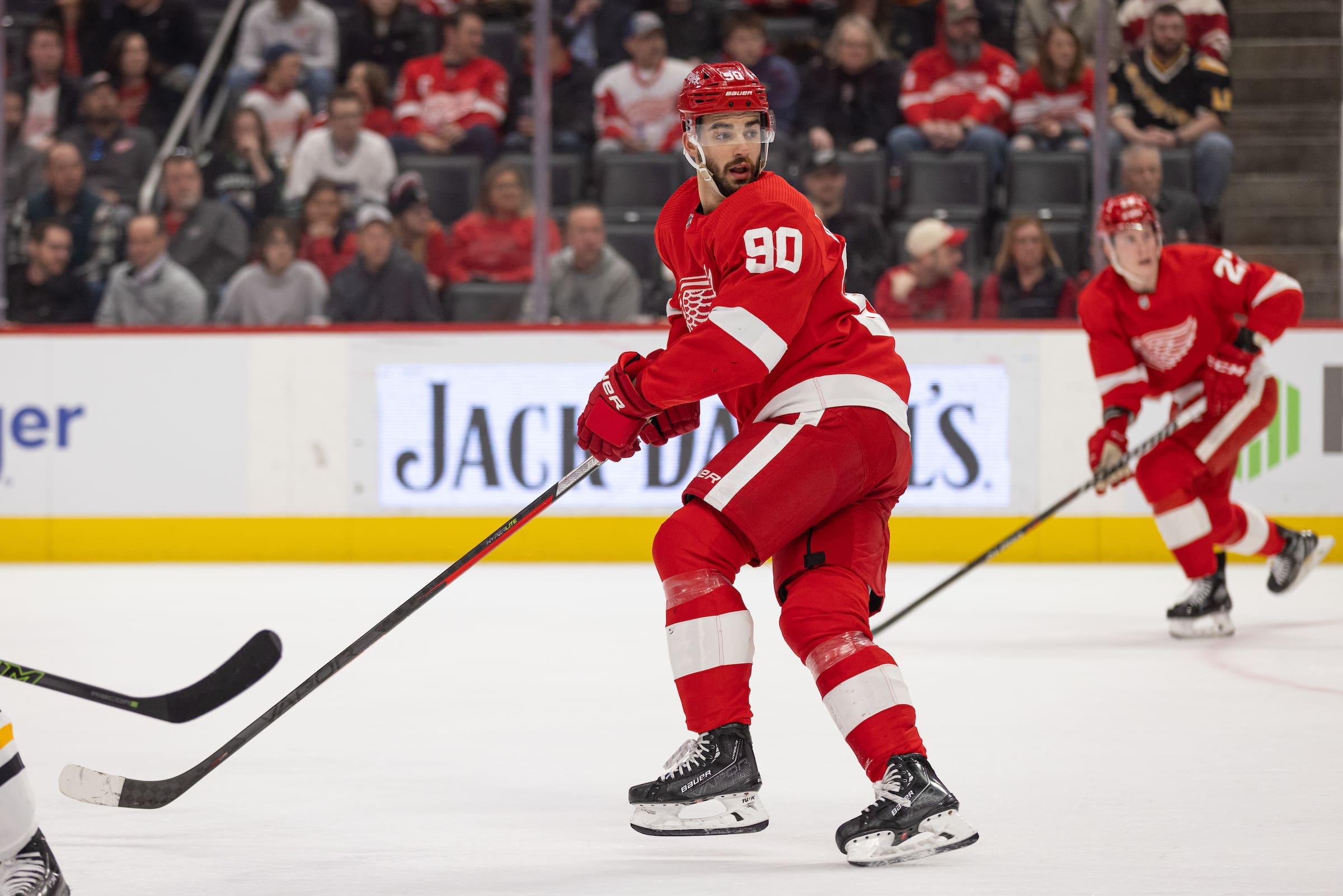 When he was a surprise selection to the Canadian team for the IIHF World Championship, Detroit Red Wings center Joe Veleno talked about the pride he feels when wearing the maple leaf of Canada on his chest.
"It means a lot," Veleno said. "Anytime you get a chance to represent the Maple Leaf for us Canadians, it's a huge honor.
"It's always a pleasure and anytime I can get that opportunity, more often than not I'll take those tournaments."
Unfortunately, Veleno wasn't bringing any pride or honor to Canada or the Red Wings during Saturday's round-round game against Switzerland. Near the midway point of the second period during a battle in the corner, Veleno lifted his right leg and stomped down hard with his skate blade on the left leg of Swiss captain Nino Niederreiter.
This is extremely dangerous from Joe Veleno. I'm not sure how stomping on an opponents leg crosses your mind, but this is ridiculous.

And he didn't even get a penalty, Niederreiter was the only one because of the Veleno selljob. Canada scored on the same PowerPlay. pic.twitter.com/1O69mPTqmI

— Thomas Mercier 🎙️ (@TJM_PlayByPlay) May 20, 2023
Former NHLer Mikael Renberg, covering the game for Swedish TV, called Veleno's kick about as dirty a play as can be made on the ice. "It's lucky that it's the shin guard and not at the back," Aftonbladet.se reported Renberg saying. "Then the heel tendon comes off, because the skate blade is so sharp. I think that is really ugly."
Amazingly, the officials missed the flagrant infraction but later penalized Niederreiter for retaliating against Veleno. The Swiss team was incensed by the non-call against Veleno and their frustration was doubled when Canada scored to take a 1-0 lead during the ensuing power play.
"The skate is very sharp," Niederreiter told isport.blesk.cz. "If you step on someone's foot, you can seriously injure them.
"This doesn't belong in hockey. I hope the IIHF does something about it and punishes it. Now it's up to them. It was exceptional and they should do something about it. The referees could have done a better job too."
However, justice, or karma ultimately prevailed. The Swiss rallied to win 3-2. Switzerland remains unbeaten at the tournament, atop Group A with a 5-0-0-0 record. Canada dropped to 3-1-0-1 and sit third overall in the group.
FanDuel Sportsbook Promo #1
ALL STATES WHERE LEGAL
GET THE APP
SIGNUP BONUS
$1000 No Sweat Bet


$1000 No Sweat Bet
BET NOW
There's been no word yet from the IIHF on whether Veleno will be facing supplementary discipline. Generally, though, the IIHF comes down much harsher on incidents such as this than the NHL does.
"I'm not a fan of such actions, but he decided to do it and he has to face the consequences for it," Swiss defenseman Jonas Siegenthaler said.
Niederreiter later told Expressen.se that Veleno had sought him out in an attempt to make amends, but the Swiss player was not in the mood for forgiveness.
"He tried to apologize, but to do such a thing… he has to grow up," Niederreiter said.