The Daily: Griffins Get Help; Do Red Wings Have Spots for Rookies?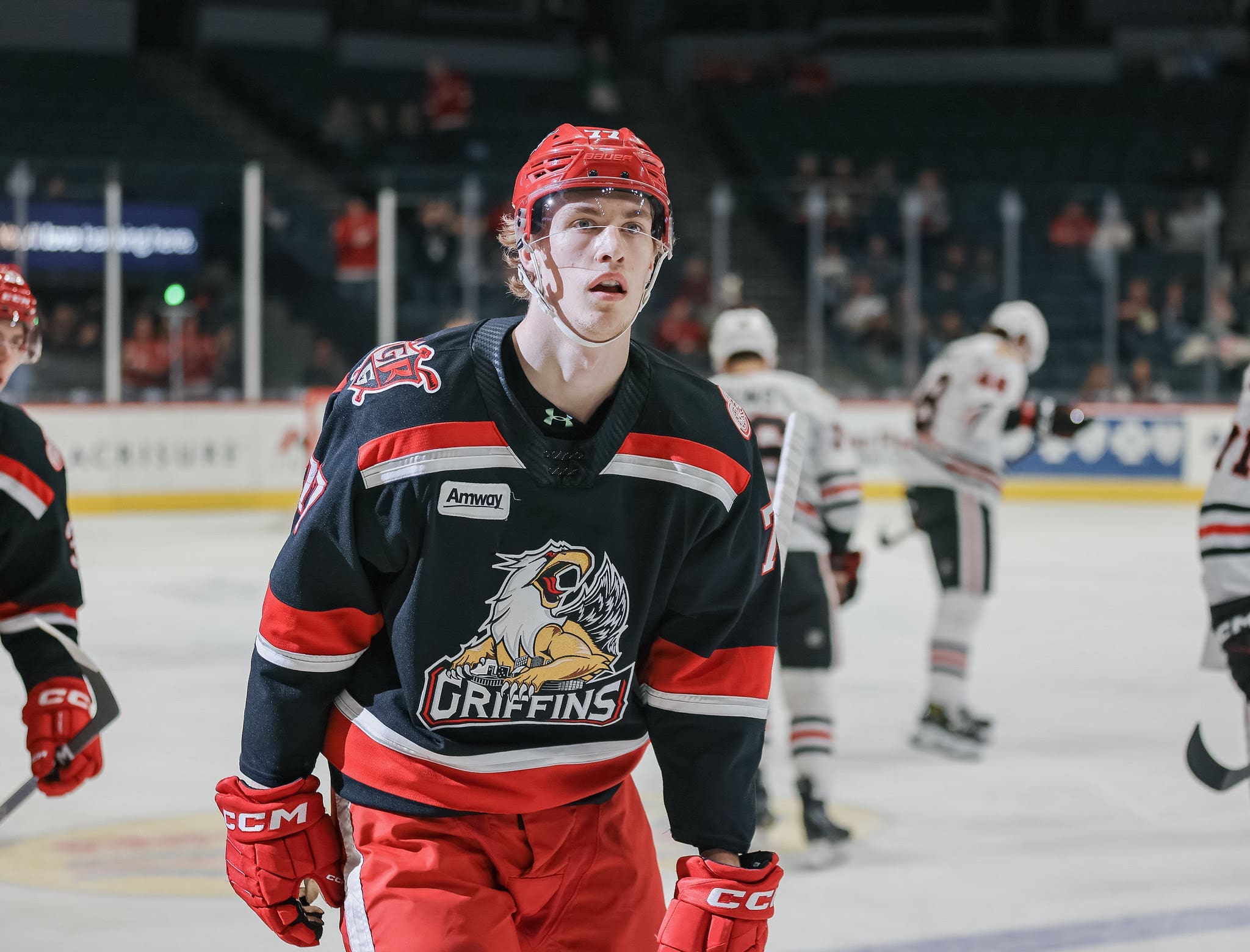 When it comes to making room for quality, young players on the Red Wings roster, Detroit general manager Steve Yzerman says that if a youngster deserves to be on the roster then he will find a way to get him there.
He clearly means that if Marco Kasper or Simon Edvinsson is ready for a permanent spot on Detroit's roster, then Yzerman will make it happen.
But Saturday's free agent signings have created a crowded Red Wings roster. And they still have $9.8 million in cap space with Joe Veleno still to sign. They could sign another free agent.
With the Red Wings confirming Sunday they had signed former Arizona Coyotes forward Christian Fischer, the team now has 14 forwards, seven defensemen and three goalies on one-way contracts
If the season started tomorrow, they could send one goalie to Grand Rapids and have a traditional 23-person roster.
But that roster wouldn't include Kasper, Edvinsson, Elmer Soderblom, Carter Mazur, Albert Johansson or anyone who might play well enough to earn a place in training camp.
This is hardly a major problem. Injuries usually help teams make room for young players. Plus, Edvinsson's surgery recovery time may delay his start time.
It's just something to keep an eye on.
 Red Wings Offseason
Lost in the shuffle of the Red Wings' signings: The Red Wings made an effort to improve the Grand Rapids Griffins for next season. The Red Wings signed 6-foot-6 forward Tim Gettinger, 25, and defenseman Brogan Rafferty, 28, to two-way contracts. Gettinger posted 13 goals and 35 points in 52 games last season for Hartford in the AHL.  Offensive-minded Rafferty produced 51 points and was +28 while helping the Coachella Valley Firebirds reach the Calder Cup Finals.
Griffins general manager  Shawn Horcoff also signed veteran defenseman Josiah Didier, 30, to an AHL contract. He has been the Providence Bruins' captain for the past two seasons. The Griffins needed to replace the veterans leadership lost when Brian Lashoff retired after last season. The popular Lashoff is now a Griffins' assistant coach.
Red Wings In Case You Missed It
Some fans are complaining about GM Steve Yzerman's free agent acquisitions.
Shayne Gostisbehere has the slickness to put a charge in Detroit's power play. He signed a one-year deal.
Yzerman added a scorer from the Netherlands. Newly-acquired right wing Daniel Sprong netted 21 goals for the Seattle Kraken last season.
The Red Wings suddenly look like a local chapter of the University of Michigan alumni association. They have three former Michigan players in prominent roles on the roster.
Hockey Now Network
Boston:  Milan Lucic returns to the Bruins: 'It's a place I consider home.' Boston Bruins
Buffalo: The Sabres signed Erik Johnson and Connor Clifton to strengthen their defense. Buffalo Sabres
Chicago: Nate Brown writes that hope is a good thing, maybe the best thing, for the Blackhawks' organization. Chicago Blackhawks.
Colorado: Avalanche snag Jonathan Drouin and four others to improve the team's depth. Colorado Avalanche 
Florida: The Panthers may have lost more than they gained in the first day of free agency. George Richards talks you through it. Florida Panthers
Los Angeles: Kings sign Cam Talbot to strengthen their goaltending. Los Angeles Kings
Montreal: Marc Dumont writes about the Alex Newhook contract. Montreal Canadiens
Philadelphia: Flyers are unsure why Cutter Gauthier declined an invitation to come to the team's development camp. He played plenty of hockey this season. Philadelphia Flyers.
Pittsburgh: Fans in Pittsburgh are going to love Kyle Dubas. He was aggressive on the first day of free agency and he said: If Erik Karlsson is available, the Penguins are interested. Pittsburgh Penguins
FanDuel Sportsbook Promo #1
ALL STATES WHERE LEGAL
GET THE APP
SIGNUP BONUS
$1000 No Sweat Bet


$1000 No Sweat Bet
BET NOW
Washington: The Capitals decided to swing for the fences with the signing of injured forward Max Pacioretty. This could have a big payoff for Capitals. But this could be a whiff if he has situation similar to last season's debacle. Washington Capitals.
Vegas: With a Stanley Cup celebration ongoing, the Golden Knights could afford to stand pat on the first day of free agency. Vegas Golden Knights.