Red Wings Promote Kris Draper to Assistant GM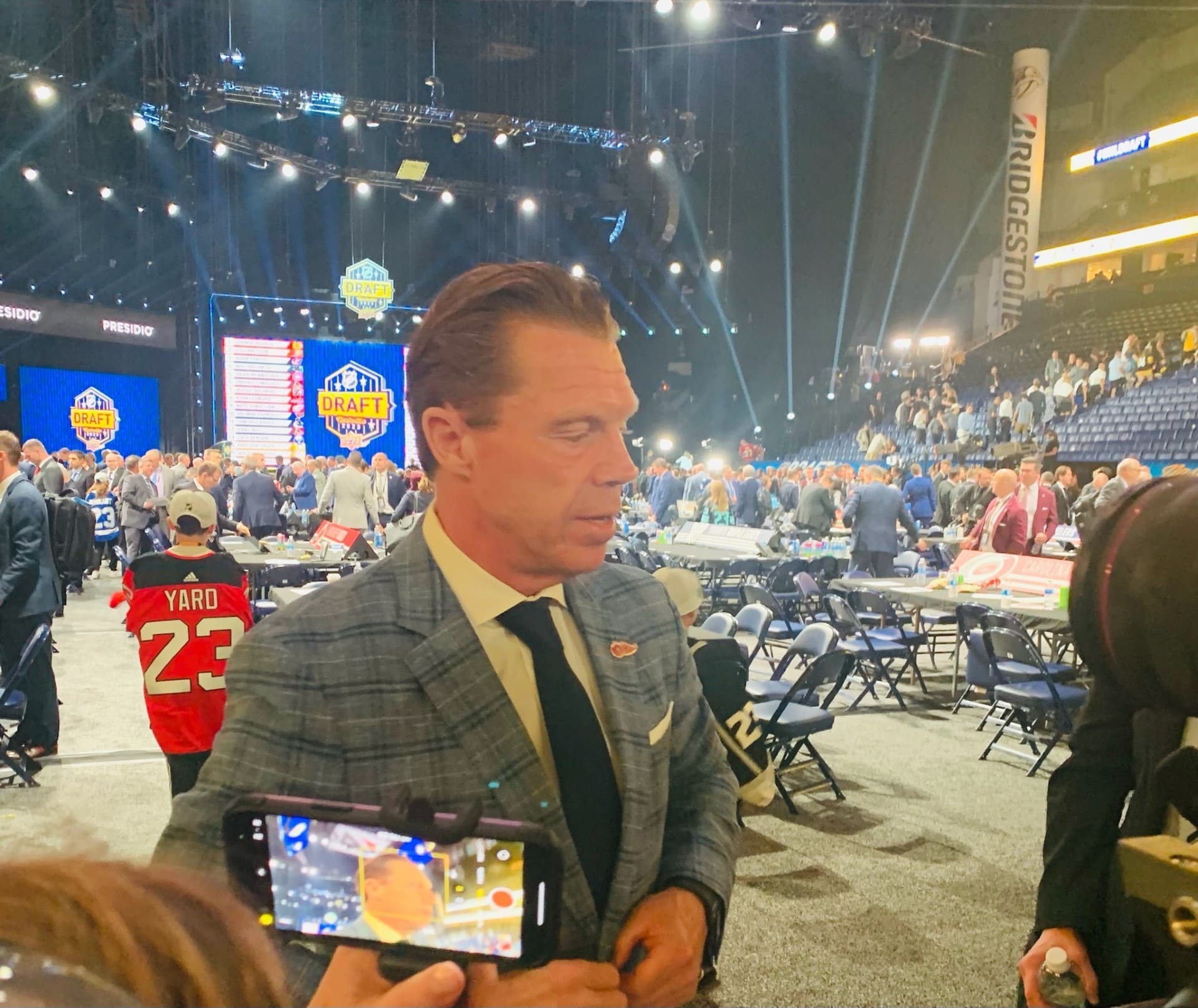 DETROIT — Even when Kris Draper was on retirement's doorstep as a player after the 2010-11 season, he could not see what life would look like after his career was over.
He was 40 years old telling then-Detroit Red Wings general manager Ken Holland that he believed he could play one more NHL season.
"I told Ken I thought I had another year left in my body and he said, 'No, you don't — certainly not here,'" Draper recalled. "That was decision time. Players think they are going to play forever. That's the mindset."
Twelve years later, the man without a plan is looking as if he could spend as much time in Detroit's management as he spent on the ice, having successfully made the transition from player to executive. He took another step in Part 2 of his Red Wings career when he was named Assistant General Manager Wednesday. He was previously Director of Amateur Scouting and will also retain that title.
Kris Draper sat down with me to take a closer look at the @DetroitRedWings 2023 draft class. As always, this one is worth the watch. #LGRW

Full Interview🎥: https://t.co/u7426AJAby pic.twitter.com/HtUmfJJDvd

— Daniella Bruce (@daniellabruce_) July 2, 2023
"It's incredible how fortunate I've been to be part of this organization for 30 years," Draper said. "Who would have thought that trade for future considerations, which we all know what that turned out to be, and I'm sitting up here as an assistant general manager of the organization, it's unreal.
Draper's Value: $1
The Winnipeg Jets traded Draper to the Red Wings for future considerations. That turned out to be a cash payment of $1. For that payment, the Red Wings received an indispensable checking center on four Stanley Cup championship teams (1997, 1998, 2002 and 2008). As a member of the Grind Line, Draper was among the more popular Red Wings players of that era. His popularity covered teammates, fan base and media.
Everyone likes Draper because he's glib, cordial and treats everyone with respect. As it turned out, he has also had a talent for scouting young players. Shawn Horcoff also has the title of Red Wings assistant general manager, but their jobs are different. Horcoff spends much of his time serving as general manager of the Grand Rapids Griffins.
Still In Charge of Detroit Draft
Draper, 52, will still run the Red Wings' drafting operation, but will be adding other responsibilities.
"I want the opportunity to sit on meetings like last week with free agency." Draper said. "Obviously the negotiations of contracts. Entry-level deals, I'd love to sit in on those and learn how to do those. Probably more of that stuff. But I know my main role is exactly what it's been since Steve has come here and obviously running the draft. Just adding opportunities to really learn the business side of it, the contracts, sitting in when Stevie's talking to agents. Stuff like that is something that I'm really looking forward to do."
Draper's goal today isn't different than it was when he was a player: he wants to help the Red Wings win another Stanley Cup. He is just going about it differently.
"I take a lot of pride in my job right now as director of amateur scouting and to be added to assistant general manager by Stevie means a lot. I guess he appreciates what we're doing right now and that means a lot to me," Yzerman said. "…The Detroit Red Wings are one of the most important things in my life. It's been like that for years. I want to be a big part of us getting back into the playoffs and then from there being Cup contenders, to being Cup champions."
Learning on the Job
Draper didn't know what he was getting into when Holland offered him a job as assistant to the general manager after he retired.
"It was more or less because of what I did on the ice compared to the front office," Draper said. "Ken was very gracious with the title. I wasn't in charge of anything, really. Watched games and put reports in. I don't know if anyone read them. And then Stevie came in putting me in charge of the draft and director of amateur scouting and running the staff. It was a great opportunity for me to be around Ken and kind of learn everything in all areas of the game, which was special. I appreciate being able to walk out of the Detroit Red Wings dressing room to the Detroit Red Wings front office, Ken gave me that opportunity and that's a big reason why I'm sitting here."
BetMGM Sportsbook
States: All States Where Legal
GET THE APP
SIGNUP BONUS
UP TO $1,000!


Up To $1000 Paid Back in Bonus Bets
BET NOW
Now, Draper is an important part of the operation. One of the perks of the job is that he gets to work with the same group of people he played alongside.
"I understand the challenges of it, watching 17-18-year-old prospects and trying to project what they're going to be," Draper said. " It's something that I've enjoyed doing and I've got an incredible staff to work with. You walk upstairs and Nick Lidstrom's here and Nik Kronwall's here. Obviously, Stevie's here, Dan Cleary, Jiri Fischer. I get to see (former linemate) Kirk Maltby, he's on the pro side. It's incredible to see a lot of former teammates. We're all in this for the same thing. We want to be good again and then we want to be great."