Red Wings Notebook: Lombardi Team Wins 3 V 3 Tournament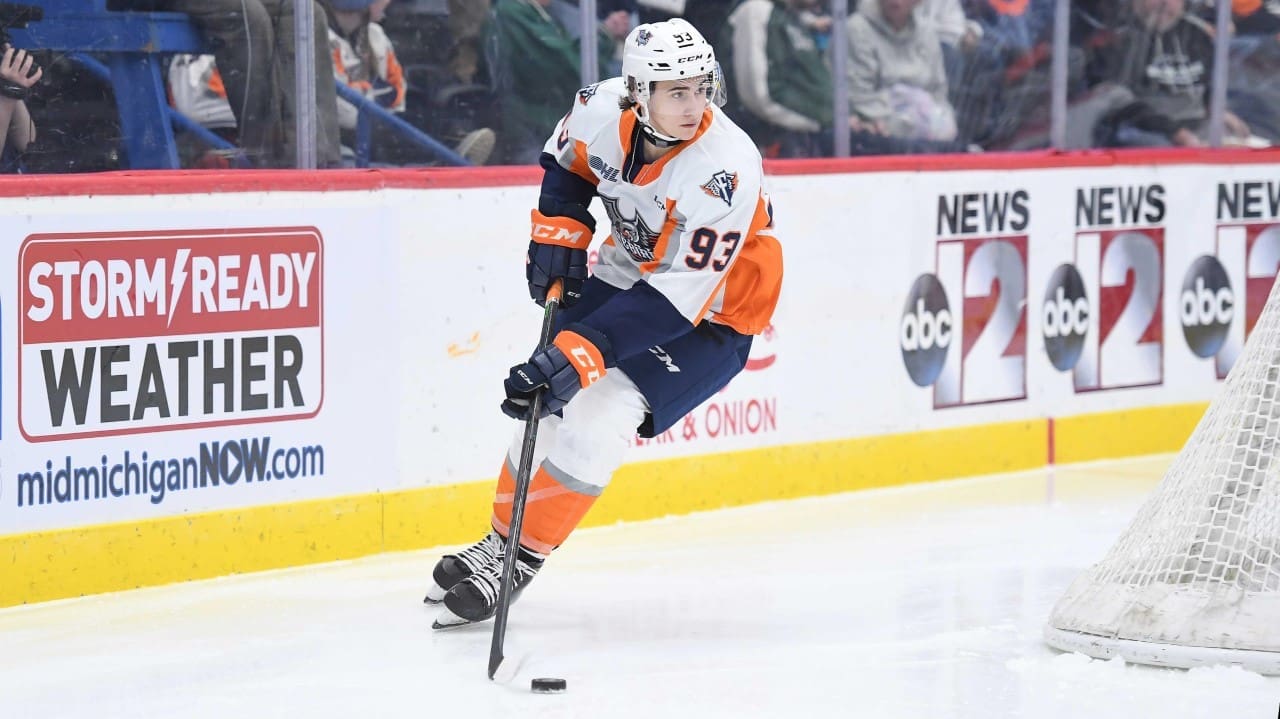 DETROIT — Center prospect Amadeus Lombardi makes more than his fair share of memorable plays. But it was Lombardi's pregame preparation for the Detroit Red Wings 3 V 3 tournament that caught the attention of Dan Cleary, the team's director of player development.
"Amadeus is drinking Red Bull before the first game at 8:30," Cleary said. "He's competitive, he likes to do well. You could see as the games went along, he got his legs, got more confidence. He's super-pumped up for a good summer of training."
Lombardi left the Red Wings' Development Camp with some bragging rights after his Team Osaer won the 3-on-3 event. Lombardi and Co. downed Team Bain 2-1 on an overtime goal by free agent invitee Liam McLinskey of Holy Cross. He had both goals for the champion in the final. Detroit first-round pick Nate Danielson played for Team Bain. He's a smooth competitor. He always seems to be where the puck pops out.
The winning squad also included: free agent invitee Liam Mclinskey, 2022 seventh-round pick Brennan Ali, free agent invitee Karsen Dorwart, 2023 seventh round pick Emmitt Finnie, 2023 first-round pick Axel Sandin Pellikka, 2023 second-round pick Brady Cleveland, 2021 second-round pick Shai Buium and 2022 fifth-rounder Tnias Mathurin.
"It was a lot of fun," said Buium, a college defenseman at Denver. "It got competitive, which is why we play the game.
Lombardi was noticeable every time he was on the ice. He is likely to play for Grand Rapids in the upcoming season.
"Amadeus is a sponge out there, he's a rink rat, he loves to play, he's constantly asking questions," Cleary said. " Really excited for Amadeus. He's got great speed, good talent, he's got hands, but he's driven, he's very competitive."
Sandin-Pellikka in Command
It is easy to see why the Red Wings claimed Axel Sandin Pellikka. The slick defenseman can control the game even in 3 v 3.
"Smart kid. Really composed," Cleary said. "That translates to his on-ice game as well. When he's under pressure, under siege, he's got the ability to calm it down and make a play instead of rushing it. That's his demeanor. He's already in really good shape. He tested well. He'll have a good season in Skelleftea. The SHL is a strong league."
His biggest need, as it is with most prospects, is more strength. He will need time in the weight room.
Ice Chips: Swedish brother Brothers Liam and Noah Dower-Nilsson didn't participate in the 3 V 3 tournament because they were receiving "upper body imagery." The Red Wings wanted their doctors to look at scans of their most recent injuries while they were in Detroit.