DeBrincat Was Born to Be a Detroit Red Wing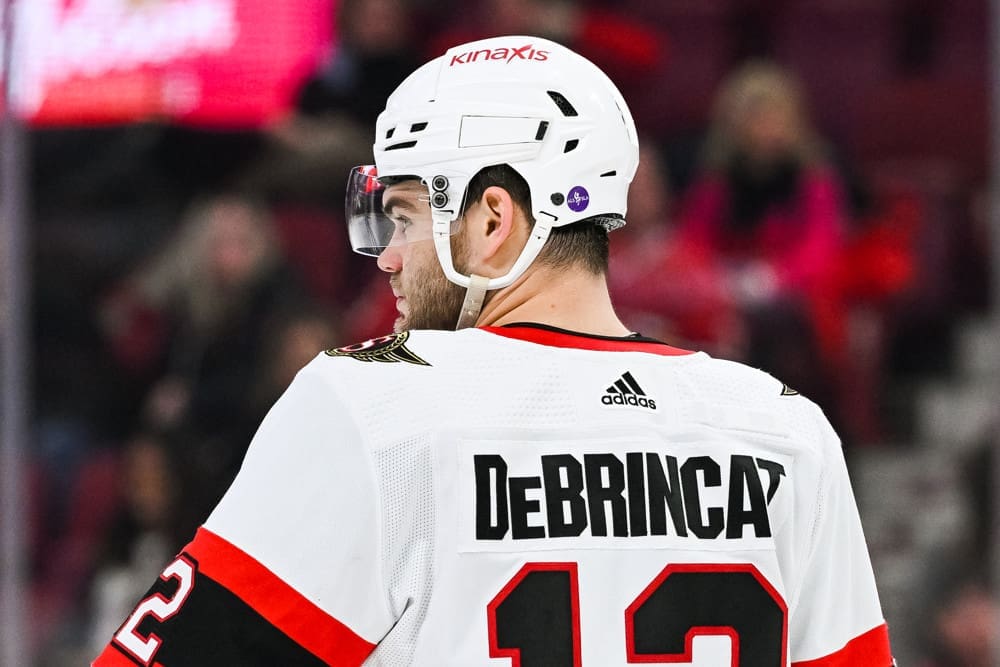 The hat wasn't quite right, and the sport was wrong, but Alex DeBrincat was representing when he was introduced as the newest member of the Detroit Red Wings.
DeBrincat was purposefully wearing a Detroit Pistons hat as he met the media for the first time. DeBrincat was traded to Detroit Sunday night for a first- and fourth-round pick, Dominik Kubalik and Donovan Sebrango.
"It's super exciting obviously," said DeBrincat. "Growing up here and rooting for the Red Wings when I was younger, it's definitely a dream come true. I do have to say I don't think anyone's happier than my parents. It's the whole family. Everyone's happy. It's a good spot for me. "
DeBrincat grew up in Farmington Hills and that's where he started playing youth hockey.
"I played for the Farmington Hills Fire for quite a few years at Farmington Hills Ice Arena, so that rink is pretty special," DeBrincat said. "Then I moved on to play for Victory Honda, which I've trained at for the past couple of years, too. Going to that gym and skating there. Those rinks are obviously special to me. I've had a lot of good memories there. It's just nice to be back here and enjoy this."
Always a Red Wings Fan
Among DeBrincat's favorite childhood memories was watching his favorite player Pavel Datsyuk and rooting for the Red Wings when they won the Stanley Cup in 2008. He was 11 then.
His Red Wings fandom also included the latter stages of Steve Yzerman's career. That's why it was special when Yzerman called him yesterday after the negotiations with the agent had been completed.
"It was awesome," DeBrincat said. "Obviously we found out everything was going to be done. He called me a little later last night and we just chatted for a couple of minutes. I just told him I'm really excited to be here. I'm excited for the opportunity that this team is giving me. He just kind of went through what would kind of be our team, what it's like. It was a good chat."
Will Wear No. 93
DeBrincat was in Michigan when he received the call that trade was finalized. In recent years, DeBrincat has come home in the offseason. His wife is from Clarkson. Of course she is.
DeBrincat likes the state. Before the deal happened, he played golf with Dylan Larkin and they talked about the situation. He comes home bullish on his new team. He could end up playing with Larkin, although nothing has really been discussed. But Larkin is the best center and DeBrincat is now the most proven scorer. He has averaged 31 goals per season.
"Obviously early in my career it was deep in the rebuild and in these last couple of years you can see that the compete level is definitely been higher," DeBrincat said. "You see a team that's frustrated maybe with being in a rebuild and wants to get out. I'm excited to be here and join in that and hopefully be part of the solution to get out of that. I'm just really excited to join these guys and I definitely see the potential in this group."
He will wear No. 93 on the Red Wings because No. 12, the number he wore in Ottawa, belonged to the legendary Sid Abel. It's retired. He wore No. 12 for Victory Honda.
"I'm definitely confident in my abilities," DeBrincat said. "I think that this team is a good fit for me. Hopefully we can get back into the playoffs. Obviously that's everyone's goal. Hopefully it's sooner rather than later. We just gotta keep growing as a team and just putting in the work to get back there."