Playing the Red Wings Numbers Game, 2023-24 Edition
Digits drop for new Detroit players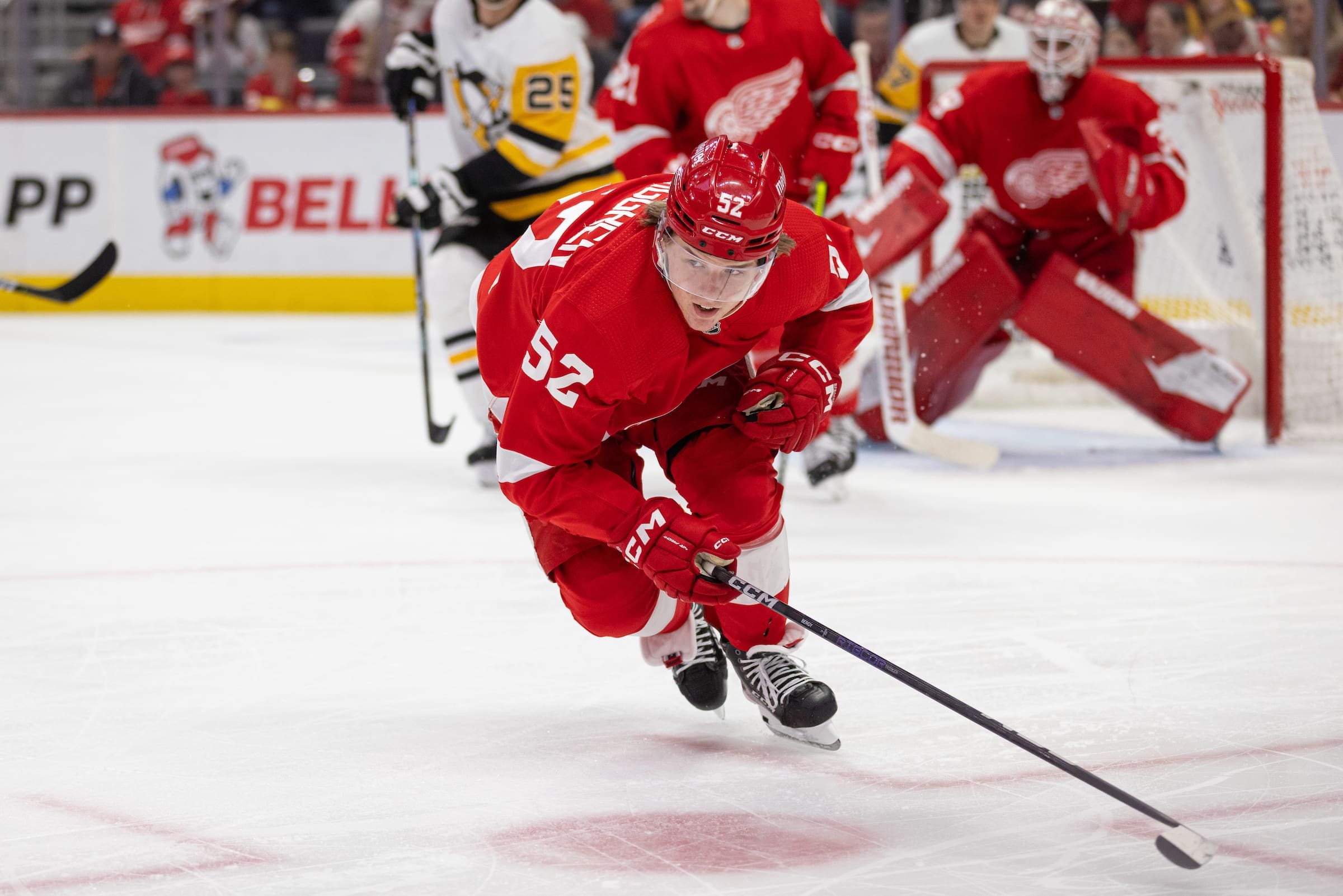 The numbers that the newest members of the Detroit Red Wings will wear this season were unveiled by the club late Wednesday. As well, two returning Detroit players are changing the digits on their jerseys. Defenseman Simon Edvinsson is going from No. 3 to 77, which he wore with AHL Grand Rapids. Forward Jonatan Berggen is changing from 52 to 48. He wore the latter number in both Sweden and with the AHL Griffins.
Here's a look at what the newcomers will be wearing, who wore it most recently, and who wore it best.
Justin Holl (No. 3)
Holl is taking the same No. 3 that he wore while playing for the Toronto Maple Leafs. Interestingly, that's the only previous time he's donned the digit during his playing career.
Who Wore It Last: Edvinsson was No. 3 for his nine-game stint with Detroit last season.
Who Wore It Best: Hall of Famer Marcel Pronovost patrolled the Red Wings defense with No. 3 on his back.
Klim Kostin (No. 24)
Kostin has previously worn No. 24 with Dynamo Moscow of the KHL, internationally for Russia and in the AHL with the San Antonio Rampage.
Who Wore It Last: Versatile forward Pius Suter was adorned with No. 24 the previous two seasons.
Who Wore It Best: Red Wings fans will certainly bow with honor to Bob Probert, the most feared tough guy in the NHL when he wore No. 24 for Detroit. But don't forget that Hall of Famer Chris Chelios won two Stanley Cups as Detroit's No. 24.
New jersey numbers just dropped.

Let's ride. 🚗😏 pic.twitter.com/GcMceAGMo4

— Detroit Red Wings (@DetroitRedWings) July 20, 2023
Alex Lyon (No. 34)
Lyon has worn No. 34 at each of his previous NHL stops – with the Philadelphia Flyers, Carolina Hurricanes and Florida Panthers.
Who Wore It Last: Though he saw no game action, goaltender Victor Brattstrom wore No. 34 while dressed as a backup goalie in 2022 and 2023.
Who Wore It Best: Petr Mrazek was No. 34 and Jamie Macoun and Manny Legace both won Stanley Cups wearing No. 34 for the Red Wings.
Christian Fischer (No. 36)
Fischer has been wearing No. 36 on his back for all 398 of his NHL games with the Arizona Coyotes.
Who Wore It Last: Goaltender Kaden Fulcher donned No. 36 for his only NHL game during the 2018-19 season.
Who Wore It Best: While Fischer will be the eighth Detroit player to wear No. 38, none have worn it with distinction. Defenseman Derek Meech was No. 36 for 90 games from 2008-10.
J.T. Compher (No. 37)
Compher won a Stanley Cup with the Colorado Avalanche while wearing No. 37.
Who Wore It Last: Checking forward Carter Rowney was No. 37 for Detroit durng the 2021-22 season.
Who Wore It Best: Eleven Red Wings preceded Compher as No. 37, including Stanley Cup winners Tim Taylor, Kevin Hodson and Mikael Samuelsson.
Shayne Gostisbehere (No. 41)
Gostisbehere was No. 14 for much of his early hockey career. He was No. 14 with the Arizona Coyotes last season, but switched to No. 41 when traded to the Carolina Hurricanes. Forward Robby Fabbri is currently wearing 14 for the Red Wings.
Who Wore It Last: Although he's never officially played for Detroit, defenseman Jared McIsaac was showing as No. 41 on the club's roster. He's opting to switch to No. 15 for the 2023-24 season.
Who Wore It Best: Center Luke Glendening was No. 41 for the Red Wings from 2014-21.
James Reimer (No. 47)
Though he wore No. 34 for much of his NHL career, Reimer has gone with No. 47 in his last two stops with Carolina and San Jose.
Who Wore It Last: Officially, defenseman Libor Sulak was Detroit's most recent 47 in 2019. Defenseman Wyatt Newpower has been listed as No. 47 on the Detroit depth chart. He'll be changing to No. 62.
Who Wore It Best: Red Wings defenseman Alexey Marchenko was No. 47 from 2014-16.
Daniel Sprong (No. 88)
Sprong was No. 91 in Seattle, but perhaps it would be too heavy a burden to don Sergei Fedorov's number in Detroit.
Who Wore It Last: Sprong is breaking new ground. He'll be the first Red Wings player to wear No. 88.
Who Wore It Best: Hall of Famer Eric Lindros is certainly the most famous NHLer to wear No. 88.
FanDuel Sportsbook Promo #1
ALL STATES WHERE LEGAL
GET THE APP
SIGNUP BONUS
$1000 No Sweat Bet


$1000 No Sweat Bet
BET NOW
Alex DeBrincat (No. 93)
DeBrincat revealed the day after his trade from Ottawa to Detroit that he'd be donning No. 93 in honor of his brother, who wore it during his playing days.
Who Wore It Last: Johan Franzen was developing into a top NHL sniper when concussions sidetracked his career.
Who Wore It Best: Franzen counted a five-goal game while wearing No. 93 for Detroit and rewrote some of the club's playoff goal-scoring records.