Yzerman Says Edvinsson Still Needs To Earn His Spot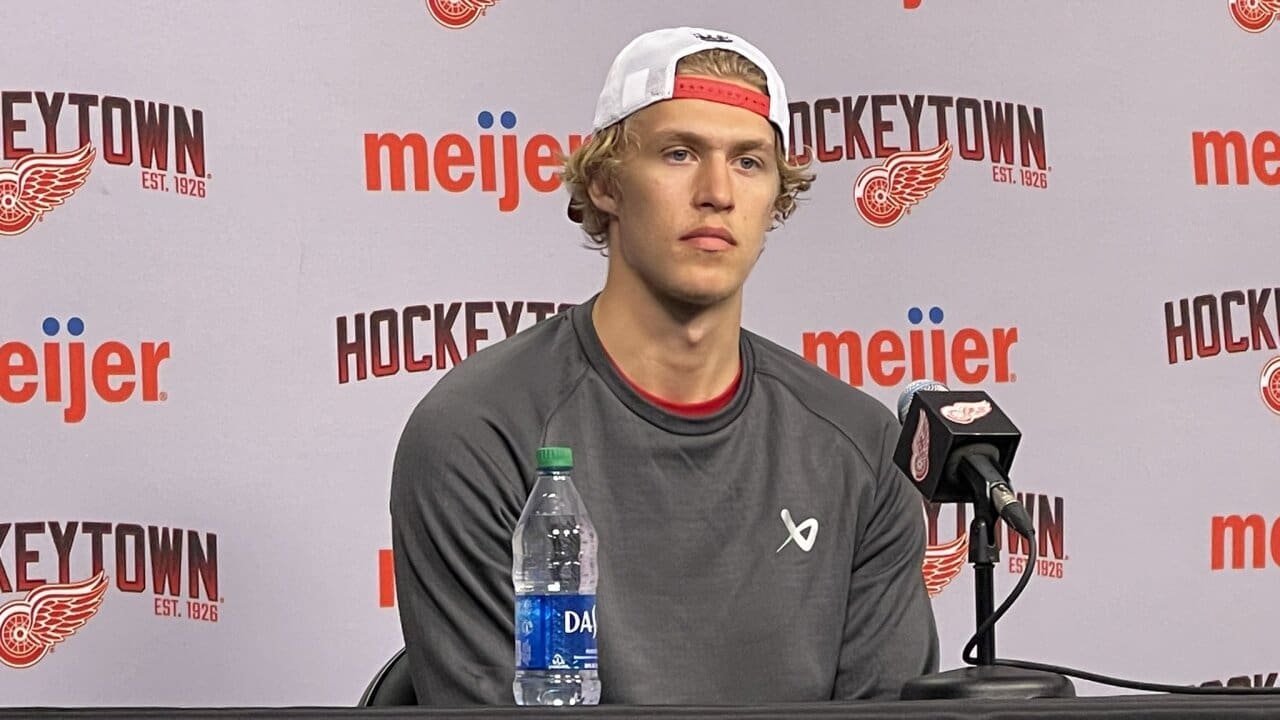 General manager Steve Yzerman said Monday that he's not ready yet to pencil in Simon Edvinsson as a regular on the Detroit Red Wings' defense
"We have high hopes for Simon," Yzerman said. "I'm not prepared to put him on the team in a top-six role. Certainly, I don't believe it's beyond the realm of possibility that Simon comes in and has an outstanding training camp, an outstanding preseason and simply forces his way into the lineup. That's what every one of us – our fans, our organization – would love to see. And if that happens, that's great and we'll figure it out. At this stage to say we're gonna put right him right in the top six, I'm not prepared to say that and I don't want to do that. It's unfair to him and it's not the right thing for any of our young players, or the team in itself."
That's not overly different from what Yzerman always says about young players: he won't hand them a roster spot. He wants them to earn it.
Maybe it needed to be said in stronger terms because Yzerman recently signed two veteran defensemen that will be in their top six. They have seven defensemen on on one-way contracts. It not hard to foresee a scenario where Edvinsson starts in Grand Rapids and is the first call-up when there is an injury. It's almost a guarantee there will be injuries at various points.
Yzerman Filled Needs
"One, we needed to get a right-shot defenseman (Justin Holl). That was important," Yzerman said. "We wanted to get a defenseman who can play on the power play. Shane (Gostisbehere) certainly fills that role. Half of his usage in 5-on-5 was on the right side this year as well, so he's comfortable in that role. Going back to Simon, I think he's an excellent young prospect. We saw some real good things in the nine games he played at the end of the season. If he's ready to play and he earns a spot on the team, we'll figure it out.  We think he's an excellent young prospect… (But) I don't think the right approach is just throw him out there. Let's let him earn that spot."
The projected left side of the defense now would be Jake Walman, Ben Chiarot and Olli Maatta, and the projected right side is Moritz Seider, Gostisbehere and Holl.
Gus Lindstrom is currently the team's No. 7 defenseman.
"And God forbid we have too many good defensemen and we gotta figure out a problem," Yzerman said. "Wouldn't that be a great situation?"
Yzerman wants to keep the door open for younger players. The last thing he wants is to discourage top prospects.
Follow Raymond Example
"I'm not gonna tell any of these kids, 'Hey you're not on the team next year., '" Yzerman said. "'Go out and play well and perform.'"
Lucas Raymond's presence on the roster is a reminder that young players can persuade Yzerman to keep them.
"Two years ago we were sure the plan with Lucas was he's gonna need a year in the American League," Yzerman said. "Why did we say that? We're watching him in Sweden and we don't really know. When he came over, he performed really well. He looks good in the rookie tournament, he looks good in the preseason. Well, we'll start him off in the NHL. Hopefully he doesn't go backwards and he had a good year. He wasn't handed that spot, because our plan was to keep him in the American League for that year. With all these guys, we'll let their play determine where they go, but we don't want to put ourselves in a position where we're hoping they make it, because if they don't, then what are we gonna do?"