Red Wings Draftee Phelan Sticking to His Development Plan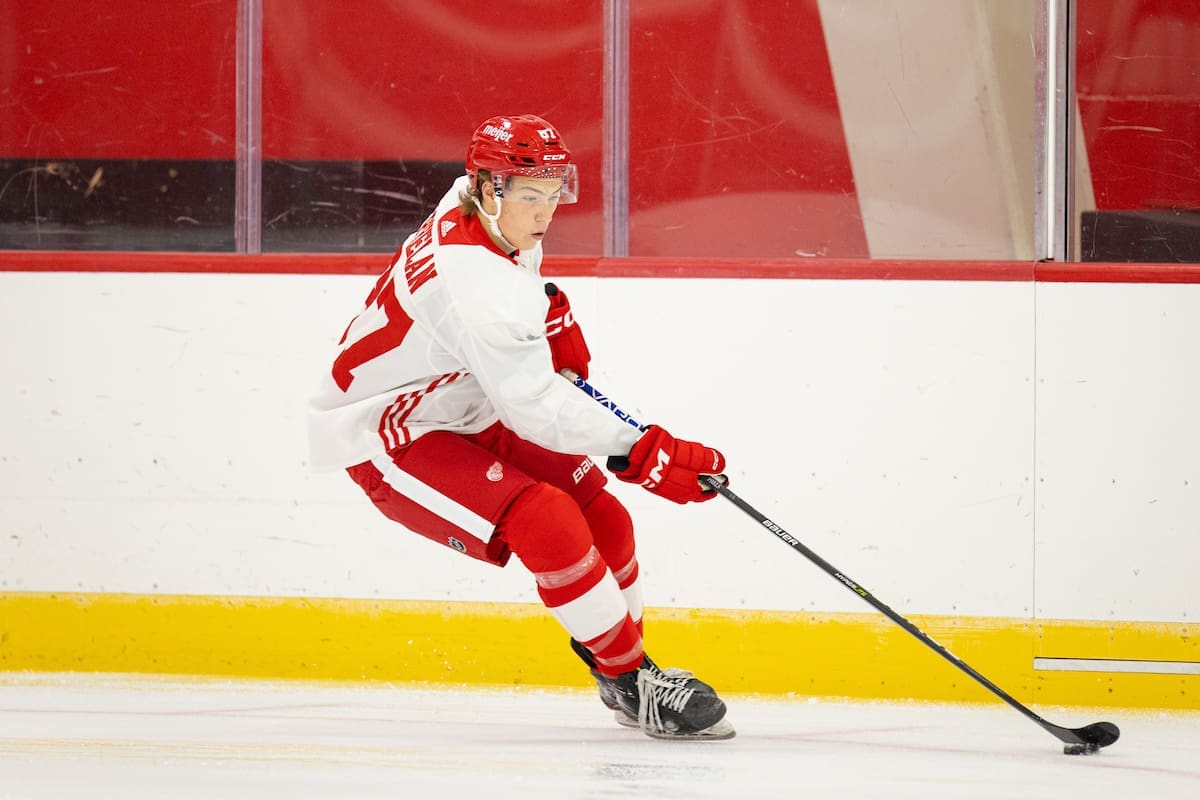 Jack Phelan is taking a longer road in his hockey career, one he hopes will include a Red Wings sweater in his future.
Phelan, 19, was a fifth-round pick by the Red Wings in this year's draft and has already committed to play college hockey at Wisconsin.
A Second USHL Season
But the 6-2, 185-pound defenseman has another year at Sioux City of the USHL first.
"The plan was always to play two years in the USHL," Phelan says.
"I'm sure there was an opportunity for me to go in this year (at Wisconsin). But when I committed to play for Wisconsin, I was always on a two-year plan. I think it would be good to go back and have a year of experience under my belt and, you know, grow as a player more."
Red Wings director of amateur scouting and assistant general manager Kris Draper says adding strength will be a key part of Phelan's development.
"For 17- and 18-year-olds, that's a common theme for a lot of these guys," he said. (Phelan's) going to play another year of junior, going to school. It buys him time to do exactly what he needs to do and that's to add strength."
Phelan will be working to be more of an offensive presence at Sioux City this season after recording just one goal and four assists in 59 games last season.
"I want to get bigger, stronger, faster," he said. "Guys get better and better every year. I've obviously got to be more offensive and find the holes to jump into and, um, you know, join the rush more and, uh, be a little more active at the blue line."
A Hockey Family
Phelan is a native of Hinsdale, Ill., a suburb of Chicago, which is where played travel hockey with twin brother Danny.
"It was super cool," Jack Phelan said. "It's obviously fortunate to play with a twin and to be able to play at a high level was pretty cool as well."
Danny Phelan will play for the Buffalo Jr. Sabres this winter. Both are defensemen, as is younger brother, Michael, who will play at Waterloo in the USHL this seas0n before starting his college career at Arizona State next year.
Last year was Jack Phelan's first away from home, which took a bit of getting used to as well as moving from Chicago to South Dakota.
"I like it," he said. "It's a little slower pace than Chicago, but hockey is a really growing game out there. I love it out there. Um, you know, my teammates are great, coaches are great and my billets have been awesome. So, yeah, definitely, excited to go back there soon."
Red Wings' Early Impression
Phelan made an impression on Red Wings scouts early.
"Kevin Gibson and Mark Mullin, this was a right-shot D they liked right off the hop," Draper said. "They kept talking about him. He does have to get stronger but he's smart, he has some size, he moves well. He's a smart defender. That's something our guys like. I was able to see him as well and that's exactly how they described him and that's what he is."
Draper and the rest of the Red Wings' brass got a chance to see Phelan in a camp for prospects last month.
BetMGM Sportsbook
States: All States Where Legal
GET THE APP
SIGNUP BONUS
UP TO $1,000!


Up To $1000 Paid Back in Bonus Bets
BET NOW
"It was super cool," Phelan said. "You have Steve Yzerman and Kris Draper, Dan Cleary and Nick Kronwall there. It was super cool to have conversations with them. You learn so much from a camp like that in only five days."
Training camp in Sioux Falls is about a month away. In the interim Phelan is hitting the gym, skating a couple of days a week and working on both honing and developing skills he hopes will lead to a winged wheel on his chest someday.