Red Wings Prospect Buchelnikov Healthy Scratch For KHL Opener
Buchelnikov not currently showing on SKA roster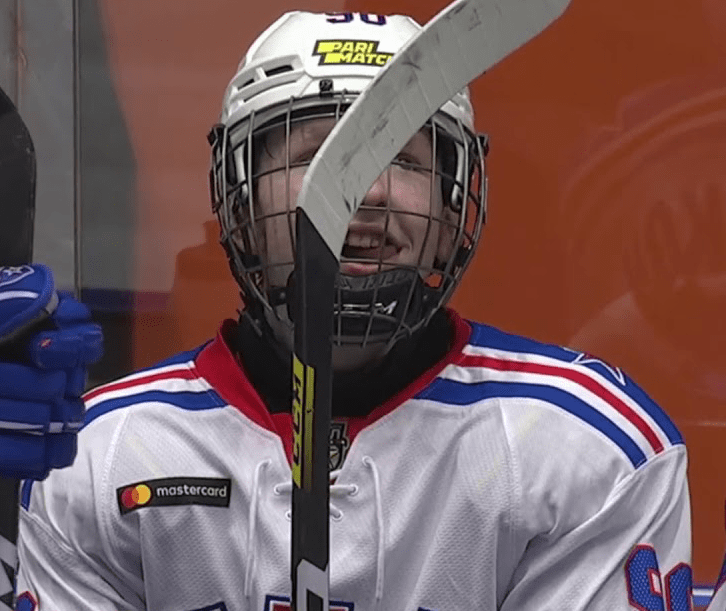 As the KHL season was getting underway in Russia for SKA St. Petersburg, Detroit Red Wings prospect Dmitri Buchelnikov was nowhere to be seen on the ice. Buchelnikov found himself a healthy scratch as SKA edged Dynamo Moscow 2-1 on Saturday. He wasn't even the player sitting out that most people were talking about.
Joining Buchelnikov in civvies watching the action from the stands was Philadelphia Flyers 2023 first-round draft pick Matvei Michkov. He was the seventh overall selection on draft day.
SKA HC Roman Rotenberg explained why #FueledByPhilly Matvei Michkov was not in the lineup today via Championat.
Limiter means 13th forward. #KHL pic.twitter.com/ox7tpy77Yt

— Hockey News Hub (@HockeyNewsHub) September 2, 2023
Earning a spot in the lineup as the 13th forward was Igor Demidov. Projecting to be a lottery selection in the 2024 NHL entry draft, Demidov, 17, saw 8:28 of ice time.
While it's only the season opener, at this stage, it is appearing that Demidov, Michkov and Buchelnikov are all battling for ice time as what SKA coach Roman Rotenberg calls "the limiter." That's the extra forward who suits up and sees limited ice time spotting in on among the four regular forward units.
Could Buchelnikov Be Sent On Loan?
Buchelnikov's name is not currently showing on the list of players populating the SKA St. Petersburg roster on the KHL website and there are 20 forwards included on that list. If Buchelnikov is in fact that far down the SKA depth chart, there certainly remains the chance that he will be going on loan to another KHL club. That's what SKA did last season with the highly-touted Michkov, sending him to play with HC Sochi. Offseason reports from the Russian media have also been linking Buchelnikov with a move to that club.
#LGRW Dmitri Buchelnikov with his gf Aleksandra pic.twitter.com/A6MNsW9HFR

— Hockey News Hub (@HockeyNewsHub) August 28, 2023
Last season, Buchelnikov was posting 1-1-2 totals in 10 KHL games for SKA St. Petersburg. He was playing all but two of those 10 games during the first month of the season. He spent the majority of the 2022-23 campaign with SKA-Neva in the VHL, the Russian second division. Buchelnikov was also seeing some time with SKA-1946 in the MHL, the Russian junior league.
The 19-year-old left-winger was the 52nd overall choice Detroit in the 2022 NHL entry draft. He's under contract with SKA St. Petersburg until the conclusion of the 2024-25 season. He put his name to a two-year extension with the club last season.