Wheat Kings Holding High Hopes For Red Wings Top Pick Danielson
Danielson was selcted ninth overall by Detroit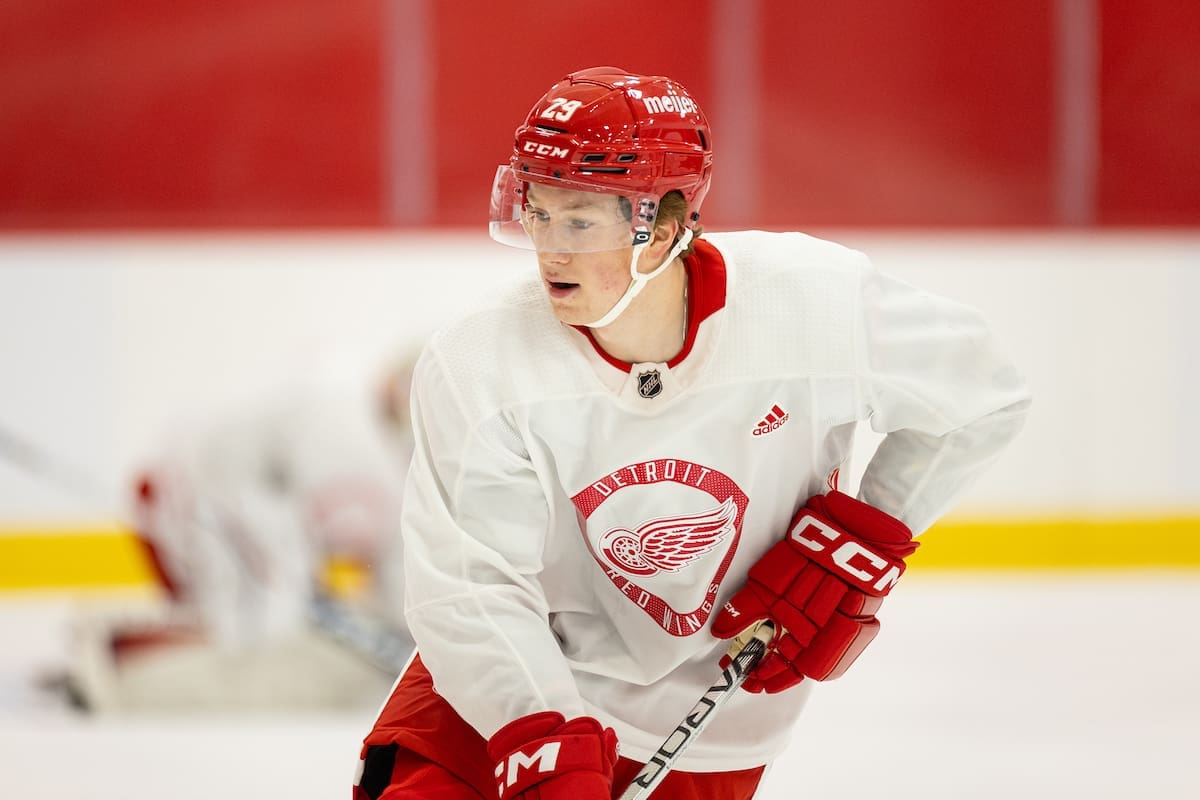 Brandon Wheat Kings coach Marty Murray is aware how the Detroit Red Wings traditionally treat their newly-drafted prospects. He's counting on that tradition continuing in regards to center Nate Danielson.
The Red Wings made Wheat Kings co-captain Danielson their top selection in the 2023 NHL entry draft at ninth overall. Historically, Detroit is returning draftees to their clubs for the following season, allowing their development to continue.
Connor Bedard on his bond with Nate Danielson, the Detroit Red Wings' 9th overall pick: "He's awesome, he's someone that I'm really close with and to be able to be here with him and a lot of friends — hearing the news he just got taken. It's so incredible." pic.twitter.com/FFt3Uf9TSw

— Phillip Thompson (@_phil_thompson) June 29, 2023
"Detroit typically has a path for these guys where they like them to season themselves a little bit in the American Hockey League," Murray told Perry Bergson of the Brandon Sun via CHL.ca. "We fully expect Nate back, but it's a crazy game, as we all know, and sometimes those kids turn into men over the summer and Nate was on the verge of doing that last year.
"Would it absolutely surprise me if he made an NHL roster this fall? No, but at the same time, we expect Nate to be back and a big part of our hockey team."
Red Wings Won't Rush Any Player
Detroit GM Steve Yzerman isn't one to rush players to the show. Even top picks such as Calder Trophy-winning defenseman Moritz Seider (sixth overall, 2019) and forward Lucas Raymond (fourth overall, 2020) were given additional seasoning in the lower leagues before getting their first taste of the NHL.
The Red Wings clearly see Danielson playing a role in the team's future. This summer, he was signing an entry-level pact with the club. Danielson will be participating in Detroit's NHL rookie tournament. He may even get a taste of NHL preseason action. However, in all likelihood, his ultimate destination is going to be a return trip to Brandon.
"The obvious answer is they got to be ready to show they can play and play regular," Yzerman suggested as to how he assesses when a young player is ready to make the jump to the NHL. "I don't want players at that age, this early stage of their careers simply playing minimal minutes, whatever that is."
Danielson was Brandon's leading scorer last season with 33-45-78 totals. Going back to the Wheat Kings for his 19-year-old campaign, he can expand those numbers while filling all roles for the club. He'll also be growing in terms of maturity in his leadership role for the team.
WATCH 📽️ | We caught up with @DetroitRedWings prospect Nate Danielson after he was selected ninth-overall in the 2023 #NHLDraft!#MeetTheFuture | @KubotaCanadaLtd | @bdnwheatkings pic.twitter.com/9ZFH2et69A

— The WHL (@TheWHL) August 9, 2023
"Nate is a special player," said Murray, who is also GM of the Wheat Kings. "It's not too often you get a top 10 NHL pick coming back to your team.
"We're expecting him to have a real big year, although you don't want to put too much pressure on a kid. We just want him to play his game. He's developed into one of the best players in the league and I'm really excited to see him after a good summer."