Red Wings Prospect Sandin Pellikka Popular in Swedish Hockey Pools
Detroit selected Sandin Pellikka 17th overall in 2023 NHL entry draft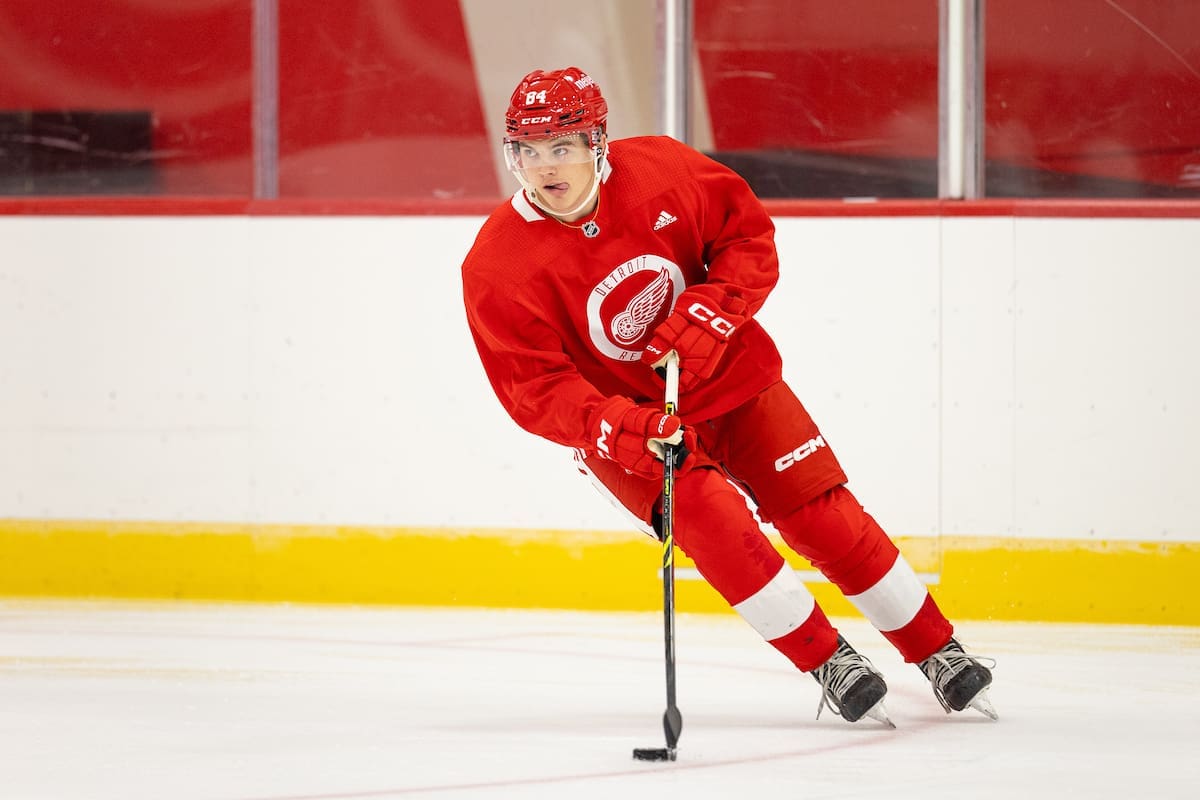 The consensus among NHL draft pundits prior to the 2023 selections was that Detroit Red Wings prospect Axel Sandin Pellikka was the most skilled offensive defenseman among the class.
Swedish fantasy hockey experts are sharing in that philosophy. In Sweden, when they talk about the Dream Team, they aren't referring to the U.S. Olympic basketball squad. It's a popular hockey pool competition in the country run by Swedish website Aftonbladet.se. And the player Detroit choice with the 17th overall selection of the 2023 NHL entry draft draft is being viewed as a real value pick that Dream Team poolers should be scooping up for their club.
Of the four experts polled by Aftonbladet, three were of the opinion that Sandin Pellikka was a player that should be among the selections.
Sandin Pellikka Ready For Big Breakthrough
Jonathan Knetka is viewing Sandin Pellikka as "a talent" who could made his "big breakthrough this season."
In 2022-23, Sandin Pellikka was seeing his first SHL action, collecting 2-3-5 totals in 22 games for Skelleftea. Skating for Skelleftea's junior squad, he was accounting for 16-20-36 numbers in 31 games.
An added attraction to picking Sandin Pellikka for the Dream Team hokcey pool is that the pool requires players to fit under a salary cap. He's only costing a salary of 3 million Swedish Krona.
As well, Sandin Pellikka is intrgiuing because of the growth he's capable of displaying during the campaign.
"He's an offensive defender worth watching with the potential to take big steps from autumn to spring," noted Matthias Karlsson.
Skellefteå lost their 2nd CHL game 4-3 against Pardubice. Sandin Pellikka played 19:54 with 2 shots on goal #lgrw pic.twitter.com/MjMLfipYQO

— IcehockeyGifs (@IcehockeyG) September 3, 2023
Simon Norberg was comparing Sandin Pellikka's potential to that of a young racehorse developing into a champion.
"Axel Sandin Pellikka can, as they say in trotting parlance, produce crosses in the coupon pile and mean cheers for any manager who goes for that horse," Norberg explained.
Red Wings Seeing Similar Potential
In the Detroit organization, both those who selected him and those who play alongside him see significant upside in Sandin Pellikka's game
"He's a great defender," said fellow Red Wings draftee Anton Johansson. "He is a good skater, he is a good puck handler."
Sandin Pellikka got his competitive hockey season started today, playing 15:43 and recording 6 SOG and 4 blocked shots (both team highs) in a commanding 4-0 win over Salzburg in the CHL. #LGRW pic.twitter.com/uHwWBOhB27

— IcehockeyGifs (@IcehockeyG) September 1, 2023
Dan Cleary, assistant director of player development for the Red Wings, is also anticipating a season of growth from Sandin Pellikka.
"Smart kid," Cleary said. "Really composed. That translates to his on-ice game as well. When he's under pressure, under siege, he's got the ability to calm it down and make a play instead of rushing it. That's his demeanor.
"He'll have a good season in Skelleftea. The SHL is a strong league."