Kozlov Uncertain Whether Red Wings Russian Five Would Work Today
All-Russian unit helped Detroit win 1996-97 Stanley Cup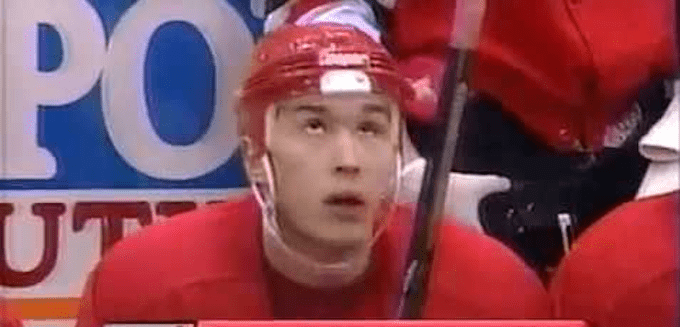 When Detroit Red Wings coach Scotty Bowman was assembling the famed Russian Five unit, it was a tipping point in helping to end the franchise's 42-Stanley Cup drought. Together, Sergei Fedorov, Igor Larionov, Slava Kozlov, Viacheslav Fetisov and Vladimir Konstantinov were bascially an unstoppable quintet.
"We immediately began to succeed – playing passing, opening, dumping," Kozlov told Russian website SportExpress.ru. "This is probably the best hockey I've ever played.
"It all started with the arrival of Slava Fetisov and Igor Larionov. I learned a lot thanks to them."
The Russian Five in profile. l-r Slava Fetisov, Sergei Fedorov, Vladimir Konstantinov, Slava Kozlov, and Igor Larionov pic.twitter.com/zggzuHxlZK

— Jen (@NHLhistorygirl) July 8, 2023
Kozlov also revealed something in this interview that might catch Red Wings fans by surprise. He wonders whether if the Russian Five was assembled in today's NHL, would it operate with similar effectiveness.
In the mid-1990s, the NHL was in the midst of the so-called Dead Puck Era. The neutral zone trap was in vogue. Larionov liked to call it "destroy hockey."
"Probably, at that time we played hockey that others did not yet understand," Kozlov said of the Russian Five.
Today's NHL is all about skill. Fast pace and creativity are priorities. It's a skater's game.
On this day in 1995, Slava Kozlov scored the double. overtime winner in Game 5 to send the @DetroitRedWings to the Stanley Cup Final for the first time since 1966 #Hockey365 #LGRW pic.twitter.com/IP1keSKxur

— Mike Commito (@mikecommito) June 11, 2023
In fact, it's just about everything that the members of the Russian Five were making the emphasis of their style of game. That's why Kozlov isn't so sure the unit could dominate today as it did back then.
"I don't know how it would be now, but back then it was a new thing that worked," Kozlov said.
Kozlov Impressed By Work Of Former Red Wings Teammate Fedorov
Today, Kozlov, one of seven Russians to play 1,000 NHL games, is working as an assistant coach in the KHL with Moscow Dynamo. He marvels at how well Fedorov has done in the same city as coach of two-time Gagarin Cup champion CSKA Moscow.
"To be honest, I'm pleasantly surprised," Kozlov said of Fedorov's success. "I'm very glad that everything worked out for him. A talented person is talented in everything.
"He played great, was one of the best two-way forwards with no drawbacks. And he had it all – excellent skating, a great shot, a sense of passing and a high hockey IQ. He probably found an approach to all the guys. The result was very impressive."