SHL Players Take Liking To Red Wings Prospects Niederbach, Sandin Pellikka
Both players popular with SHL peers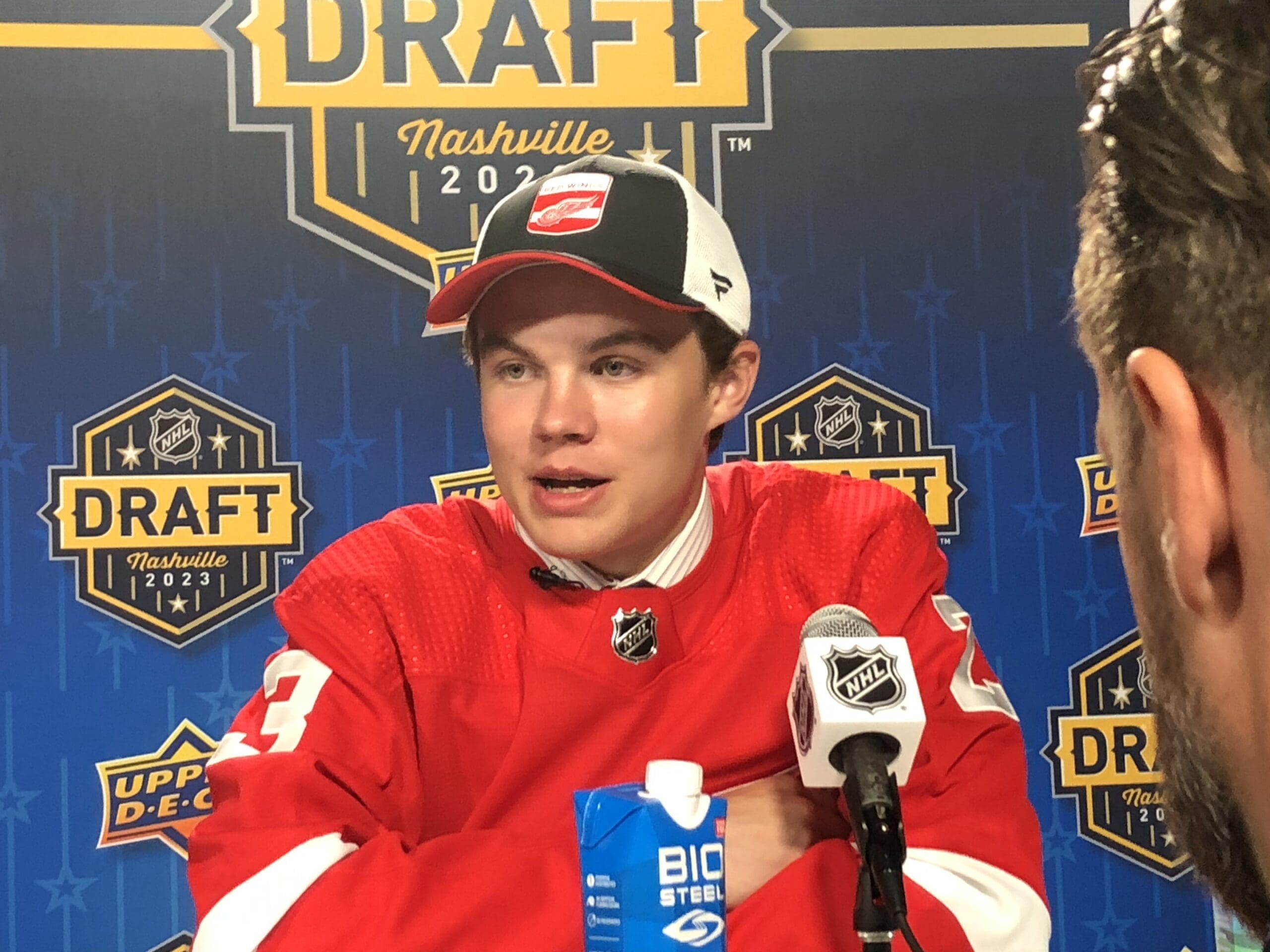 Naturally, when they look to the future dream team, Red Wings fans are projecting several of the club's top prospects to be part of the future in any Detroit success story.
For a couple of those potential Red Wings, their Dream Team future is now.
We've already written in this space about the Dream Team, the SHL fantasy hockey pool run by Swedish website Aftonbladet.se. Recently, the publication was asking several Swedish hockey pundits to make their selections for the 2023-24 season. the majority of those polled were including Red Wings 2023 first-round draft pick Axel Sandin Pellikka among their squads.
Tuesday, Aftonbladet was asking a number of current SHL players to select their Dream Team squads. Again, there was plenty of love extended toward the future of the Red Wings.
Great Expectations for Red Wings Pick Niederbach
Mathias Brome of Örebro is no stranger to Detroit hockey fans. The Swedish forward spent the 2020-21 season with the Red Wings and the AHL Grand Rapids Griffins. He would account for 1-1-2 totals in 26 games for Detroit.
Brome was one of those picking teams for Aftonbladet. Among the selections he was optiong to go with was Detroit draftee Theodor Niederbach.
"I have tried to find the younger ones who blossom, like Jonathan Lekkerimäki and Theodor Niederbach," Brome was explaining to Aftonbladet.
Certainly, this is the year that Niederbach will need to be blossoming in order to garner a contract with the Red Wings. The 51st overall selection of the 2020 NHL entry draft, the 21-year-old right-winger must sign a contract with Detroit next season, or the club will be relinquishing his NHL rights. Niederbach is back in the SHL with MoDo Hockey. It's his fourth season of SHL action. He's never collected more than nine goals or 16 points.
Time, however, is on Sandin Pellikka's side. This will be the 18-year-old defenseman's first full SHL campaign. He was in action for 20 games last season with Skelleftea, garnering 3-2-5 numbers.
Granted, his Skelleftea teammate Jonathan Pudas might be exhibiting bias in his selection of Sandin Pellikka to his Dream Team roster. But his decision for inclusion of the player chosen 17th overall in last spring's draft is certainly an entertaining one.
"I appoint Axel Sandin Pellikka as team captain," Pudas offered to Aftonbladet. "Hopefully I can serve him some sandwiches."