How Soderblom Can Make The Red Wings This Fall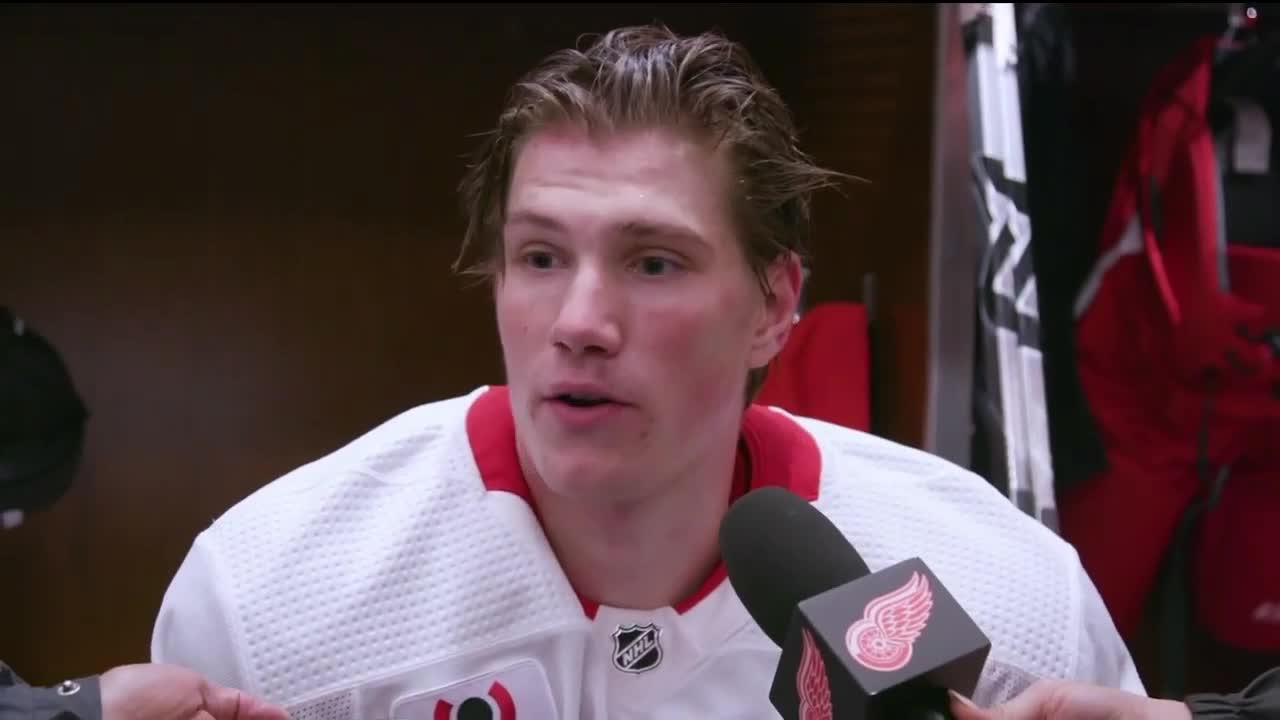 TRAVERSE CITY — Elmer Soderblom knows that learning how to be an effective big NHL player is no small task.
"I just have to show I can be a player who makes a difference out there, a reliable guy," Six-foot-eight Detroit Red Wings forward Elmer Soderblom said. "…I am different from everyone with the size. Have to take advantage of that."
Soderblom is embracing his size  at the NHL Prospects Tournament at Centre Ice Arena. He looked particularly beastly in Thursday's 4-2 loss to the Dallas Stars. Soderblom scored a goal,  generated six shots on goal and used his impressive length, width and reach to claim pucks all night. The man weighs 250 pounds. He followed that up with another goal in Detroit's 10-7 loss to the Columbus Blue Jackets on Saturday. Former University of Michigan player Adam Fantilli had three goals and two assists, plus nine shots on goal, for Columbus
"The size and strength he has — that's a skill. You can't teach that skill," Red Wings assistant general manager Kris Draper said. "The beauty of the other night was that he got angry. That was something."
Soderblom needs to show that on a consistent basis to earn a permanent place on the Red Wings' roster. He played 21 games with the Red Wings last season, and 20 more with the Grand Rapids Griffins. He scored five goals with each team. The 10 goals in 41 games is a pace for a 20-goal season. At 22, he looks close to being ready for full-time service in Detroit. However, the competition for roster spots is heavy and Soderblom knows the Red Wings want more from him.
"I want to be as good as I can, and show I can play the game at the highest level," he said.
Soderblom on PK?
In Thursday's game, Detroit prospects coach Dan Watson even gave Soderblom a shift as a penalty killer. He got another shot at penalty killing on Saturday. He did some penalty killing for Grand Rapids last season, but admits it wasn't much. He didn't kill penalties in Sweden.
It makes sense given his wingspan and long reach.
"Just trying to grow his game a little more, give him more responsibility." Watson said. "This is a third time around  in the tournament. We want to see him in a leadership role.  Even not on the penalty kill, his good stick detail… he's long, he's big, he's smart, he thinks the game well. Those are all the things penalty killers need to do.  Why not give him the opportunity here to see what he can do."
Because of injury, Soderblom had not played a game in six months before suiting up on Thursday.
"With Elmer, with the way the season ended last year with that  (undisclosed) injury," Watson said. "I thought he was moving pretty good for not really being able to train until August. I thought he was moving his feet, I liked to see the little push back he had after he got that high stick, scored a nice goal. Really happy with his progress here. Something he can build off of."
As Draper points out, Soderblom has attributes that cannot be taught. One of the Red Wings' offseason objectives was to bring in bigger players. The Red Wings grew their own in Soderblom. He was a sixth round pick in 2019.
"He's a huge human being," Draper said. "..As you get older, you realize the consistency you need to be an everyday NHL player. He's learning. It's a work in progress for all of these young players here."