The Daily: Could Soderblom and Kasper Both be Making Red Wings Opening Night Roster? Jagr Planning to Play at 51
Jagr chasing Red Wings legend Gordie Howe, who was playing in NHL at age 52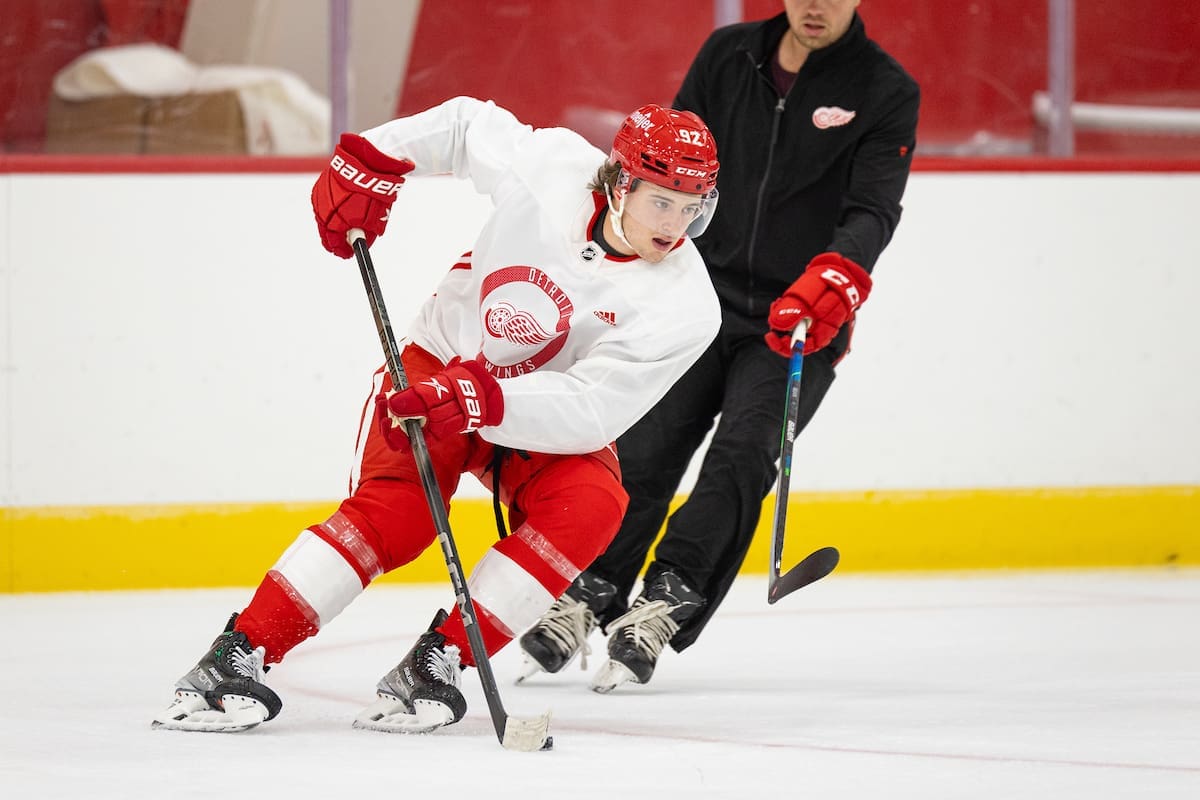 Left-winger Elmer Soderblom was the only rookie to be cracking the opening-night roster of the Detroit Red Wings last season. After attending the NHL rookie tournament in Traverse City, Michigan, DHN's Kevin Allen and Tim Robinson were outlining paths that could lead to both Soderblom and center Marco Kasper, Detroit's 2022 first-round selection, earning places on the Red Wings 23-player roster to open the 2023-24 NHL season.
As for Kasper, Robinson sees the details that make it capable for Kasper grabbing a spot will be his competitive streak and ability to competently play a 200-foot game.
Elmer at the prospect tournament game 1 #LGRW pic.twitter.com/IAFOJK0Kwp

— IcehockeyGifs (@IcehockeyG) September 15, 2023
Making a case for Soderblom, certainly his unique 6-foot-8, 246-pound frame enable him to stand out in a crowd. If he can harness his size and utilize it effectively as an NHL big man, Allen figures Elmer will be giving Detroit a quality few NHL teams are capable of putting on the ice.
Let's be honest – it's going to be a long shot that either, let alone both of these players are landing a spot with the Red Wings to start the season. On the other hand, as Soderblom, a 2019 fifth-round pick was proving last season, it's not something that's out of the realm of possibility.
Red Wings In Case You Missed It
Red Wings Training Camp
The Detroit prospects (1-1) will be closing out the NHL rookie tournament in Traverse City on Sunday at 2pm ET with a game against the rookies of the Toronto Maple Leafs. It's a group that includes one-time Red Wings draft pick Robert Mastrosimone.
Hockey Now Network
Pittsburgh: Captain Sidney Crosby discusses what was angering him as the Pittsburgh Penguins were missing the playoffs last season.
Philadelphia: Carson is an admirer of Carter. Philadelphia Flyers goalie prospect Carson Bjarnsson is a Carter Hart appreciator.
Islanders: Forward Anders Lee was hosting his New York Islanders teammates and 150 guests at his annual Jam Kancer In The Kan charity fundraiser.
New Jersey: Forward Graeme Clarke is expecting to make the roster of the New Jersey Devils this season after leading the AHL Utica Devils in scoring during the 2022-23 season.
Carolina: Veteran NHL forward Zach Aston-Reese will be attending the training camp of the Carolina Hurricanes on a PTO.
Montreal: The odds of prospect Emil Heineman making the roster of the Montreal Canadiens.
Boston: The Boston Bruins are revealing the look for the club's official centennial celebration jerseys.
𝗬𝗲𝗮𝗿 𝟯𝟱

Jaromir Jagr announces he's keeping his pro career going at age 51 🍷 pic.twitter.com/BGbspclI1c

— B/R Open Ice (@BR_OpenIce) September 16, 2023
Florida: Jaromir Jagr, who lists the Florida Panthers among his NHL stops, is announcing that he'll be playing this season. He'll be suiting up for Kladno of the Czech Extraliga at the age of 51.
Buffalo: There are five first-round picks playing for the Buffalo Sabres in their 2023 Prospect Challenge tournament.
Chicago: Chicago Blackhawks fans were getting their first look at 2023 first overall pick Connor Bedard and he didn't disappoint.
Colorado: Observations from the rookie camp of the Colorado Avalanche.
Nashville: Nashville Predators prospect Ryan Ufko will be serving as co-captain this season at UMass-Amherst.
Vegas: Prospect Brendan Brisson is pushing for a spot with the Vegas Golden Knights.
San Jose: Is this the most exciting group of prospects in San Jose Sharks history?
Los Angeles: Jordan Spence is ready to go to battle. He's seeking to earn a spot on the defense with the Los Angeles Kings.