Red Wings Notebook: Mazur to Undergo Further Evaluation; Kasper Still Searching for Offense
Mazur was hurt in first NHL rookie tourney game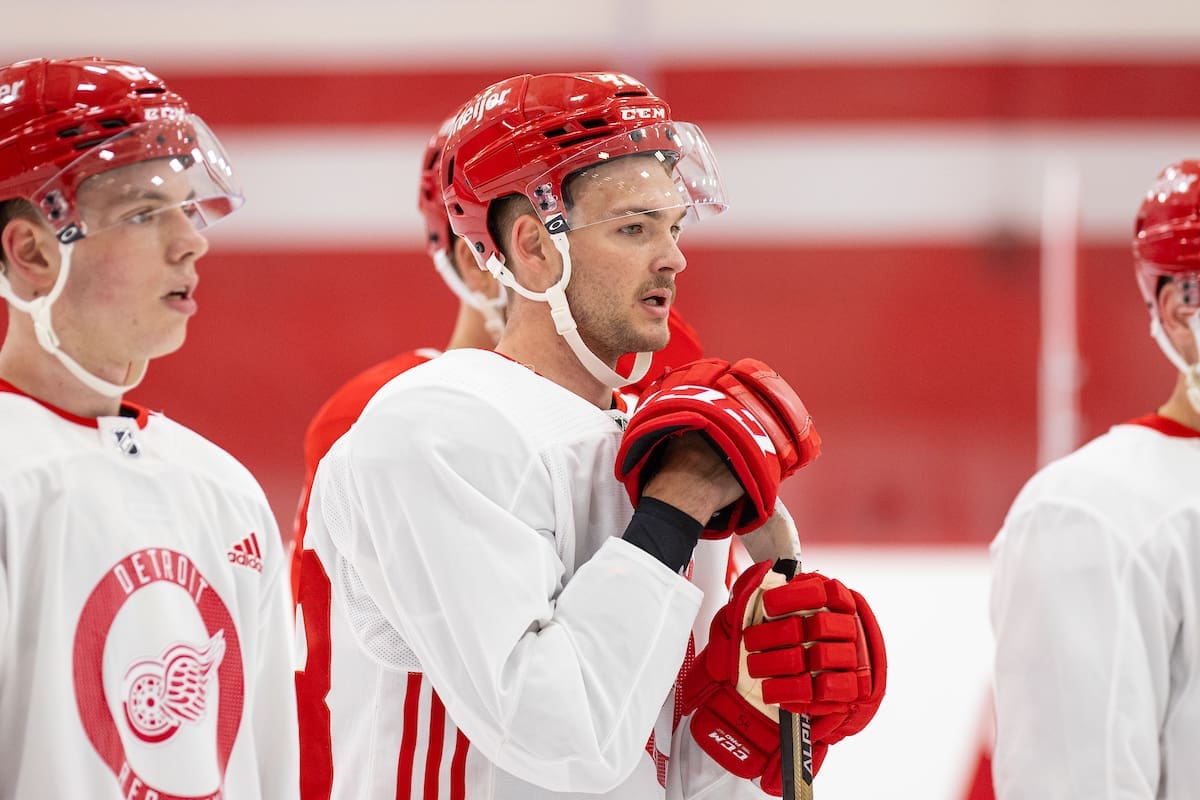 Three days after he was hurt, there's still no definitive determination on the seriousness of the lower-body injury that Detroit Red Wings prospect Carter Mazur was suffering in the club's first game of the NHL rookie tournament in Traverse City.
Late Saturday, Grand Rapids Griffins coach Dan Watson was allowing that Mazur would be returning to Detroit to undergo further evaluation regarding the nature of his ailment.
"He will not play (Sunday against Toronto) and he'll be further evaluated by the Red Wings' docs for this upcoming week," Watson explained.
Red Wings Kasper Still Pointless
Two games into the tournament, center Marco Kasper has accounted for 25.7% of Detroit's penalty minutes and zero percent of the club's offensive output. Though he's dropping the mitts, he's yet to be displaying his silky mitts.
The Red Wings 2022 first-round draft choice hasn't figured in any of the club's nine goals. However, he did drop the gloves and duke it out with Corson Ceulemans of the Columbus Blue Jackets in a rare fight between NHL first-round picks.
#DRWPT wraps up tomorrow.

⏰ → 2:00pm vs. Toronto. pic.twitter.com/tKvgwO3wNB

— Detroit Red Wings (@DetroitRedWings) September 16, 2023
"You see the emotion side of it, (Kasper) getting in a fight there at the end," Watson said. "He's a competitor, he's hungry for it. He wants to do the right things to help the team win."
Watson is witnessing plenty of good things from Kasper's game so far in the tournament.
"I like the fact he does go to those hard areas, the net, the corners, and he's physical about it," Watson said. "He's not scared or looking to shy away from that type of game. That's what's going to help propel him to a long pro career. You use the word tenacity, I use the same one. It's right on target."
Still, for Kasper to be an effective pro, it's going to be mandatory that he be contributing steadily to his club's attack.
"Now we have to get the plays that need to be made," Watson said. "Some of that offense needs to come through and that will come."
Cossa Gets Shelled
In Saturday's 10-7 loss to the Blue Jackets, Detroit 2021 first-round pick Sebastian Cossa was the victim on six goals from 21 shots in a span of just 27:40 between the pipes.
"I thought he battled hard in the first period," Watson said. "And then you can see some of the seam plays, some of the goals given up, and it wasn't all on him certainly, but just trying to find that consistency from game to game.
"It was a tough one for him tonight."
Red Wings forward Cross Hanas was quick to emphasize that it would be foolhardy to place all the blame for Saturday's debacle on the shoulders of the club's top netminding prospect.
"I went up to him in the second intermission and let him know it's alright," Hanas said. "Stuff like this happens. There's always gonna be a game like this. We kinda didn't do our part. We kinda put him on the penalty kill a lot. He faced a lot of shots early in the second period. It's nothing that's just his fault, it's the whole team's fault. It's no individual's fault ever.
"I just told him, 'You're good man. We're sorry we put you in that situation.' I know Coss, he'll be good. He'll be ready to go for the next time he's in net."
Will Red Wings Play Cossa Against Leafs?
When that next time will be, Watson wasn't 100% certain. He didn't know whether they'd go right back to Cossa against the Maple Leafs on Sunday afternoon.
"It's something I will talk to our staff about," Watson said. "In the regular season at times you want to get those guys right back in there so they can't think about it, they can't process it. You just want them to go play hockey again. There's other people that would battle that and say keep him out and let other guys get an opportunity.
If you give a prospect a yo-yo… 😂🪀#DRWPT pic.twitter.com/E7C5IKK99y

— Detroit Red Wings (@DetroitRedWings) September 15, 2023
"With Sebastian, I've seen it before, if he has a bad game, I know what he's like the next day, and he's going to do all the things necessary to be prepared if he's called upon. If not, he's going to be prepared to be called upon once camp starts."
With young goaltenders like Cossa, bad nights as just as vital in the learning process as are the nights where he's right on top of his game.
"This is part of his mental toughness progression," Watson said. "He's got to battle through this, he's got to understand it. I know he and the goaltending coach will go through some video, some situations. He's got to be better from it and learn from it."