Mazur Hurt in Red Wings' Opening Rookie Tournament Game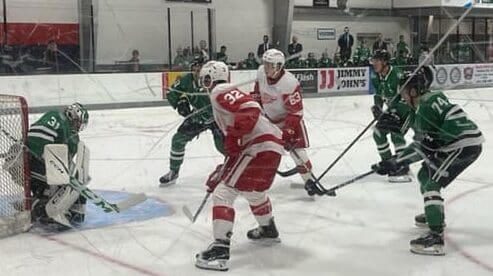 TRAVERSE CITY– The Detroit Red Wings suffered their first casualty of the 2023 NHL Prospects Tournament on Thursday.
Carter Mazur, the former University of Denver standout who is a candidate to make the Red Wings roster in next week's training camp, left Thursday's 4-2 loss to Dallas in the first period and did not return.
Grand Rapids coach Dan Watson, who is coaching the Red Wings' prospects, said Mazur suffered a lower-body injury without providing further details.
Watson added that Mazur will be evaluated by doctors but said he "was hopeful to have him back."
Said linemater Nate Danielson: "Obviously that's a big loss. He's a great player for us. It was tough to see him go down early, as well as Elmer (Soderblom) going out there for a little bit."
Soderblom missed some playing time after going down on a penalized hit, but returned shortly thereafter.
Big Guy Scores First Goal
Soderblom and Antti Tuomisto scored for the Red Wings, who outshot Dallas 34-27. First-round draft pick (Ninth overall in 2023)  Nate Danielson had assists on both goals.
Soderblom led the Wings with six shots. Alexandre Doucet had five and Marco Kasper four.
Sebastian Cossa, projected to play for the Grand Rapids Griffins this season, gave up two goals on 16 shots.
"Compared to the beginning of last year he's grown in terms of his mental aspect of his game, his physical, the way he plays, the way he sees the game," Watson said. "Our goal is to continue to develop him. That's the goal of every player here. The way he prepares every day has grown leaps and bounds. He's gotta continue to do that to make sure he gets better.
"The work ethic's there, the drive's there, the want is there. We just gotta make sure we keep on it every day with him."
Jan Bednar had 10 saves in 11 shots in goal for Detroit. The fourth Dallas goal was an empty-netter.
Ice Chips: Alexandre Doucet, signed late last season as an undrafted free agent, was -3 in the loss, but had five shots  on goal. Amadeus Lombardi, a 102-point scorer in the OHL last season, was held without a shot against the Stars.