Red Wings Prospect Doucet Aiming for Spot With Griffins
Doucet scored 58 goals in the QMJHL last season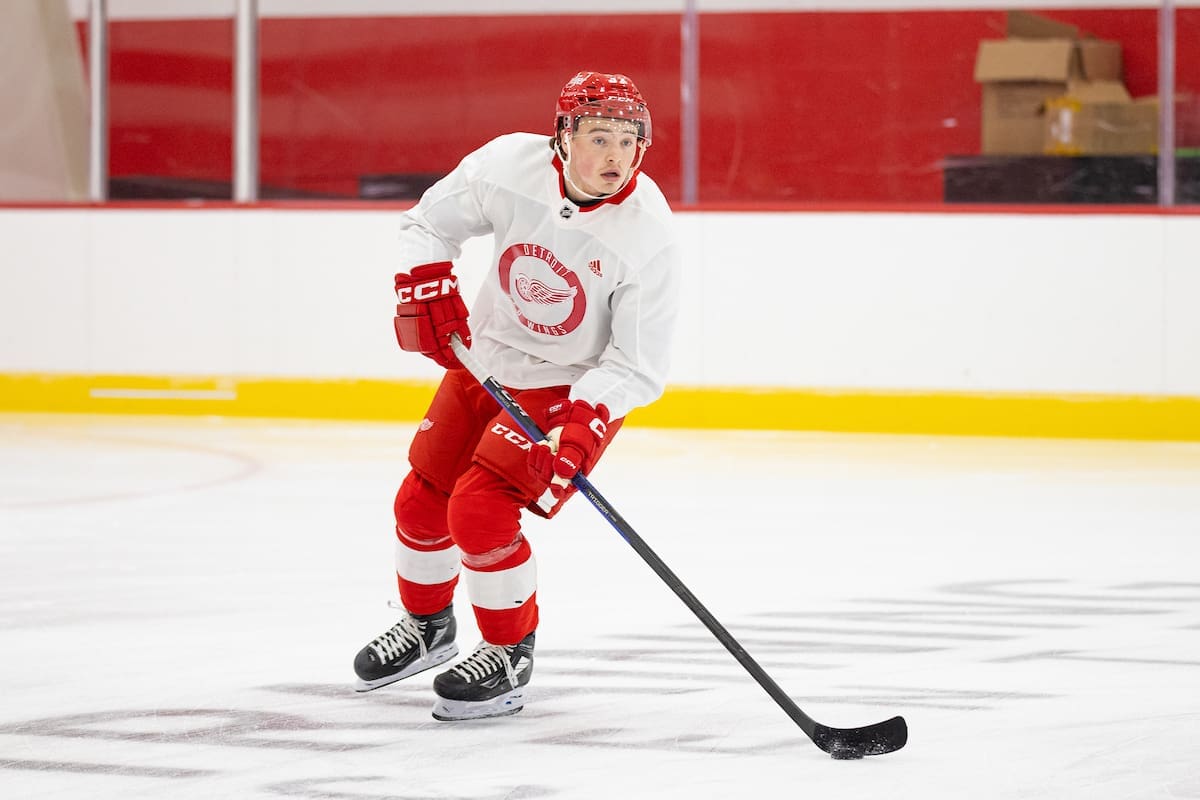 Detroit Red Wings prospect Alexandre Doucet is a fellow who knows a thing or two about achieving goals. Ask Doucet about his goals for the 2023-24 season and he doesn't beat around the bush.
"I'm done with the Q," Doucet says bluntly. "My plan is to play with Grand Rapids for sure."
Last season, the 21-year-old left-winger tallied 58 goals in a QMJHL season split between the Val d'Or Foreurs and Halifax Mooseheads. He counted an additional 14 goals and 31 points in 21 playoff games for the Mooseheads.
Stretch pass from #CBJ prospect Jordan Dumais finds #LGRW Alexandre Doucet and he goes shortside to give the @HFXMooseheads a 2-0 lead! #RoadtoMemorialCup pic.twitter.com/e6YG4cycqf

— Canadian Hockey League (@CHLHockey) May 21, 2023
Along the way, the undrafted junior also was catching the eye of the Red Wings, who would sign the free agent to a pro contract.
"I started to talk in January," Doucet said. "I couldn't sign before March 1. Talked to a couple of teams and it was really Detroit.
"They like the way I play. They told me to just keep continuing working on my speed and everything."
Doucet Saw Growth In His Game
When he was never made a selection the NHL entry draft, Doucet did not despair. Instead, he would utilize being overlooked as inspiration that was helping to grow his game.
"Even my draft year I knew I wasn't going to get drafted, so it's more like not being drafted is motivation," Doucet explained. "It's my first camp, too, so it's just hard work and not being drafted, not having camp and finally I had a great year last year as a 20-year-old. A couple of teams saw that and the Red Wings, too."
Doucet can even offer up a personal scouting report on why he was left untouched on draft days by NHL clubs.
"I think when I was 17, I wasn't the fastest, I wasn't the strongest in the corner, but I think I've learned to get stronger," Doucet said. "I'm more smart in the corners. I play more like the pro game a little more. I go more to the net, I play more inside of the dots, all the details I've learned."
Just as easily, Doucet can also deliver a scouting report as to why it all came together for him last season, leading to his contract with Detroit.
"I think it was working on things last summer," Doucet said. "Getting older, I have more confidence, too, so a lot of factors helped me."
FanDuel Sportsbook Promo #1
ALL STATES WHERE LEGAL
GET THE APP
SIGNUP BONUS
$1000 No Sweat Bet


$1000 No Sweat Bet
BET NOW
As to what makes him such a deadly finisher, Doucet believes it all comes down to having a nose for the net.
"I think I'm smart, I'm good in front of the net," Doucet said. "I work hard in my battles, I'm good on both sides of the ice."