Zadina Contract Termination Another Indication of Difficulties Facing Red Wings Yzerman
Cupboard was bereft of prospects when Yzerman took over as Detroit GM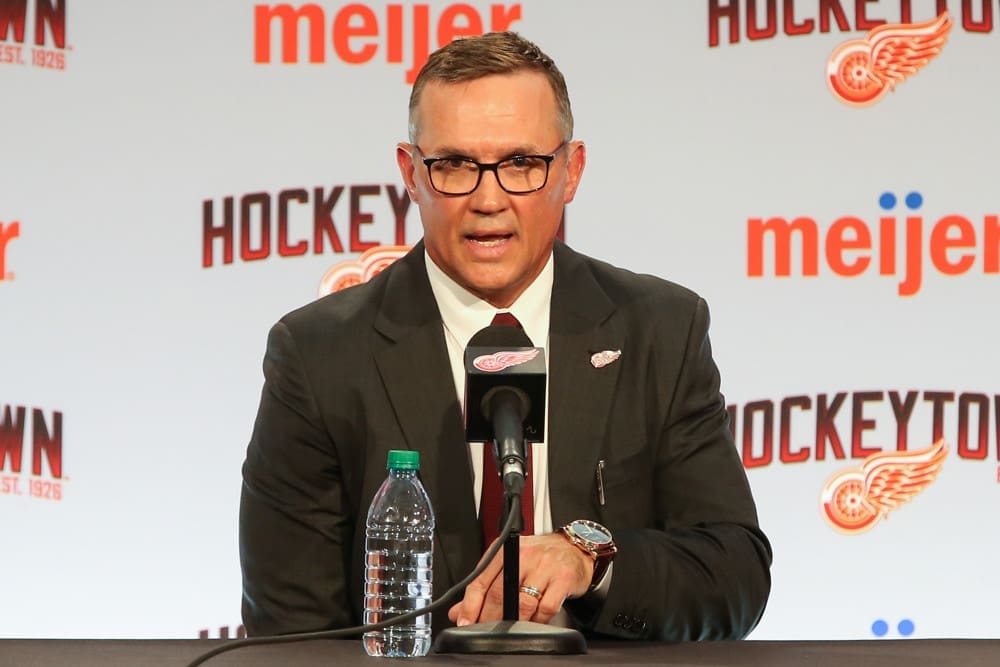 The Detroit Red Wings and forward Filip Zadina mutually agreed to terminate his contract with the team on Friday. This is problematic for reasons both obvious and obscure.
On the surface, that the sixth player chosen by the Red Wings in the 2018 NHL entry draft didn't pan out is certainly an alarming situation.
"Theoretically or statistically, the higher players are picked, the more likelihood you're gonna get that impact player," Detroit GM Steve Yzerman said.
For example,  in 2019, Yzerman's first draft as Detroit GM, he got defenseman Moritz Seider with the sixth overall pick. Two years later, he tabbed another defenseman, Simon Edvinsson, in the same draft slot.
"There's no guarantees," Yzerman said. "The first pick overall, usually you're getting a pretty good player. Sometimes you're getting a superstar.
"With each pick, the numbers decrease a little bit."
Not hitting on the sixth pick is devastating, and even more so for a rebuilding club like the Red Wings. But it's also an indication of how the previous Detroit regime, through a combination of poor drafting and some ill-advised trades, were leaving the cupboard virtually bereft of talent when Yzerman took over.
Yzerman Left To Rebuild Red Wings From Ground Up
Detroit's current lineup includes just three first-round selections made by the combination of GM Ken Holland and amateur scouting director Tyler Wright – forwards Dylan Larkin (15th, 2014), Michael Rasmussen (9th, 2017) and Joe Veleno (30th, 2018). It certainly hasn't helped Yzerman's cause that first-round picks such as Zadina, Dennis Cholowski (20th, 2016) and Evgeni Svechnikov (19th, 2015) didn't pan out as NHLers.
"When you have high picks and you miss on them, it can hurt," Yzerman said. "It happens a lot, more than you would really think.
"If you go back and look at the drafts, you'd be surprised."
Pursuit Of Playoff Streak Also Dented Detroit's Prospect Depth
As the Red Wings were seeking to maintain their 25-season playoff streak rolling, the club was making some trades that would come back to haunt them. A 2012 deal that was adding defenseman Kyle Quincey saw a first-round pick that ultimately turned into Andrei Vasilevskiy go to a Tampa Bay Lightning team that was then managed by Yzerman.
FanDuel Sportsbook Promo #1
ALL STATES WHERE LEGAL
GET THE APP
SIGNUP BONUS
$1000 No Sweat Bet


$1000 No Sweat Bet
BET NOW
Three years late, a trade that brought forward Erik Cole from the Dallas Stars to Detroit cost a 2015 second-round pick. Cole played just 11 games for the Red Wings. That second-round pick? Dallas turned that into Roope Hintz.
Now, there's no guarantee the Red Wings would've drated either players. But what is an indisputable fact is that parting with those picks helped to assure Yzerman wouldn't have mucgh of a prospect base to work with upon his arrival in Detroit.