Sandin Pellikka Enjoying Fast Start in SHL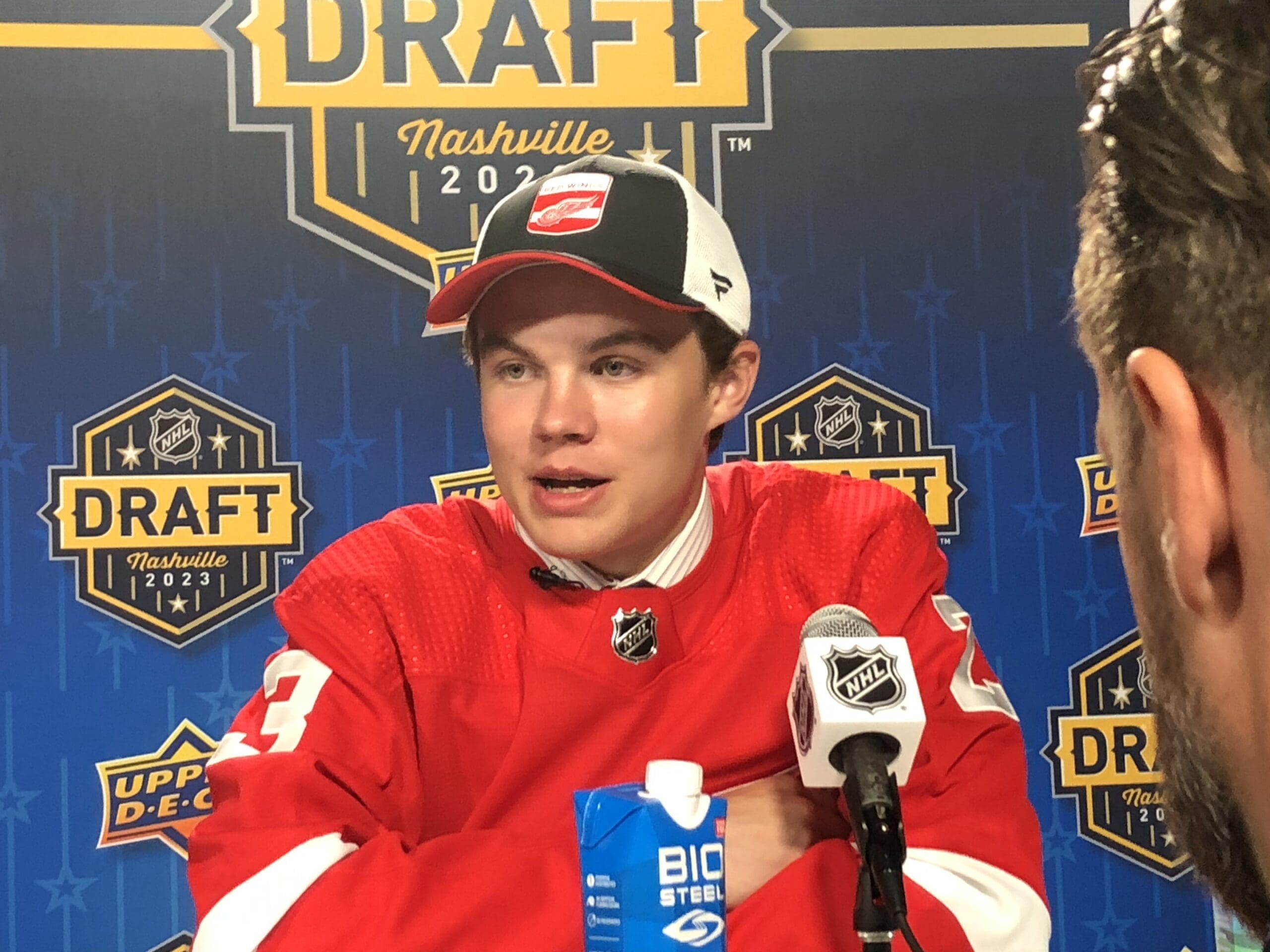 Detroit Red Wings prospect Axel Sandin Pellikka's strong start in the Swedish Hockey League has helped Detroit fans monitor his progress.  The Swedish media can't get enough of him.
With four goals in his first nine games this season, the 2023 Red Wings draft pick (No. 13) has found the Swedish media spotlight. He's the only SHL defenseman with four goals.
IceHockeyGifs, always wired into Detroit Swedish prospects, reported on social media that Skelleftea coach Robert Ohlsson compared Sandin Pellikka to John Klingberg and Erik Karlsson.
Here you have it @DetroitRedWings friends!

Axel Sandin-Pellikka's 4th 🚨of the season, in 9games. #LGRW

Ping @LO_RedWings @GrindLinePod @WingedWheelPod @TSWingerPodcast pic.twitter.com/2VhtilrPD4

— Lars Thorsell (@LarsThorsell) October 12, 2023
"The confidence believe that they can do anything out there on the ice," Ohlsson said.
According to icehockeyGifs, Ohlson also praised Sandin Pelllika's work ethic when it comes to improving his defensive play.  The website also reported that Sandin Pellikka worked privately with Red Wings management team member Niklas Kronwall today.
Sandin Pellikka is 18 and historically it takes defenseman a bit longer to master that position well enough to make the NHL. Prize prospect Simon Edvinsson is 20 and he's still trying to earn his place on the Red Wings roster. Detroit general manager Steve Yzerman has made it clear that he wants to give prospects time to develop properly.  But the Red Wings also understand that having people like Kronwall and Nicklas Lidstrom meeting and working with Sandin Pellikka can aid his development.
Sandin Pellikka is a smaller defenseman (5-11, 180), similar in size to Vancouver Canuks defenseman Quinn Hughes. Former University of Michigan player Hughes was able to play regularly in the NHL when he was 20.
"Axel Sandin Pellikka after Skellefteå AIK's pratice went up to the C-rink where he did extra work with Niklas Kronwall.

Kronwall mainly worked on hitting with ASP, but also shooting."#LGRW https://t.co/Gu1BW6BZFN

— IcehockeyGifs (@IcehockeyG) October 14, 2023
Sandin Pellikka's offensive play has helped push Skelleftea into third place in the SHL. The team has earned 17 points in nine games.  Today, Skelleftea is playing Linkoping.