Red Wings Played in First European NHL Game
Detroit and Montreal Canadiens broke European ice in 1938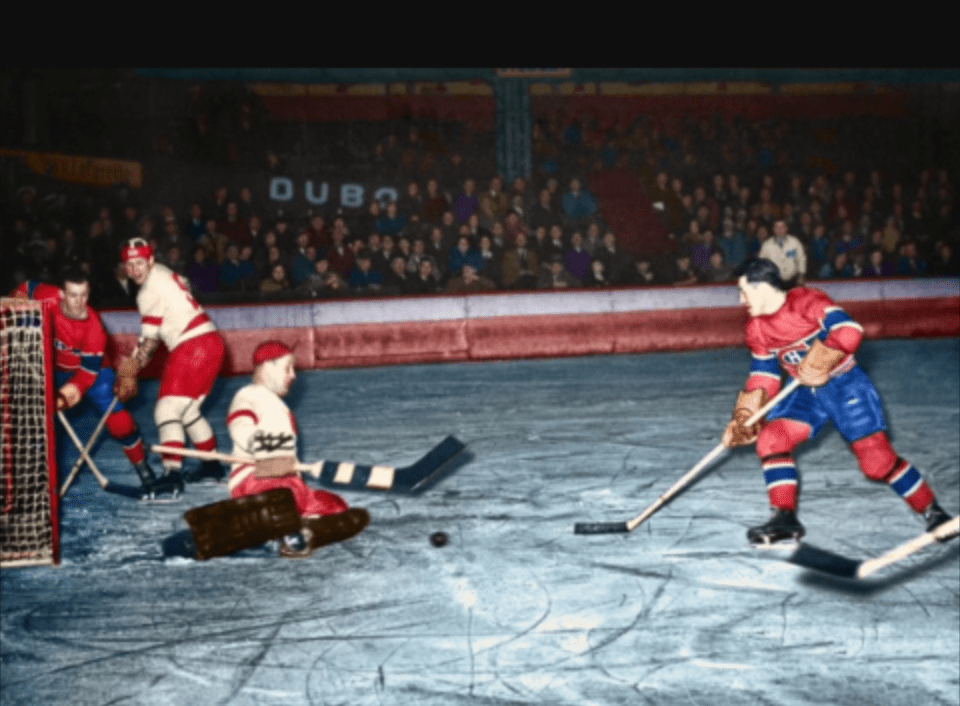 It's the eve of the first of two games against Atlantic Division opposition for the Detroit Red Wings. In Sweden, they are partaking in the NHL Global Series. It's interesting to look back and see that two current Atlantic Division squads were originally setting the stage for these games.
In the spring of 1938, the Red Wings and Montreal Canadiens met in a nine-game exhibition series contested across England and France. They were the first NHL games ever played in Europe.
This time, Detroit will be facing the Ottawa Senators (Thursday) and Toronto Maple Leafs (Friday). These  games will count in the NHL standings. While that original series wasn't part of the official NHL season, it's always wise to remember where you came from. Without first embarking on those games, the league wouldn't have moved on to today's stage of regular-season games being contested in Europe.
On this day in 1938, the Red Wings and Canadiens kicked off a European hockey tour. Montreal topped Detroit 5-4 at Earl's Court 🇬🇧 pic.twitter.com/Dbql7uz5Ab

— Mike Commito (@mikecommito) April 21, 2017
Back then, Detroit was coming off successive Stanley Cup triumphs in 1935-36 and 1936-37, the first US-based NHL team ever to win back-to-back titles. But the 1937-38 campaign was one to forget. The Red Wings wound up missing the playoffs.
Montreal did qualify for postseason play, but the Canadiens were ousted in the opening round of playoff action by the eventual Cup champion Chicago Blackhawks.
Red Wings vs Canadiens Series Hastily Announced
Shortly after Montreal's elimination, there came word of plans formulating to send the Canadiens and Red Wings to play a series of games in England and France. First, there was a three-game tune up series contested in Nova Scotia of which the Canadiens took two of three games. Following those games, the teams were boarding the RMS Ausonia in Halifax, setting forth for Europe.
Arriving in London on April 19, 1938, ticket sales were brisk for the opening game of the tour on April 21. Some 8,000 fans packed into the rink in the London suburb of Earl's Court on April 21 to watch the Canadiens win 5-4 on an overtime goal by Toe Blake.
After the 1937-38 NHL season the Red Wings and Canadiens held a nine-game exhibition tour of England and France. This is from an April 23, 1938 game in Brighton. https://t.co/2fXEJVGV3e pic.twitter.com/gPmRthSvrM

— SportsPaper (@SportsPaperInfo) June 20, 2018
Lucas Raymond is the lone Swede playing for the Red Wings in Sweden. There was a UK-born player on the 1938 tour. Montreal goalie Wilf Cude, a former Red Wing, was born in Barry, Wales. Prior to the first game of the series, local fans were presenting Cude with a wreath of leeks – probably not the best choice of flowers to be giving an NHL netminder.
The second game, played in Brighton, wound up 5-5 following a scorless OT period. Next, the teams traveled to Paris for three games. In the first-ever NHL game in France, Montreal won 10-8, despite a hat-trick from Detroit's Hec Kilrea. Appropriately, the Flying Frenchmen won all three games in France.
Canadiens Were Winners
Returning to England to play four more games during the month of May, the teams split the four games. Detroit again hit for double digits in a 10-5 rout of Montreal at Brighton on May 8. Doug Young, Carl Liscombe and Mud Bruneteau each scored twice in the game in front of 8,500 fans.
Overall, the Canadiens were winners of the series by a 5-3-1 count. The players were receiving a paltry $250 each for their nine games of work.
"We've had a successful and enjoyable trip," Canadiens coach Cecil Hart told the Montreal Gazette. "The boys played wonderful hockey and I'm sure they've sold the professional game in a big way to British and French fans."
Nonetheless, another 21 years would be passing before the next NHL venture into Europe. In 1959, the Boston Bruins and New York Rangers contested a European exhibition series.