Which Detroit Red Wings Rookies will Make Roster?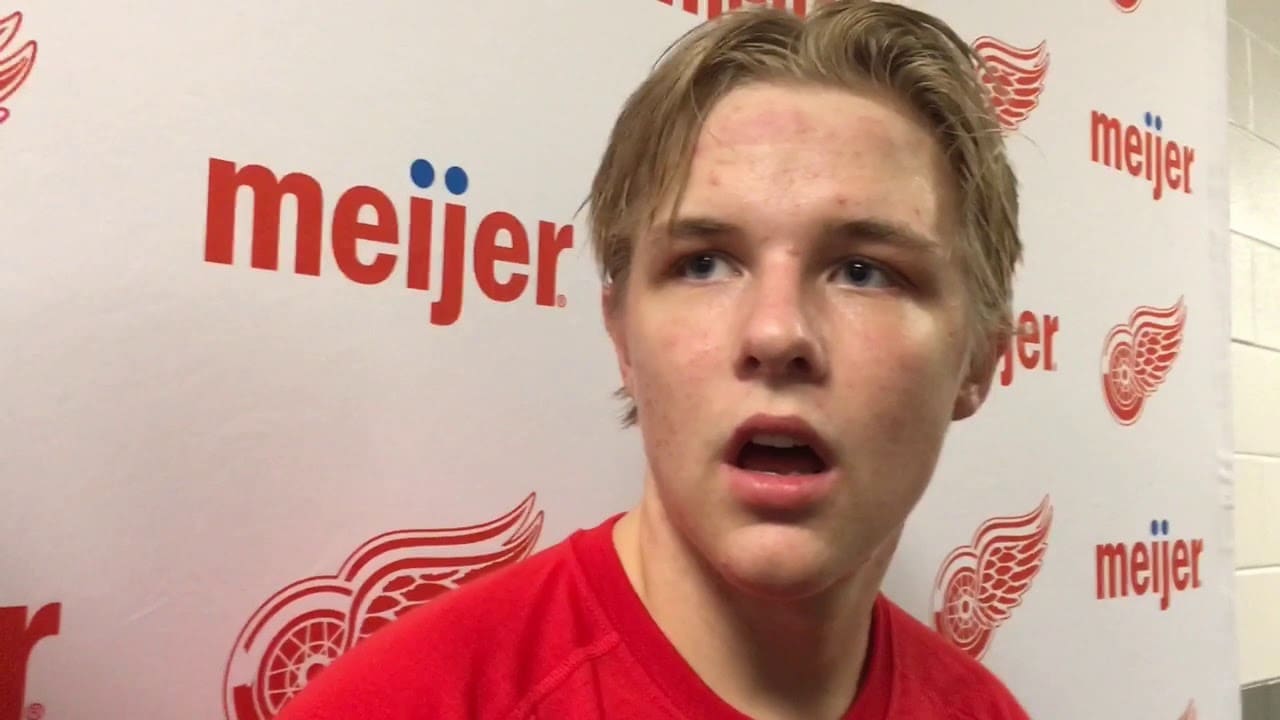 Lucas Raymond, Joe Veleno and Jonatan Berggren can probably feel the clock counting down.
The Detroit Red Wings play the Columbus Blue Jackets home tonight (7 p.m.) for their third of eight preseason games. That means prospects are already running short on days to impress coaches. The Red Wings' home opener, against the Tampa Bay Lightning, is just 12 days away.
The Jakub Vrana four-month injury absence does create an extra opportunity for the prospects. But veteran Bobby Ryan, on a tryout contract, is also a prime contender to replace Vrana. If he continues to play as impressively as he did against Chicago, he is probably the favorite.  Also, GM Steve Yzerman was aggressive in the offseason and could still make a significant deal to bolster this roster.
Here's an overview of where Red Wings prospects are at in their quest to make the team for 2021-22:
Defenseman Moritz Seider
You can see he's going to a dominant performer, although he is going to make some mistakes this season. He plays a confident, strong, two-way style. He will be helped by Nick Leddy playing with him.
Moritz Seider's roster chances: Slam dunk. We knew he was going to make the team in 2021-22 months and months ago.
Red Wings Forward Jonatan Berggren
The skillful Swedish forward hasn't played a preseason game because of injuries. He fully participated in practice Friday, but wasn't cleared for contact.
"I think he's moving towards being able to take contact here," Detroit coach Jeff Blashill said. "I talked to (Jonatan Berggren) at the end of practice. He said he felt really good so we're hoping that he can move into the full practice in a regular jersey and then potentially try to get him into a game or two here. Obviously it's unfortunate that it started out him not being able to be partaking in camp.  But hopefully we can get them into something."
Jonatan Berggren was injured in the first game of the NHL Prospects Tournament. Blashill has said the prospects need to earn their roster spot, meaning they need to make an impact in games. Jonatan Berggren's path to a roster spot is now more challenging.
"A guy in his position's got to play," Blashill said. "As we talked about earlier, they got to play great. They got to be way better than other guys to grab spots. It's hard to do if you're not able to, if you're not healthy and that's nobody's fault. It's just reality. But that's okay. We'll get a chance to see him hopefully. If we get a chance to in preseason, great. If not, then he then he goes down to GR. And ultimately the guys that go down there and play great end up with opportunities up here."
Jonatan Berggren's roster chances: Poor. Injuries have limited his opportunities to show why he was a top 10 scorer in the Swedish Elite League last season.
Center Joe Veleno
Veleno is the most physically ready among the top prospects. Plus, Joe Veleno is the best all-around player among the prospects. He's more polished defensively than either Berggren or Raymond. Blashill used him on both the power play and penalty kill in his first preseason game. Pius Suter and Robby Fabbri are the only forwards who played more than Veleno against Buffalo.
"(His) physical gain is undeniable." Blashill said. "(Veleno's) really made himself a man. He's turned his body into a pro body, into an NHL body. He's way bigger and stronger then he was two years ago, so he can hold on to the puck, he can defend down low. I think his defensive habits are really good."
The other advantage Veleno has over Raymond and Jonatan Berggren is that he's already played a season in the American League and five games with the Red Wings.
Veleno's roster chances: Fair. The Red Wings are happy with his progress. If the Red Wings get another significant injury up front, his chances improve significantly.
Right wing Lucas Raymond
Blashill's decision to use Raymond with Dylan Larkin against the Blue Jackets proves the Red Wings want to give him every opportunity to make a good impression.
We've seen the quick release, the goal scorer's knack and the great anticipation. We've also seen he is 19, not as strong as he needs to be. He's also short on professional experience, crucial to knowing how to handle the rigors of an 82-game season. Wanting him to be ready can't make it so.
His path to the roster is clear because Blashill has repeated it. Raymond needs to demand a spot with his play. He needs to be noticeable every game. Thus far, he is 1-for-1 in accomplishing that in preseason games.
Even if he doesn't make it, he would be a candidate for an early call-up if he's putting up numbers in the American Hockey League. When Tyler Bertuzzi misses his nine games, the Red Wings could bring up Raymond.
Raymond's roster chances: Intriguing. Throughout training camp, we've seen why he's considered among the NHL's most coveted prospects. His instincts, knowing where to be at all times, are first rate.  You can see a path for him to make the club. If he plays five or six preseason games and totals seven or eight points, then they may keep him.
Red Wings Center Chase Pearson
Pearson is more than a good guy with a bucket full of quality lettuce. Blashill may joke about Pearson's nice head of hair. But he likes what Pearson offers on the ice.
However, Pearson doesn't have a much of path to make the team out of training camp. His best bet is go to Grand Rapids, play as well as he did last season and earn a call-up.
Pearson's roster chances: Poor. With Mitchell Stephens and Carter Rowney on Detroit's roster, there isn't much room for Pearson.
Defensemen Jared McIsaac and Wyatt Newpower
The Red Wings are keeping eight defensemen, but those eight were set after Marc Staal was re-signed in the offseason.  Nick Leddy will play Moritz Seider and Danny Dekeyser should end up with Filip Hronek.  Staal and Jordan Oesterle seem like they would be penciled in for the other two spots.
That leaves Troy Stecher and Gustav Lindstrom waiting for their turn. This defense is much improved over last season's group.
That leaves no room for McIsaac and Newpower unless there is an injury. McIsaac continues to have poor luck as a prospect: He was diagnosed with a concussion after a brutal hit in the Prospect Tournament. It's too bad because he has the skill set to be an effective two-way defenseman. But McIsaac and Newpower both could use more AHL experience
McIsaac's and Newpower's roster chances: Poor. Cards were stacked against them from the beginning.