Five Takeaways: Key Penalty Kill, Shorthanded Goals Lift Detroit Red Wings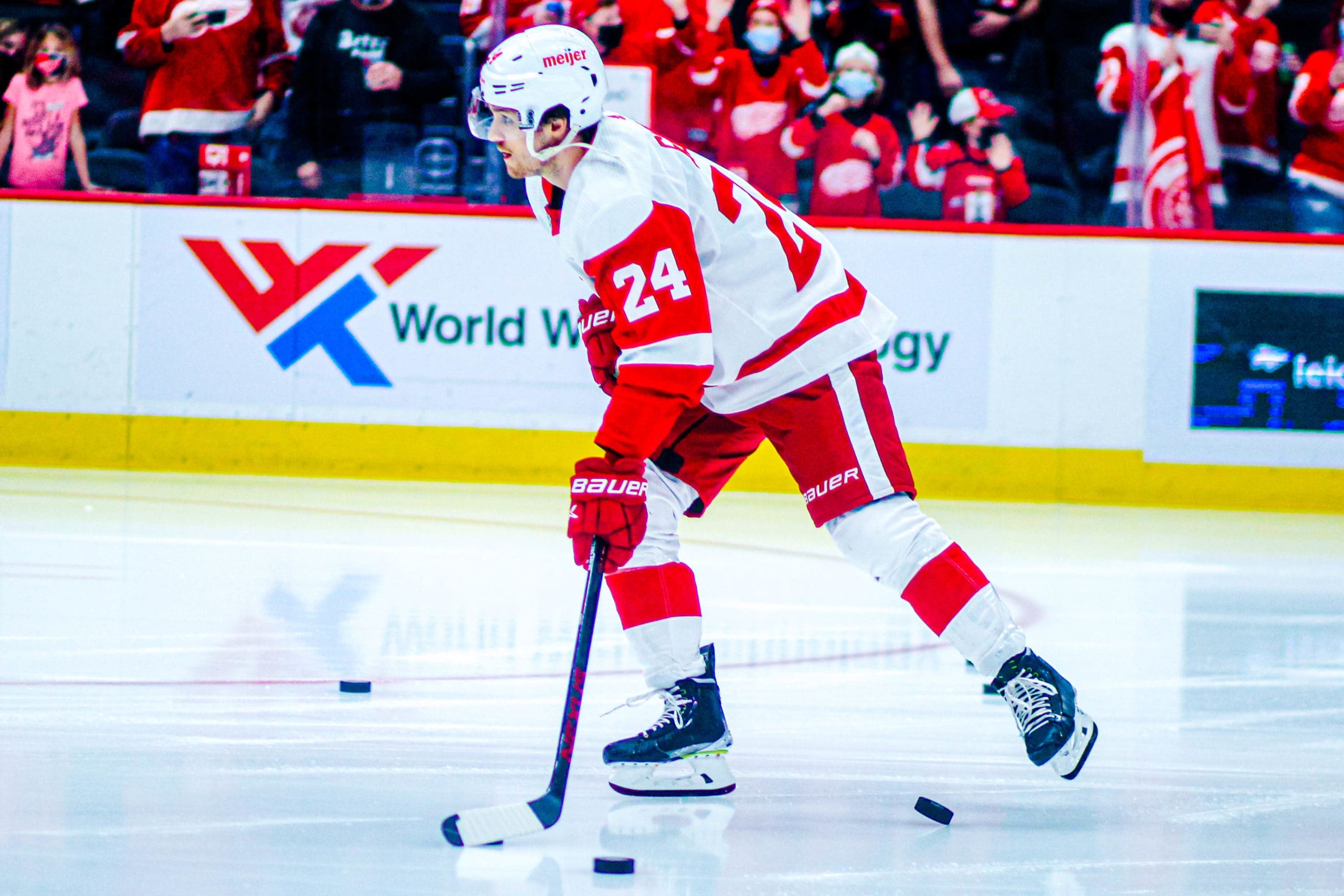 The Detroit Red Wings needed offensive confidence heading into a three-game Western Road trip and may have found it with a 6-2 home win against the San Jose Sharks.
The Red Wings will play in Anaheim on Thursday, followed by games at Los Angeles on Saturday and in San Jose on Tuesday.
Here are five takeaways from Detroit's one-sided triumph:
Shorthanded Goal Drought Over
The Detroit Red Wings had gone 100 games without scoring a shorthanded goal before Pius Suter scored one early in the second period. That was followed by another shorthanded tally 37 seconds later by Tyler Bertuzzi.
Special teams have hurt the Red Wings too many times this season. But in this game, the Red Wings'  five-minute penalty kill was the turning point of the game.
"That's a critical moment in the game," Detroit coach Jeff Blashill said.
They impressively killed off a five-minute major penalty to Givani Smith and produced two shorthanded goals. It was the first time the Red Wings scored two shorthanded goals on a single penalty since 1999.
Pius Suter and Tyler Bertuzzi scored shorthanded goals 37 seconds apart to put the @DetroitRedWings up 3-0 early in the second period.#NHLStats: https://t.co/G1BoifxbqI pic.twitter.com/rhKIynxG8h

— NHL Public Relations (@PR_NHL) January 5, 2022
Red Wings Listened to Their Captain
Detroit Red Wings captain Dylan said after last game that the Red Wings needed more "pushback" when teams play physical against them. Smith took it upon himself to be more physical than he has been recently. That included a fight.
The Red Wings played a much feistier game than they had played in their 5-1 loss to the Bruins.
"We didn't give them much space at all," Blashill said. "We battled hard. I thought we competed from a physical standpoint. So there was a lot of things there."
Red Wings Rediscover Their Offense
After scoring just two goals total in their two losses coming out of the break, the Red Wings looked like a much more confident offensive team against the Sharks, a team that has struggled defensively recently.
The Sharks have given up 29 goals in their past five games. They rank last in the NHL in defensive zone turnovers. The Red Wings exploited that.
Tyler Bertuzzi scored twice to give him six goals in his past give games. Dylan Larkin scored his 16th goal of the season, set-up by a brilliant pass by rookie Lucas Raymond.  Pius Suter scored twice to give him eight goals on the season. He now has 11 points in his past 14 games.
"Offense matters,"  Blashill said. "When you  are able to get six, it helps guys. It helps them feel good about themselves. Confidence can lead to more offense.e"
Filip Zadina Healthy Scratch
Zadina has gone nine games without goal and is -12 in those contests. He also only has four goals on the season. Blashill scratched him Tuesday.
"When you want to insert someone in the lineup, you have to take someone out," Blashill said. "Sometimes it's as simple as that. What Filip wants to do is to put himself so he is not in the mix of players we are talking about who goes out."
Blashill said he doesn't think it hurts a younger player to sit out and hit the reset button now and then.
COVID-19 Moves Into TV Booth
The  Detroit Red Wings' problems with COVID-19 have now even moved into the television booth. Analysts  Mickey Redmond and Chris Osgood missed the broadcast of the Detroit-San Jose game because they tested positive for COVID.
Social media reports suggest they are either asymptomatic or have very mild symptoms.
Red Wings TV broadcast hit with COVID: Mickey Redmond and Chris Osgood are off the mic tonight.

Larry Murphy is in the booth with Ken Daniels. @JohnKeatingBSD said Redmond and Osgood feel fine.

— Brad Galli (@BradGalli) January 5, 2022