Red Wings Forward Zadina Needs To Be More Like Suter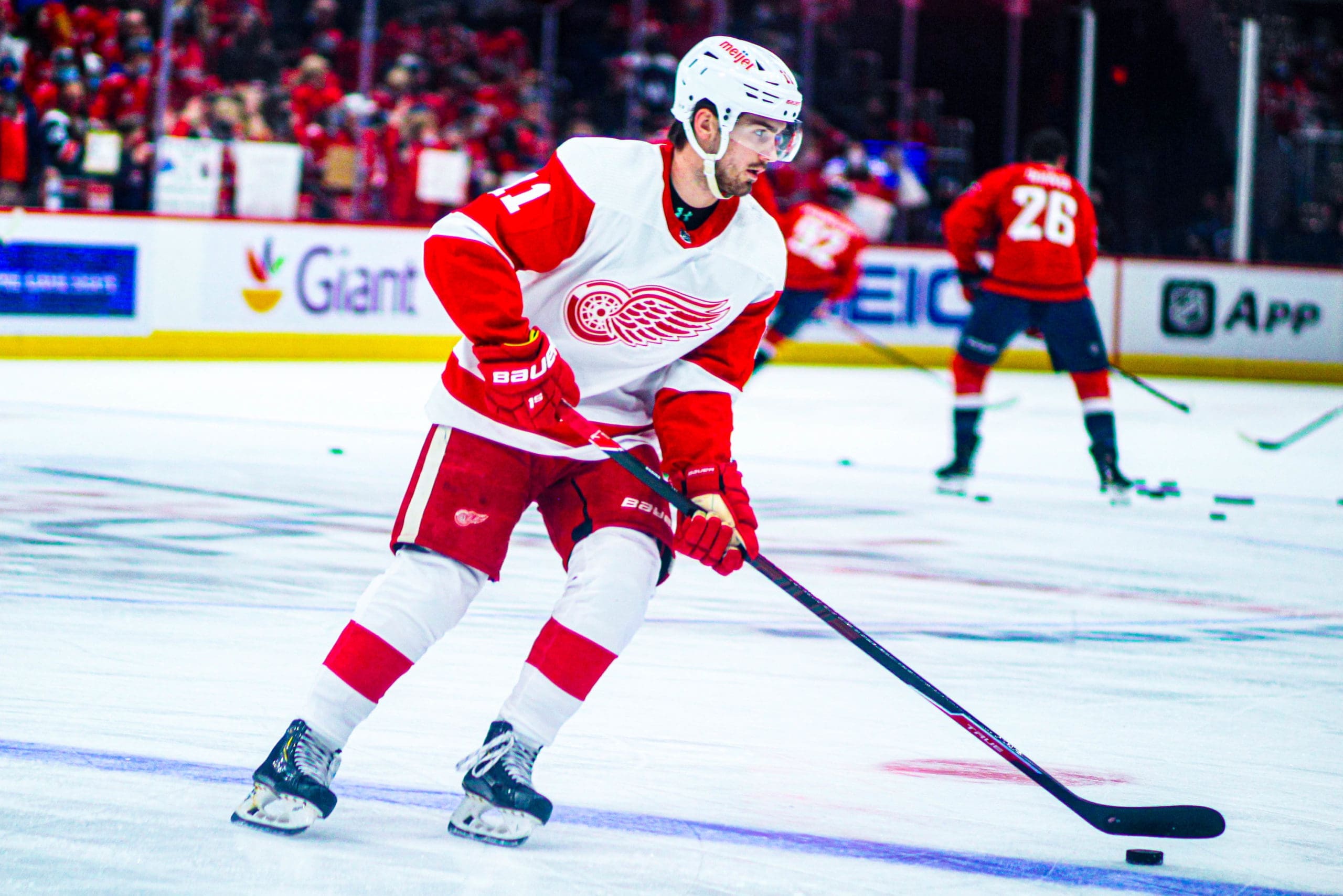 Years ago, Detroit Red Wings center Pius Suter was already figuring out where he needed to go to score goals at hockey's highest levels. If Filip Zadina had opted to embrace the same solution, he'd still probably be skating on Suter's line.
Instead, while Suter has scored three goals in Detroit's last two games, Zadina spent the last game watching as a healthy scratch.
"What happens is when you want to insert someone in the lineup you have to take somebody out," Red Wings coach Jeff Blashill said. "Sometimes it's as simple as that. You got to make decisions.
"What Filip wants to do is not put himself in the mix of players we're talking about (scratching)."
What Zadina must do is take his game to another level by taking himself into the areas of the ice where most NHL goals are scored.
Numbers Tell Tale Of Woe For Zadina
Two statistics tell the story of what's going wrong in Zadina's world. With 71 shots on goal, Zadina is fourth on the Red Wings. However, with just four goals in 32 games, his 5.6% shooting percentage rates 13th on the club.
To bottom line it, he's still spending too much time on the periphery of the scoring areas.
"I think when he was playing junior he could score from the outside and he scored a lot from the outside," Blashill said. "As you get into pro, it's really hard."
Unless your name is Alex Ovechkin, odds are scoring a bushel full of goals with one timers isn't how you'll make a living as an NHL goal scorer.
Suter figured out this fact of life while playing for the OHL's Guelph Storm.
A nifty feed from Sam Gagner results in the 6th tally of the season for Pius Suter! #LGRW pic.twitter.com/V1YH719E9d

— Bally Sports Detroit (@BallySportsDET) January 1, 2022
"Yes definitely, started in junior," Suter said of going to the net to get goals. "It's been working so I just kept doing it.
"It's harder sometimes. You stay in the right position the puck bounces there. Over time you get a few (goals) like that. Also, it opens up some space for other guys, making a seam pass or a second guy back door.
"It's a part of my game I always try to be really good at."
It's that approach which is making Suter invaluable to the Red Wings as their second-line center. He's proving to be one of the best bargain finds of last summer's UFA class.
"I think it's one of the reasons why Suits has been able to score goals in the National Hockey League, is because he does get to the net," Blashill said. "He is good around the net. Most of his goals are from that net area.
"I think if you want to score consistently in this league, as a hockey team or as an individual, you better get to the net and you better find ways to score with tips and rebounds and plays around the cage."
Zadina Must Embrace This Concept
The Red Wings are working desperately with Zadina to get him to embrace this concept.
"I think Z is learning to be a guy who gets to that middle ice," Blashill said. "We've talked to him lots about it. It's an ongoing process since he turned pro."
BetMGM Sportsbook
States: All States Where Legal
GET THE APP
SIGNUP BONUS
UP TO $1,000!


Up To $1000 Paid Back in Bonus Bets
BET NOW
Starting the season, Zadina, 22, was skating alongside Suter and Robby Fabbri on Detroit's second line.
However, his lack of productivity has seen him dropping down to third- and fourth-line roles and now to residing in the press box on game night.
The thing is, when Zadina is skating as a bottom-six forward, he shows more of a willingness to get into the so-called dirty areas. His reward for that has been a couple of goals from close in areas.
Filip Zadina ties the game! #LGRW pic.twitter.com/g9fxo1qImc

— Bally Sports Detroit (@BallySportsDET) November 28, 2021
"I think he's worked hard to try to become a guy who gets to the inside and we're gonna keep working with him on it," Blashill said.
Until he masters positioning himself in those inside areas on a more consistent basis and begins generating results, the reality of the situation is that Zadina may continue to find himself on the outside looking in.
Wake Up Call For Zadina
Had Thursday's Wings-Anaheim Ducks game not been called off, Zadina was drawing back into the Detroit lineup.
"It's hockey life, Zadina said of his enforced sitdown. "I'm not the first one and I think I'm not the last one who faces this situation. It's just the way it is. I got a heads up and I just want to be better.
"I was disappointed for sure, I was pissed. Now I feel better than I felt I don't know, a week ago when we played those games. I'm excited to be back and get things going again. "