Red Wings Vrana Back On The Ice; Still A Long Way From Playing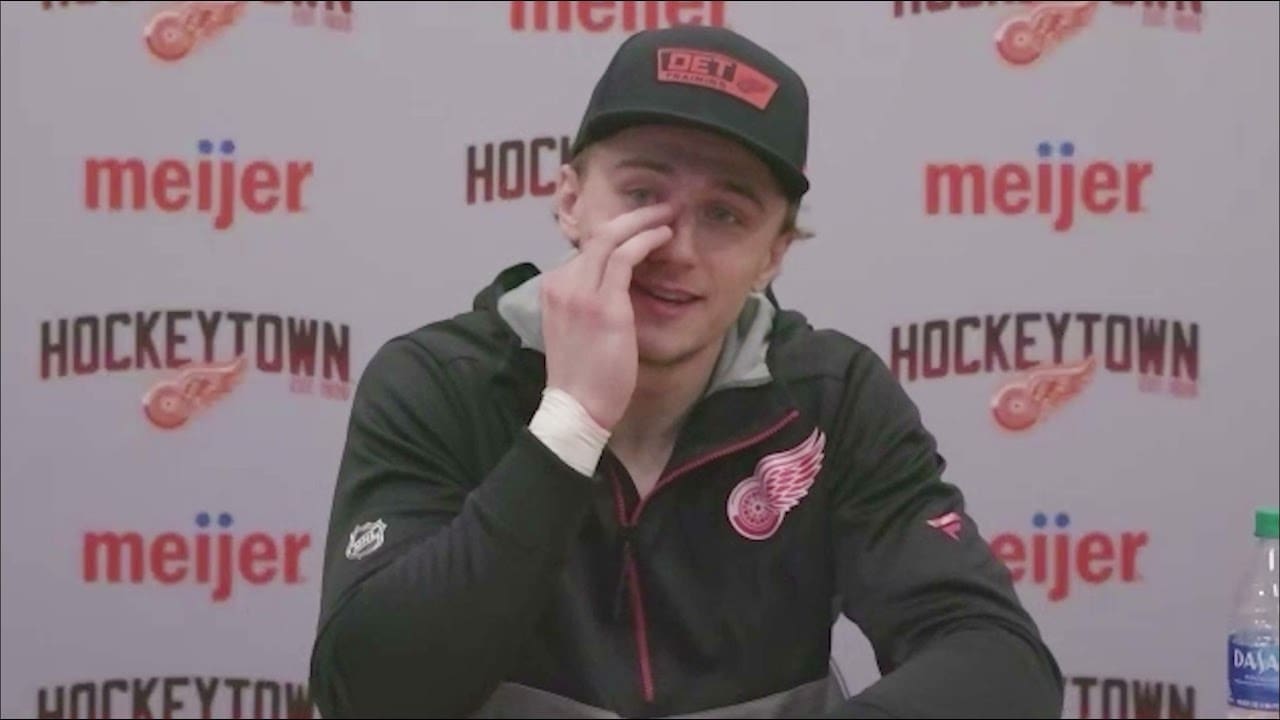 Jakub Vrana is back skating with the Detroit Red Wings. Hold your horses on that excitement level, though. He's barely been given permission to handle pucks.
"No, he can't shoot yet," Red Wings coach Jeff Blashill said. "He's not even to that point yet. It's minor stickhandling I'd say. Not even really passing.
"It's more just keeping his legs and that right now."
🇨🇿 Jakub Vrána se pomalu začíná vracet po operaci ramene. Dnes se ukázal na ledě po tréninku Detroitu. Český útočník zatím nestřílí, ale pouze bruslí. #VS https://t.co/dTS4ml4Bcs

— Hokejové aktuality (@HokejoveA) January 7, 2022
Since he underwent shoulder surgery in training camp, the timetable on Jakub Vrana was set for late February, likely after what would've been the NHL's Olympic break. That time frame isn't changing.
"I don't have any more concrete window than I had probably since when he first had the surgery, which was after the now-defunct Olympic break," Blashill said. "So the latter part of February at some point, or mid-February.
BetMGM Sportsbook
States: All States Where Legal
GET THE APP
SIGNUP BONUS
UP TO $1,000!


Up To $1000 Paid Back in Bonus Bets
BET NOW
"I think there's still a window in that period. Is it sooner than that? The only person who can tell us that is the surgeon and we haven't had those conversations yet. So it's not anything that's imminent. It's not anything that's going to happen in the next couple of weeks.
Vrana Back On His Skates
Vrana recently returned to the ice and was skating on his own. The team ended up making the decision to bring the left-winger along for the club's current West Coast swing.
"He's been skating for a while, will keep skating," Blashill said. "It's nice to have him out on the trip and keep him as part of the team a little more but ultimately it's still going to take to heal and the surgeon will be the deciding factor in that."
Since his acquisition from the Washington Capitals at last season's NHL trade deadline, Vrana was proving to be a revelation to the frequently offensively-challenged Red Wings. Completing last season with eight goals and 11 points in 11 games for Detroit, Vrana counted four goals in a game against the Dallas Stars.
"He adds an ability score on one shot," Blashill said. "He's just got that ability to score that can be a separator in a lot of games.
"I watched the L.A. game last night and Nashville didn't have much going on. Then (Filip) Forsberg scores on the power play outside the dots on a great shot. That's what shooters do. They kind of turn the tide in games that maybe you don't totally deserve to win.
"When you don't score easy, you got to grind out every point. When you score easy, sometimes you can not play great and still win. He brings us that element. You think back to the game against Dallas – he had a four-goal game – he just scored easy. I don't mean easy in the sense that he's not working, but some guys need 10 chances and he's one of those guys that needs one."