Do the Detroit Red Wings Have Scorers in the Pipeline? Probably Not Enough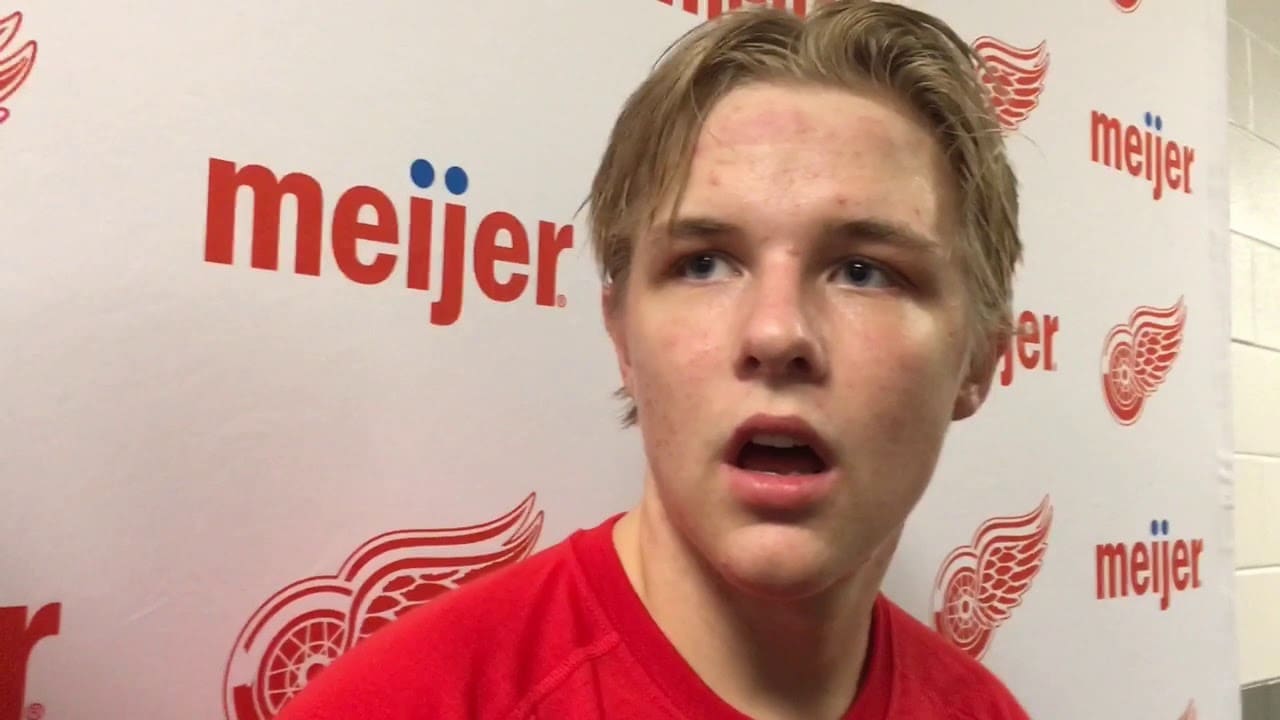 The Detroit Red Wings are 25th in goal scoring, 27th in shots on goal and 31st on the power play. In their past seven games, the Red Wings scored more than two goals only twice. They won only one of those games. This is an offensively challenged rebuilding team.
This seems like the right time for an update on some of Detroit's forward prospects. There are no more Lucas Raymonds coming. However, the Red Wings have drafted some skilled forwards. Here are some of Detroit's top forward prospects:
1. Jonathan Berggren, Grand Rapids Griffins (AHL)
The Red Wings' collection of defensive prospects is stronger than their list of quality forwards.  However, Red Wings remain bullish on Swedish forward Berggren. He got off to a poor start after becoming injured in the Prospects Tournament in Traverse City. Berggren never got a chance to show what he could do in training camp.
He started slowly in the American Hockey League, but after the second-round pick adjusted to the North American game the points started to come. Berggren isn't dominating yet, but he has seven goals and 21 points in 27 games. He has eight assists over his past 10 games. He has always been more of a playmaker than a scorer
As is often the case with younger players, second-round pick Berggren needs to get stronger and gain more confidence before he will ready to make the leap to the next level.
2. Elmer Soderblom, Frolunda (Sweden)
The 6-foot-8 Soderblom has gone from a curiosity to an intriguing prospect. It's fair to say the Red Wings aren't sure exactly what they have in Soderblom. But excitement is growing about his potential. He could end up being the net front presence that the Red Wings hoped 6-foot-6 Michael Rasmussen would be.
Soderbloom has some sweet hands and moves. Two years ago, he showed them at the World Junior Championships by scoring a couple of goals between his legs.
As the season has worn on, Soderblom, 20, in his second season in Sweden's pro league, has continued to improve. He has 10 goals and five assists in 30 games. Last season, Berggren played his fourth season in the Swedish pro league and he had 12 goals and 33 assists in 49 games.
3. Carter Mazur, Denver (NCAA)
Mazur could be the best scorer among Detroit's forward prospects. He has nine goals and nine assists for 18 points in his first 18 games at Denver. He was National Collegiate Hockey Association Rookie of the Month for both November and December. He was playing among the top six forwards for Team USA before the World Junior Championships were postponed.
Detroit's Director of Amateur scouting Kris Draper knows Mazur well because he coached him in youth hockey. The Detroit Red Wingw need Mazur to be a scorer, but he showed at the WJC that he can hit as well. Check out the video:
What a HIT by Carter Mazur. 😳 #LGRW https://t.co/ikrtkbIWTY

— Winged Wheel Podcast (@WingedWheelPod) December 27, 2021
4.  Robert Mastrosimone, Boston University (NCAA)
The Red Wings drafted Mastersimone in the second round essentially because he has hands, a good motor and a high hockey IQ.  This season he has six goals and 15 points in 20 games.  If you search Twitter, you find enough Mastrosimone highlights to make a case that he should score at the pro level. He is an energetic player with flair.
His size works against him. He's only 5-foot-10, 180 pounds. But he has shown a knack for finding the seams in a defense. He was a point-per-game scorer in the United States Hockey League.
The hands from Robert Mastrosimone on this goal @TerrierHockey 👏🥶

Check out the rest of the Men's Plays of the Week here:https://t.co/qeur7Ik9v0#HockeyEast | #WhereChampionsPlay pic.twitter.com/m1iHeyayoF

— Hockey East (@hockey_east) January 12, 2022
5. Theo Niederbach, Frolunda (Sweden)
Don't read too much into the fact Niederbach hasn't done much for Frolunda this season. He isn't getting much playing time and he has two goals and five points in 30 games. But he did have two goals in two games playing for Sweden at the WJC. The 2020 second-round pick is still only 19.
Detroit Red Wings scout Nicklas Kronwall was quoted on Twitter last fall saying the Red Wings have "high thoughts of Theo long-term."
Theo Niederbach is averaging just below 10min/game for FHC this season.

But there are reasons Niklas Kronwall recently told @rakapuckarpunk1 "we are just scratching the surface there" and that he has "high thoughts of Theo long term".

Some of those reasons can be seen below: pic.twitter.com/novNiTNho2

— IcehockeyGifs (@IcehockeyG) October 20, 2021