Red Wings GM Yzerman Leaves Them Laughing On TNT Broadcast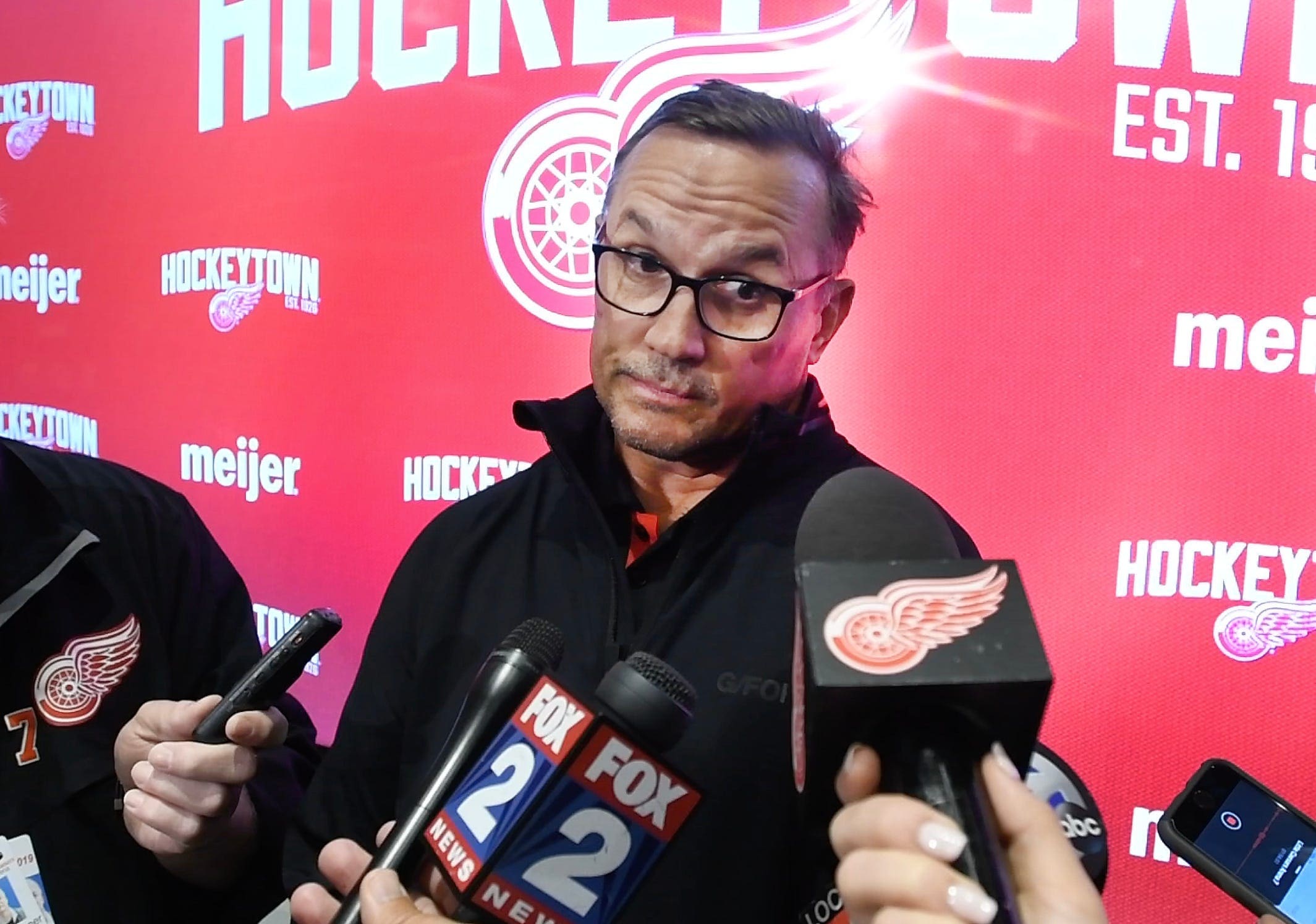 There wasn't much to smile about as the Detroit Red Wings were getting smacked 8-5 on Wednesday by the Chicago Blackhawks. However, those who caught the first intermission interview with Detroit GM Steve Yzerman certainly got a chuckle.
Stevie Y joined the NHL on TNT crew with the Wings down 4-0 to the Blackhawks and ended up displaying that if this GM gig doesn't end up working out for him, he just might have a future in stand-up comedy.
"There are some nights when you really wonder if you know what you're doing," Yzerman admitted as he sought to dechiper the causes behind his team's 4-0 deficit.
Red Wings GM Doesn't Care What You Think
Next, Yzerman sought to let everyone know – Red Wings fans, media who cover the team, supporters, critics – that he really wastes no time whatsoever weighing their opinions on anything to do with the team.
"I just try to stay away from it," Yzerman suggested of any outside influences. "Honestly, I know what's going to be said anyway. When things go well I know what's going to be said and when things don't go well, I know what's going to be said. So it really is irrelevant.
BetMGM Sportsbook
States: All States Where Legal
GET THE APP
SIGNUP BONUS
UP TO $1,000!


Up To $1000 Paid Back in Bonus Bets
BET NOW
"You just gotta stick with what you're doing and what you believe in and ultimately, we're not going to get everything right, as much as we try to. As much time and effort and thought you put into every decision you make, it doesn't always go right, because you're dealing with human beings that are athletes that are playing a physical sport. A lot of things can happen that may derail them or slow them down."
Netflix And Chill?
From there, the conversation got somewhat bizarre. Asked by former NHLer Paul Bissonette what he did to decompress from the stress of the Red Wings rebuild. Yzerman paused for the longest time before answering.
I can't be honest with that one," Yzerman finally said. "Not on national TV."
"I can't be honest with that one. Not on national television." 👀@BizNasty2point0 put Red Wings GM Steve Yzerman on the spot 🤣 pic.twitter.com/ofatrOaHgd

— NHLonTNT (@NHL_On_TNT) January 27, 2022
Left to their own devices, the Red Wings faithful opted to be filling in the blanks. Their answers? Well, it wouldn't be prudent to repeat them.
Not on the National Hockey Network.
Eventually, Yzerman ended the suspense. The lifetime hockey man spends his life watching hockey.
All About The Games
"I watch a lot of hockey," Yzerman said. "It's unreal. I'll go home tonight and watch a late game. To get away from it, I'd like to say I play golf but I'm not very good and I don't enjoy it, so I question why I do that.
"I don't even that the attention span to read books. I listen to audio books. That's what I do. I lay in bed with my earphones in and listen to books. I guess that's what I do to take my mind off it it.
Former NHL player and coach Rick Tocchet of the TNT panel then piped up. "That's the OHL education," Tocchet said.
"Exactly," Yzerman said of his time with the Peterborough Petes. "I was scholastic player of the year.
"I didn't graduate from 12th grade but Grade 11 was a good year."